Rewards are part and parcel of many financial products. With their prevalence, it's now become a habit of mine to try to earn points whenever I can. It's easy to accumulate points and rewards from banking, shopping, and traveling with most credit card rewards programs, including the Citi ThankYou Points Network and Rewards Program.
How Do You Earn Points With The Citi ThankYou Rewards Program?
It's easy to earn points for everyday stuff you'd do anyway. Earn points by banking and shopping with Citi credit cards and by using Citi checking accounts and other everyday banking products. You can earn more points when you book qualified travel through Expedia. You can also save money and earn points for your family vacation.
The Citi ThankYou Points Network gives you 2 points per dollar for shopping with any Citi credit card, 1 point per dollar for every purchase made with a Citi debit card, and even more ThankYou points for shopping through their online bonus center. You can choose to shop at over 300 online retailers. I love the convenience of shopping online, and earning bonus points makes it even better.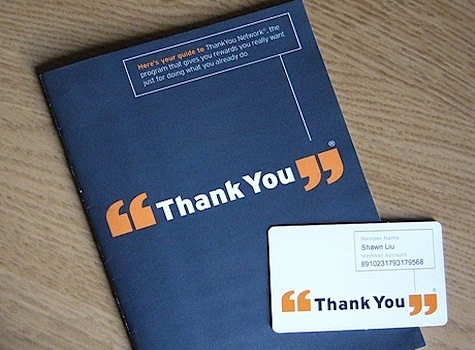 Image by Shawn Liu at Flickr.com
You can earn on all Citi cards (such as the Citi Diamond Preferred Card), AT&T cards, certain gas cards, Citi debit card purchases, and by using a Morgan Stanley Smith Barney FMA Card that is enrolled in the ThankYou Network. There are many ways to quickly accumulate points through the Citi ThankYou Rewards Program.
How Do You Get Started With This Card Program?
You can check your Citi ThankYou Rewards Program balance, and earn and redeem points online. All you need is a user name and password. Set up your account with a social security number, physical address, e-mail address, and phone number. In less than five minutes, you can dive right into earning ThankYou rewards. The Points Summary shows you all the details about the points you have received and redeemed.
Can You Combine ThankYou Rewards Points?
If you have multiple Sponsor Accounts, such as a credit card and checking account, you can combine the points you earn from each. The points go into a single ThankYou Member Account so you can cash in for bigger rewards. I like being able to combine points because I can cash them in for a lot of cool stuff without having to wait as long.
If you just can't wait, you can purchase ThankYou points to get a reward in time for a special occasion, or simply because you want it right away. Points cost $25 per 1,000 ThankYou Points. There's a cap of 100,000 points you can buy in a calendar year. I appreciate this option, because a few points can put you over the edge for a big ticket item just in time for a holiday or birthday.
What's the ThankYou Rewards Process?
Once you have a Citi ThankYou Member Account, you can then visit the Citi website and log in with your user name and password. You gain immediate access to your account information, earnings opportunities, and redemption pages. Shop through the ThankYou points website to earn points at leading retailers such as the Gap, Target, and Barnes & Noble.
I live to peruse the possible rewards, so I have goals in mind. As I use my account, I check to see how many points away I am from earning my desired item. Shopping is another way to score items you need at discounted online prices and earn points at the same time. And with the free Citi Mobile iPhone download, I can track and manage my ThankYou Points from anywhere!
What Type of Rewards Can You Earn?
There are literally millions of rewards to choose from with the Citi ThankYou Rewards Program. I've never been at a loss for something that I wanted. Selections include music downloads, books, magazines, electronics, computers, office supplies, gift cards, travel, prepaid cards, toys and baby, health and beauty, camping and sporting, home and garden, and more. There are even charitable gifts, student loan rebates and mortgage payment benefits!
I use rewards programs as a type of "Christmas Club." In days gone by, your parents would save for the holidays by having a few dollars of their check deposited weekly into a separate holiday fund. Cashing it out before Thanksgiving ensured food and gifts for the holidays. I save up rewards points to cash them in for gift cards for teachers, presents for parents, and toys for kids. Using my credit card points earnings for holidays sure beats maxing out the credit cards before a new year!
I'm always looking for ways to stretch every dollar I have. From grocery shopping and back to school essentials to business trips, the Citi ThankYou Rewards program offers endless ways to earn more for your dollar.
Copyright © 2010 The Digerati Life. All Rights Reserved.