I love rewards. That's why I've joined the Citi ThankYou points network and have a habit of taking advantage of credit card rewards (see this list of best credit cards that offer such programs). So it's no surprise that I'm also fond of online shopping sites that offer me rewards when I shop.
In fact, for a decade now, I've been earning points for online activities and cashing them in for gift certificates, cash and prizes. Common activities such as online shopping, opening email, taking surveys, reviewing products and clicking on websites help me earn points. When you earn enough points, you can cash them in for all sorts of cool stuff.
10 Online Shopping Sites For Point Rewards
Here are some of my favorite points earning websites:
1. MyPoints
Tried and true, MyPoints.com has been around for about ten years. You can do your online shopping through links in email or right from the website. When you sign up, you'll be able to join surveys and receive emails with links to various related tasks in order to earn points. I also appreciate the fact that MyPoints also features coupon links and printable coupons for additional savings. I've actually earned hundreds of dollars in gift certificates from MyPoints over the past ten years! Although this program does not have a cash option, the gift certificate choices are great with participating retailers such as Macy's, Kmart, Best Buy, Red Lobster and Olive Garden.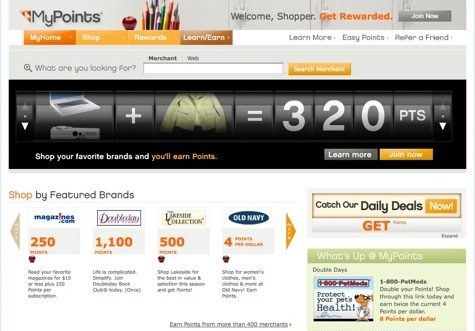 2. Memolink
This website has had its ups and downs over the past decade but it has always offered gift certificates for points. Originally, Memolink was geared for the student population but eventually, its audience expanded to include everyone. The features, tasks and retailers that are offered here are actually similar to what you'll see in MyPoints, but it takes longer to accrue enough points to cash in.
3. Creations Rewards
A relative newbie compared to MyPoints and Memolink, Creations Rewards provides similar opportunities to earn points. You'll receive daily emails to promote new ways to earn rewards points, say when you click a link to a sponsor or a daily survey. I've already earned a number of gift certificates from them, including some from Home Depot.
4. Greenpoints
If you have coupon collectors in your family, you may have noticed them possibly collecting S & H Green Stamps (or Green Shield Stamps, which were popular from the 1930s to late 1980s); these were trading stamps that used to be handed out to shoppers at supermarket counters and gas stations. These stamps were redeemable for catalog items through a rewards program that could yield you merchandise such as kitchen wares, lamps or newspaper racks. Now these Green Stamps have evolved into virtual S & H Greenpoints, which is the online version of this rewards program. You can collect Greenpoints for a variety of online activities much like what you'd do over at MyPoints and Memolink. However, my experience here has been mixed since it actually takes me a while to collect enough points to cash in for gift certificates. It's a slower process to earn points from this site.
5. FreeRide
One of the first online points websites is FreeRide, which was started over a decade ago and which has had several different owners over the years. When you surf the FreeRide website, various points earning opportunities pop up, including paid email, surveys and shopping opportunities. I've received free merchandise from FreeRide in the past, but I've since lost interest in their program because of the operational changes that have gone on with the site over the years.
6. SendMoreInfo
While paid email programs may not be for everone, it's one way to get paid for your time online. SendMoreInfo is one such paid email program; once you sign up, you'll begin receiving email from the site which will contain links. Clicking on any of these links will lead you to an ad, which you can then check out. The premise here is that you'll get paid by inspecting these ads (of course, in the best case scenario, they're hoping you'll buy something from them). But of course, nothing is ever so easy: unless you refer friends and associates to the program, it will take you a long time to earn a meaningful sum of money. However, I can say that it's one of the more stable and generous programs of its kind. The minimum cash payout at SendMoreInfo is $10.
7. MySurvey
MySurvey offers customized surveys based on a series of questions asked, with the surveys worth various point quantities. When you accrue a certain number of points, you can cash them in for prizes or cash. I have earned hundreds of dollars at this site over the past eight years and have been more than satisfied with this program.
8. SurveySpot
Once you join SurveySpot, you'll get the latest survey opportunities emailed to you. Some surveys will pay you cash while others pay you in kind, so you'll have to review each email message to find out whether the survey offered is worthwhile.
9. Toluna and Your2Cents
I used to participate in email survey opportunities provided by Your2Cents. However, the site has been transferred over to Toluna, which is a portal that allows you to earn points by voting and creating polls. While I haven't yet tried Toluna, I have used Your2Cents in the past, where I was able to earn anywhere from $1 to $5 per completed survey. I had successfully earned about $50 from surveys through this program.
10. Gather
If you like to write, share ideas and participate in an active online social community, then you can check out Gather. Each time you write an entry, receive a comment on your entries or comment on other posted entries, you'll earn points which can be cashed in for charities, gift certificates and cash.
What Makes MyPoints, MemoLink and MySurvey Point Rewards Worthwhile?
Websites such as MyPoints, MemoLink and the like are most suitable for people who would like to earn something extra from the comfort of their homes, perhaps as a hobby or side income stream. At the very least, it's a convenient way to pick up some extra cash or prizes. Now you may wonder just how time-consuming these activities are: speaking from experience, I don't believe it should take all day to earn points if you participate in natural activities. The point-earning opportunities should be part of your daily activities, such as reading email, shopping and taking quick surveys. You would also need to appreciate the participating retailers that are part of these shopping and survey rewards sites from which you'll expect to earn gift certificates.
Reviewing Point Earning Opportunities
I prefer to stick with established point earning rewards websites with proven payouts. As it goes, there are always new point earning sites that sprout up every so often, but these new point earning opportunities can be risky! Check out this entry at CompareRewards about BoomerTowne, a point earning opportunity that disappointed many people. That said, do take a look at CompareRewards, a useful resource that evaluates point earning opportunities, rewards programs, rebate portals and survey sites.
When in doubt, take some time to check out a program online by doing a simple Google search to see what others have to say. Over time, I've grown to trust a few sites. My favorite websites are My Points and My Survey because I earn the most from them and devote the least time to their activities. I've enjoyed participating in part time activities like these and simply love using the gift certificates I earn for holiday presents, back to school clothing and even as wedding and shower gifts. So what are your favorite point-earning opportunities?
For more posts on this vein, check out:
Copyright © 2009 The Digerati Life. All Rights Reserved.