Don't you just love cash back sites? I rarely buy anything online now without first going through one of these sites to find out what kind of online deals are available. With more and more of these sites around, we no longer have an excuse not to earn some money on our next online purchase. However big or small the cash back I receive, I always end up better off as a result. Just to cover the bases here, let me mention a couple of those cash back sites that my family members and I like to use. I've mentioned these sites quite a bit in the past, but surprisingly, not everyone has heard of them before.
BigCrumbs.com is a great site that allows you to earn cash back on your purchases. In addition, it allows you to refer people to the site and subsequently lets you earn cash back from their purchases. I wrote about this in my BigCrumbs review (but be aware that the terms surrounding cashback earnings through a referrer network have been updated). Become a BigCrumbs member if you'd like to start saving when you shop online.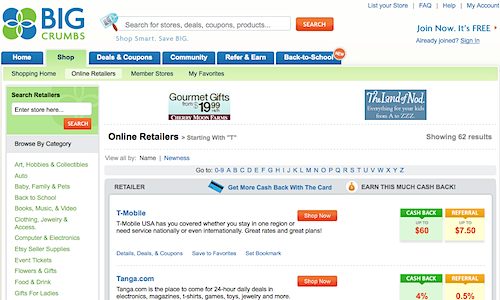 ~~ooOoo~~

Ebates.com is another popular site that lets you earn in the same way. You go through their shopping portal and visit merchants they are affiliated with. Once you click through and shop at the merchant's site, you'll then be credited the designated cashback amount. You may also receive a bonus by referring others. Take a look at our Ebates review for more information.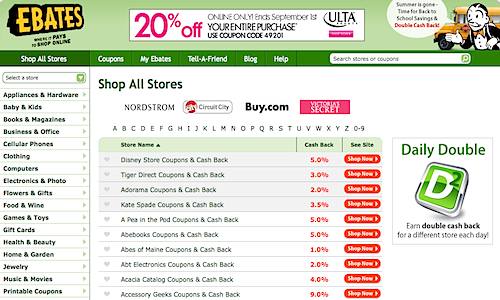 So given that I've been earning a little extra this way, I thought to share some ideas on what to do with this nice chunk of change. Here are the three top ideas I came up with –- can you do any better?
3 Things To Do With Your Online Cash Back Earnings
1. Put the cash towards paying off a debt.
This is probably the smartest decision to make if you are having trouble with debt and bills. Even a few extra dollars here and there can help you to nibble away at that credit card balance, and you'll feel better for doing so as well. Paying off your debt can be pretty fulfilling, even if you're dealing with small amounts. One good idea is to apply your extra cash towards the balance in your zero percent balance transfer card or towards your cards with low introductory rates so that you eradicate your debt before your issuer jacks up your interest rate.
2. Pile all the cash into a good savings account.
Once you've got your debt squared away, you can then focus on your savings goals. These days, you'll find some of the best rates from online savings and cash accounts. These accounts typically trumpet rates that are around 5x the national average, which, incidentally, is now hovering at just a fifth of a percent per annum. Here's a quick look at savings accounts and their current rates:
| | | |
| --- | --- | --- |
| Online Bank | APY Rate | Min. Balance |
| EverBank | .91% | $1,500 |
| Ally Bank | .89% | $0 |
| FNBO Direct | 0.70% | $1 |
| ING Direct Savings | .90% | $1 |
3. Treat yourself to something you wouldn't normally get.
I love this one because it's a true luxury. Anyone who is on a strict budget can really benefit from the cash back websites online today. You can get money off things you would buy anyway, and you can either save that money or spend it on something that is a real treat for you. We all need treats every now and then, and whether it is a magazine, a weekend away or anything in between, I love doing this. I usually plow the cash into the savings account I have set up for this purpose. I then either leave it sitting there to grow or I take some out every now and then for a nice treat. One thing to keep in mind: you'll want to remind yourself that if you want to buy something or book a weekend away with your cash back, you should arrange it through the cash back site so that you earn even more money in the process.
You'll probably have other ideas for how to use the cash back you've accumulated. But for me, these three approaches top the list every time. For those who've tackled their debt, they can then focus on saving or enjoying their earnings. Now just because it feels like free money, you may find it quite tempting to spend the cash back as soon as it lands in your account. But do your best to control the urge and instead, put your earnings to good use.
I particularly like how my cash back continues to mount in my bank account. What could be better than that?
Copyright © 2010 The Digerati Life. All Rights Reserved.