Earn cash back when shopping online through BigCrumbs.com.
With deals sites being the rage these days, I don't see why online shoppers should shop without a promotional code or online coupon in hand or a handy bookmark to a cash back shopping portal. In the past, I've covered Ebates as one such shopping portal that offers you cash back when you shop (see my Ebates review). Simply put, you get cash back when you make purchases or place orders through one of Ebates' listed merchants (typically, a pretty well known online site that you're likely to have visited already). So if you're already a Macy's loyal customer, you can get additional cash rebates and find a treasure trove of coupon codes by visiting Ebates and clicking through to Macy's from the Ebates site. This all translates to lots of savings when you shop online.
BigCrumbs Lets You Save AND Earn Money While Shopping!
Sounds good? Well if you like the idea of cash back rewards when you shop, then let me introduce you to something that has the potential to be even more exciting. I just recently came across the BigCrumbs site which is something similar to Ebates, yet with enough differences to merit its own extensive review here. They're similar in the sense that BigCrumbs also offers cash back when you shop through their portal, but they feature partner sites that run the gamut of major retailers all the way to independent retailers that set up shop through Amazon, eBay and Etsy. That means you can save and earn cash back through smaller online stores and boutiques as well, and you're not limited to saving with just the big names.
Earn Cash Back When Shopping Online
The basic idea here is that Big Crumbs will allow you to get cash back as a shopper and as a referrer.

As a BigCrumbs member, you can now earn cash rewards (or rebates) by shopping through the site. Simply visit the site's list of online retailers and store categories. By clicking on a retailer's "Shop Now" button or by perusing one of the deals available, you can expect to earn cash back as a percentage of your purchase.
But if you want to maximize your earnings potential via this site, then there's something you'll want to do before you actually start shopping here: figure out what kind of BigCrumbs member you are. You can register as either a "CrumbSaver" or a "CrumbEarner". Either designation will allow you to earn cash back, but depending on how you intend to use BigCrumbs, you can earn more by picking the right membership type for yourself.
Earn Cash Back As A CrumbSaver
If it turns out that you are a big shopper and would prefer to earn the most cash back via your shopping expeditions, then choose to be a CrumbSaver. This way, you'll earn the most cash back from each purchase you make through BigCrumbs.com. As an example, check out the retailer Diamonds.com:

You'll find similar information laid out for each featured retailer on BigCrumbs. The first box shows you the cash back you'll earn from each Diamonds.com purchase as a CrumbSaver who maximizes their cash back rewards.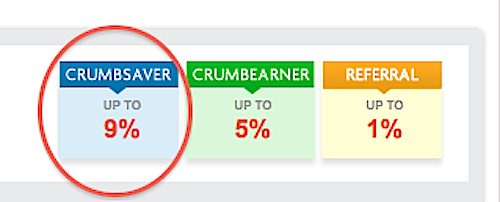 Aside from earning the most per purchase you make, you're also entitled to cash back earned from the purchases of your direct referrals (which is the percentage indicated under the Referral box).
Earn Cash Back As A CrumbEarner
Now if you'd rather maximize the cash back you earn via referrals, there's another avenue you can pursue. You can maximize your referral earnings as a CrumbEarner. You can always switch your registration from the default CrumbSaver designation to CrumbEarner. Under this type of membership, you'll earn cash back when you shop via BigCrumbs.com, but you'll do so at a lower rate than CrumbSavers (up to a maximum of 5% instead of 9%). However, you'll more than make up for this by earning cash back through referrals. As a CrumbEarner, you'll earn cash back through the shopping done by your direct referrals (just like with CrumbSavers) but you'll also earn cash through purchases made by your referrals' own subsequent referrals, up to 5 levels deep! So if you're great at building a network, then being a CrumbEarner might pay off more for you over time. Check out the second box to see what you'll earn per purchase you make as a CrumbEarner.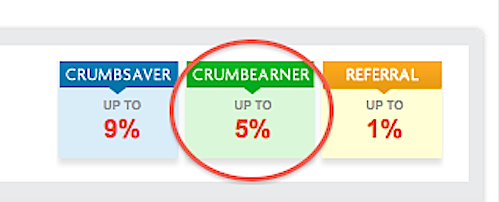 So the tradeoff here as a CrumbEarner is that you could potentially earn more cash back via referrals than you would via shopping (the opposite is expected to be true for CrumbSavers). The third box represents your referral percentage which you'll earn as a portion of the purchase or order made by one of your direct or indirect referrals.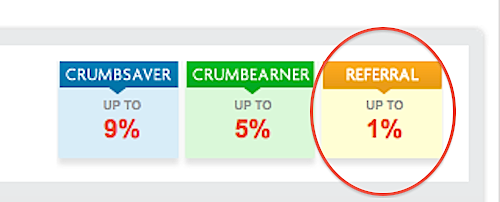 Tip: Note that you're a CrumbSaver when you first create an account, but you can switch your membership type to CrumbEarner at anytime in the future. But once a CrumbEarner, you can't switch back to being a CrumbSaver.
You may also want to pay attention to cash back tiers that are specified per retailer. It will tell you what rewards you're entitled to based on the kind of merchandise you buy.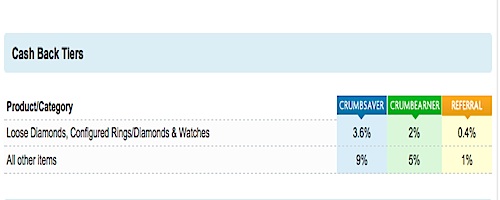 Check Out The BigCrumbs.com Community and Other Features
Aside from the shopping section, you can also check out the Community area where you'll find that BigCrumbs has taken steps to support its members, through forums and other social media features. The site offers you a variety of ways to connect with other savvy shoppers and smart spenders.
There are additional features that are available to users, such as the ability to access the latest coupons, coupon codes and great money saving deals offered by partner shopping sites, online stores, merchants and retailers. There's a lot of support in this area, making it easy to shop for products you care about, at the best possible prices. Just be aware that if you try to apply a coupon you find elsewhere on to a purchase you're making through BigCrumbs, there is no guarantee that the coupon will be accepted.
List Your Store!
Other than the cash back features, I am also a big fan of one other BigCrumbs feature: the ability to promote your stores through this site. Yes, you can also benefit as a seller or storefront owner by listing your store on BigCrumbs. The process is fairly simple, so if you have a store through Amazon.com, eBay or Etsy, you can definitely benefit from targeted traffic that BigCrumbs.com can send your way. As a seller, you can also offer deals and coupons to BigCrumbs shoppers, and in the case of eBay sellers, there is cash back here that can also benefit your buyers. You'll want to read about this in more detail in their FAQ.
For more information on BigCrumbs, you can find out more through this link, which describes how the site works. Once you become a member, you can start building your own BigCrumbs network!
Copyright © 2010 The Digerati Life. All Rights Reserved.