My Ebates review covers a shopping site which provides online rewards and which offers double cash back over the holidays, through some of their participating merchants.
Much like many of the financial bloggers out there, you may have noticed that I've begun investigating cash back opportunities on a more consistent basis. With budgets tighter these days, our predicament is no different from many other families striving to stay more frugal than ever.
Because of this, I've become even more determined to find better deals and to become an even better bargain hunter. And what I discovered was that if you're resourceful (or read enough personal finance sites 😉 ), you'll find that there are tons of places where you can get great deals and discounts. The truth is, you shouldn't pay full price when you're shopping online. There are way too many sites out there that offer you awesome rewards and cash back beyond the juicy discounts. One such discovery? Ebates.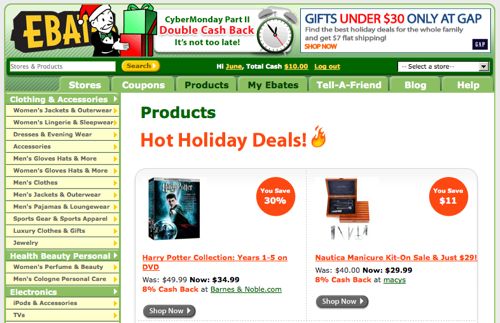 Ebates is a cash back rewards site that rewards you for shopping through their portal. They've partnered with around 1,000 merchant stores from which you can earn up to 25% cash back of your purchase price (though most return between 3% to 10%). Note that the rewards offered vary by store, but I put together some ways to maximize what you get by shopping here.
Tips To Maximize Your Ebates Rewards
1. You can receive Ebates cash back rewards in several ways: by signing up, using a referral link to receive a bonus, and via purchases at qualified merchants through Ebates.
2. Make sure you go through the Ebates portal before visiting a merchant store. You'll only register the cash back by going through Ebates first. Their merchant list includes a lot of favorites — some of mine: Target, Williams Sonoma, Macy's, Nordstrom, even Kmart and Walmart.
3. You can layer deals! You can combine the use of coupons along with exclusive offers with the cash back rewards provided by a merchant. For best results, use coupons and offers provided through Ebates.
4. Get paid by check or Paypal. Or you can route your rewards to someone else. If you already do transactions through the web, then getting paid electronically via Paypal should be straightforward. The payments are sent to you every 3 months once you've reached a minimum of $5.01 in purchase rewards in your Ebates account.
5. You need to achieve a minimum of $5.01 in rewards via purchases in order to receive a check or Paypal payment from Ebates. Any rewards accumulated via sign-up or referrals won't count towards this minimum (although you'll get them once you do make some purchases)! In other words, you'll need to buy something from Ebates before your rewards can be transferred to you via check or Paypal from your Ebates account.

6. Throughout certain holidays, they usually have holiday promotions that allows you to earn double the cash back you'd normally earn when you shop at select stores. Some of these stores include Macy's, Sears, Overstock and Home Depot. On regular days, the double cash back feature only applies to one store a day.
7. In the past, they've had special events such as "CyberMonday, Double Cash Back". These are typically one day events that take place on holidays, during which Ebates offers double cash back rewards via even MORE stores. Over 100 stores can participate in giving you twice the cash back rewards they normally provide. Well, given that I usually get my shopping done on holidays, I know where I will be spending my dollars.
8. Purchases through gift certificates or cards aren't eligible for cash back.
I find Ebates to be a great online shopping site, though it's one among many other sites that offer you similar incentives if you shop through them. Some such opportunities include Upromise, where you can receive spending rewards to help fund your child's 529 account, and Discover and some other credit card sites that offer you higher cash back rewards if you use their card while shopping through their retail portal. Not to mention that there are also many other retail rewards sites out there that compete for your bucks, but that's a post for another day! Now if you like what you read, you can visit Ebates here!

Copyright © 2008 The Digerati Life. All Rights Reserved.