Remember the cheapest family in the nation? Well this family has got them BEAT!
Can you live a totally "FREE" life? Apparently you can. And this story can attest to that. This is cheap living at its finest. Let me introduce to you one of the cheapest families in the world (they're the cheapest, by choice). I'd like to tell you the story of a special family who lives in the Pacific who decided to throw away all the trappings of modern civilization in order to isolate themselves in the remote boondocks of New Zealand.
Living Off The Grid and Homesteading In The Wilderness
I guess you can call them true "back to nature" frugalists. In fact, they're a step beyond that — they are homesteaders (survivalists?) and hermits who live in one of the most beautiful and natural settings we have on this earth. This Kiwi family is comprised of a father (from New Zealand) named Robert Long, and a mother, originally from Australia, named Catherine. Their kids are Christian (age 16) and Robin (age 13).
Here's their story: Robert Long at the age of 24 was an aspiring doctor, 3 years into medical school and right at the cusp of becoming the doctor his father had always wanted him to be. Aside from being highly educated, he was also a champion athlete. His wife, Catherine, is a former microbiologist. In their 20's, they suddenly made the decision to eschew civilization and move into an isolated part of their country, surrounded by wilderness. On one side of their home is the sea, on the other, mountains. They live with the bare minimum there is to live, grow their food, have no electricity (well, maybe they do now), and live a completely rustic life catching possums, washing their clothes in the river and swatting away sand flies.
Imagine yourself 2 days walk away from the nearest town without any form of transportation except your legs to take you anywhere (what if you get sick?). Imagine seeing nobody else over a span of months. Groceries come from a supply plane that only visits once a month, and your emergency radio is broken. Guess what. They are living it! Kids are homeschooled, parents don't need any jobs and they are a completely self-sustaining entity in the middle of nowhere. This is the genuinely rustic life of homesteaders handed down from one gutsy generation to the next.

They live on public land "lent" to them by the government, which agreed to keep Robert on as a "caretaker". They have no mortgage or rent to ever worry about. A bottle of milk is a luxury, but man, the catch of the day (fresh lobster!) must be typical food fare. Take a look at where they live — 50 km from Haast, the nearest town (yay for Google maps! Click image to enlarge.):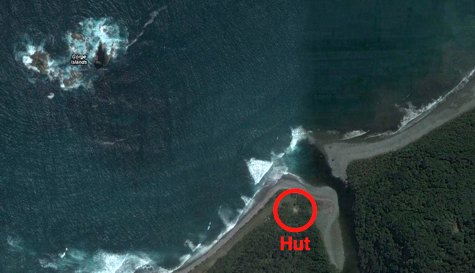 And following is a fascinating video documentary about them — hope you enjoy it as much as I did!
Click this link or the image below to watch the video.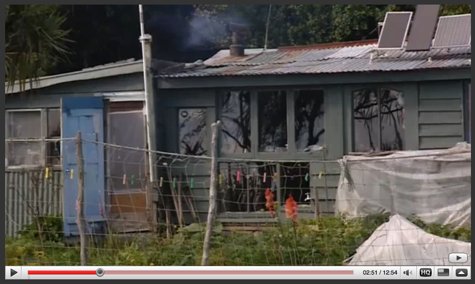 Edit: Unfortunately, YouTube has made the video private at this time.
Living Off The Land
I think there are some solid takeaways from this family's story. It tells us that if we want to live with less, we can. There are people who live in small houses and love it. There are people who sleep on cardboard furniture and don't mind. There are people who borrow, barter and buy used, and live very simply as a way of life. These are all true lifestyle choices that don't require much money or any money (in the Longs' case). Though the story of the Long family is extreme, I find them incredibly inspiring, for these are the people whom you'll find standing and surviving even if the world ever wipes itself out.
But I do wonder about one thing. I wonder about the kids who've been raised to know only this kind of life. I'm curious about how they're experiencing life as growing adolescents in such a peculiar, unique and incredible environment. I'm not so sure how kids can take to this kind of isolation for so long. Just how healthy can this be? The children want lives that require them to mix with society: they've clearly expressed their ambitions and aspirations. I hope they'll find ways to adjust. Still, from what you can see in the video, those kids seem pretty well-adjusted.
Oh and one more thing. These people are actually part of my extended family. They are far flung relatives of mine through affinity — my spouse is the second cousin of Catherine. Just last month, Catherine's mother visited us here and we shared nifty stories about sand flies and vegetable gardens and the rest of the family in Australia and New Zealand. Maybe one day, I'll get to visit the Longs…. or maybe not. I'd rather they come and visit me instead!
Copyright © 2009 The Digerati Life. All Rights Reserved.