Seems like people sometimes get confused when they're describing themselves. They'll call themselves frugal when they're really cheap, or they'll say they're practicing some budgeting when in fact, their budget can swallow the whole lingerie section at Macy's. That's why I wrote the article on the science behind money attitudes, to clarify the distinctions between the tendencies to be frugal, cheap or extravagant. Have you wondered where you stood in the frugality spectrum?
My Lamentations On Frugality
Seeing the scientific analysis backing these results, I've begun to question what kind of money handler I actually am. I say this because recently, I've found myself shifting from Dr. Jekyll to Mr. Hyde when it comes to money management. I believe I am a frugal person at the core, but lately, I feel like I'm one prodigal spendthrift.
Our expenditures from the last 7 years haven't been as under control as I'd like them to be. It's no coincidence that our household spending began to creep up right after our kids were born. This is no excuse, of course, since there are people out there who've managed to increase their net worth regardless of additions to their family — take for instance Nickel from Five Cent Nickel, NCN from No Credit Needed and Trent from The Simple Dollar, all of whom have been successfully navigating the financial challenges of parenthood.

This doesn't mean that our net worth has not increased in this span of time — it has, due to well performing investments but no thanks to poorer savings habits. This just means that we could do so much better, if we can only control our spending better.
In our case, our spending has increased due to several factors: with kids came a roomier home which demanded more maintenance; then there's preschool, plus child care services and just general living expenses that have gone up. For a self-proclaimed frugalist, these expenses and the guilt they bring are hard to wrestle with.
But when I took some profiling tests to check my pulse on money issues, it confirmed that despite saving less, I'm actually quite "normal" and neutral about finances, if not quite naturally inclined towards frugality. I answered questions such as these:
Answer the following with "Yes" or "No":

Dressing fashionably is important to me. No.
I often worry that I will run out of money some day. Yes.
If I lose a $20 bill, it can spoil my whole day. Yes.
Shopping is fun for me. No.
How do you typically view shopping? As a chore.
I strongly prefer shopping on line rather than in stores. Yes.
Quizzes like this reassure me that I haven't crossed the line to "spendthrift" mode. My cheesy-sounding test results now says I'm an "Unconflicted Consumer".
You've got your wily ways, but you're not wackily withholding. You're practical, and interested in saving a few pennies but not to the point, say, where you'd risk a trip to the pokey (far as we know, grooming your hair in-store with said store's unpaid-for products is petty pilfering though we doubt Death Row would be the end result).

You also wisely weigh all factors in making monetary decisions i.e., if it saves you a sou or two, is it worth the time, trouble or perhaps loss of your good standing with others? Your final decision may not always be 100 percent on the money but 100 percent is neither a necessary or obtainable goal. You embody an admirable balance between living large and living lean living la vida in-between.
I guess I'll take this. Still, it doesn't change the fact that I feel I'm spending more than I should these days, especially since I'm seeing how some of you in the blogosphere have set the bar high in terms of your savings rate. I'm going to need to get my act together somehow.
Your Frugality Profile
If you're curious about what kind of money type you are, here are a few simple tests that can give you a hint (from The Tartan):
| | |
| --- | --- |
| If This Is What You Think… | Then You Must Be… |
| Eating out tonight means I can't go out the rest of the week. | A Tightwad: high sensitivity to pain of paying |
| My money is better spent on the movies than on eating out. | A Frugal Consumer: find saving pleasurable |
| Eating out tonight means I should not go out one other day this week. | An Unconflicted Consumer: have a sensible sensitivity of pain of paying |
| Eating out tonight has no affect on going out the rest of the week. | A Spendthrift: low sensitivity to pain of paying |
This quick check was part of a scientific survey that yielded results showing that 21% of respondents were tightwads, 18% were spendthrifts, and 61% were neither.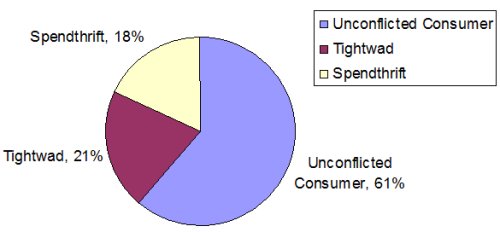 Copyright © 2007 The Digerati Life. All Rights Reserved.