Saving money is quite a priority for many so I thought to crowdsource the question: What kind of stuff do you do to keep more money in your pocket? Are you a coupon clipper, bargain hunter, expert haggler and frugalist? Do your friends call you a cheapskate? Well then, we hope you'll like what we have here.
I can tell you now that I have the absolute BEST frugality advice anywhere on the net. Sure, this is a bold thing to say, but I believe that the ideas I am presenting here are good because I've done my own mashup trick which involved aggregating the blogosphere's best ideas. Below, I've given the floor to various financial advisers on the web. I am also of the mind to either update this list as I find more tips out there, or create new ones as I collect more and more ideas from the wisdom of the crowds.
If you have the CHEAPEST WAY to do something, let me know so I can feature it in one of these posts or just add your comments to this article below.
So here's the best ever frugality advice I could find.
The Cheapest Ways To Live Your Life
#1 Exercise by walking.
That's right. Walk and take the stairs whenever you can. You won't need fancy exercise machines or a gym membership to burn the calories, and on top of that, you can also stop and smell the roses too. Here's an awesome analysis to convince you about the benefits of walking. Doing heavy chores around the house will also help you out with this. So instead of paying someone to rake your leaves, you can save the bucks and do it yourself. You may get to be so good at this that you end up doing away with your car and opt for mass transportation, which are the cheapest modes of transit you can find.
#2 Cut down on health costs.
Avoid getting sick by washing your hands often. If I can avoid the crowds during the busiest times of the year where the highest amount of germs are circulated, I do that too! But then that means more dollars spent on driving my own car rather than risk it on a crowded bus or train. I guess there are tradeoffs for everything. As a reminder, get that annual flu shot. Now if you're already sick with a sore throat, try an elixir made out of cayenne pepper powder. And floss daily to avoid painful and costly dental problems later.
#3 Decorate your surroundings and grow a garden for very little.
I know people who cultivated a huge garden out of cuttings. Free cuttings from the neighbors that is! With some time and discipline and maybe a little bit of a green thumb, it can be done. The cheapest way is always to do it yourself, to start small and to get stuff from the dollar store. Another great idea is to find new uses for old items you may already have just lying around stored away somewhere.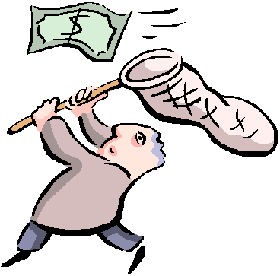 #4 Entertain yourself for free.
Why not try any of these activities? Read a book or two, but pick them up at the library. Or if you're in the mood for a movie, borrow from your friends' collections. And best of all, play with your kids and spend time with the family by painting or drawing with them, visiting the playground, taking nature trips and building sandcastles on the beach (granted you need a beach nearby to be able to do that).
#5 Eat well for cheap.
Could eating well be done cheaply? I think so, but it'll take some creativity. Maybe it'll involve having to do some research into something like Cheap Eats, fixing yourself your own frugal lunch, or using some recipe books that will grant you better health in the long term so that you can avoid expensive medical bills. Feast your eyes on this interesting analysis: the economics of obesity.
#6 Relax the easy way.
Get enough sleep! When you're awake, try meditation or rest in a comfortable spot. De-stress by trying out some cheap activities like reading a book, taking a nap, and just hanging out.
#7 Have an affordable date.
Though relationships can have its costs, you can still entertain your date through more affordable or even free ways, such as a nice picnic followed by a nice hike in the woods where you can get to know each other better. Renting a movie and having homemade popcorn would be a good way to enjoy yourselves as well.
#8 Look great for less.
I haven't come across anyone else declaring this, so I will: the best way to look great is to be clean, don't go overboard, less is more, and dress simply but crisply. Pay attention to the hair since it's one of the most noticeable things about you. Notice how many people call you out by saying: "check out the bald guy over there!" I will also admit that I don't mind taking hand-me-downs that fit me and are barely used by someone else. My mother, sister and I have similar builds so it isn't unusual for all of us to trade clothes now and then. Should you wear makeup? It helps if you're born with easy to maintain looks. As for me, I personally haven't paid attention to this in a long time mostly because of allergies, but I may get into it again one day.
#9 Get your money back by being nice.
Ask, be nice and people will address your bill disputes much better than if you make a scene. If you want to return something, act fast, be organized and have your receipts ready. If you want to have your credit card late fees forgiven, call your card company and simply make a cordial request. Many times they will address your problem in your favor.
#10 Be charitable without spending a cent.
To help others, you can donate something else other than money. How about donating your time and skills instead? It's free. There's also a really cheap way to pass away from this earth. How about donating yourself to science?
These tips are the cheapest ways to conduct our lives since most of them can be done for free. There's nothing I'd like better than to collect them all in a tidy package like this to share with you as well and for easy referencing anytime I like, and that way I can keep tabs on what the blogosphere has to say about watching our budgets.
Copyright © 2007 The Digerati Life. All Rights Reserved.