I grew up on rice, and this is no surprise given where I'm originally from! 😉 I usually prefer rice as plain and white as they come, but let's not forget that while it's a staple product, it doesn't always have to be used on its own. You can serve pretty much anything with rice, but it's good to have some variety; you don't have to serve plain white rice all the time. I've come up with some good alternatives and none of them are hard to do.
How To Cook Rice With Flair: Simple, Creative Ideas For Rice
Try these for size in your own kitchen. You'll keep the cost of your food bills down and enjoy better meals to boot!
1. Buy wild rice as well as white. Wild rice is the dark stuff, and you can mix it in with ordinary white rice to come up with the White 'n Wild variety. Don't buy it ready mixed –- create it yourself by buying separate bags as it's cheaper. It's good to use with accompaniments that are stronger in flavor.

2. Mix in a handful of peas and sweet corn with it. I love doing this. I microwave some rice in a rice cooker and add some peas and sweet corn on top so they steam as well. Then I mix it all in, serve it and add some cooked fish on top. Fish in sauce works wonderfully!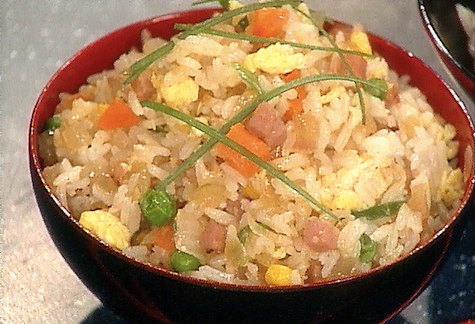 Image from the FoodNetwork.com
3. Add other ingredients to it and stuff some peppers! This is always a good bet and it's great for vegetarians too. Choose any combination of vegetables to mix in with the rice. Mushrooms, garlic and onions are good, as are more colorful vegetables.
4. Eat it cold in salads, mixed in with chicken and salad vegetables. We don't always think of putting rice in salads but it's a good way to bulk the dishes out, while making them cheaper and more filling as well. You can always make a big batch of cooked rice and add something different to it every day. They're great to take to work too! When you fit your meals in your lunchbox nice and easy, just don't forget your fork!
5. Go for egg fried rice and serve with sweet and sour beef or chicken. Left over rice should never be chucked away. Instead, throw it in a frying pan with a splash of oil and a cooked egg. Make sure you continually stir the egg to break it up and to give it the authentic stringy appearance. You can then serve it up with a sweet and sour dish, or anything else you like with a Chinese theme.
Check out these other articles on fun, cheap, creative dishes, including:
Yoplait Greek Yogurt Dip (Tzatziki) With A Coupon
You can probably come up with lots more ideas yourself before you're done. The trick is to start thinking about rice as more than just a staple food. Yes, you can cook it and serve it plain. But why do that when there is so much else you can do with it?
In addition to all this, jazzing up your rice dishes gives you the added benefit of appreciating and getting to like plain rice more than you did before. Instead of thinking "oh great, plain rice again" you'll appreciate the taste and the chance to eat it plain every now and then.
I used to be very boring when it came to dishing out rice. I'd do a bed of white rice and that would be it. Now I mix white rice with brown rice, throw in some additional vegetables; use it in stir fries and a whole lot more. There's a lot you can experiment with, when you've got a solid staple that goes well with almost everything. It only takes a bit of advanced thinking and a little preparation to jazz things up a bit.
So how do you like your rice?
Copyright © 2010 The Digerati Life. All Rights Reserved.