Here's an admission: I cannot stand ready made meals. In the past, I had gone through a phase where I'd eat them maybe once or twice a week while I was on a work deadline because I just needed something quick and easy to cook before I left for work. But I never enjoyed them because they didn't taste that good. Talk about bland!
When I started thinking about it I realized there were some major disadvantages to having ready made meals in the freezer. So without further ado, allow me to share some of my opinions with you.
3 Disadvantages of Ready Made Meals and TV Dinners
1. They make you lazy.
If I'm going to be lazy, I'd rather use some restaurant discounts or dining coupons and find an excuse to dine out. But what happened to a bit of good old fashioned home cooking? The truth is, I make my own ready meals simply by cooking things in batches and making sure they are ready in advance. For instance, if I cook lasagna, I always come up with a huge dish –- even if there may only be a few of us eating it. I cut out a portion for each of us, let the rest go cold and then cut it up into portions and freeze it.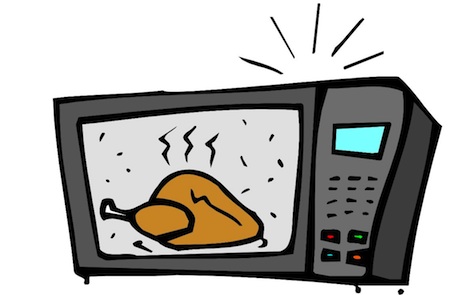 Image from Food Mayhem

Then I know that if I have a day where I don't have time to cook, I can still enjoy having a proper home cooked meal. I simply defrost the food from the night before and pop it in the oven to warm through. Pretty much like any ready made meal really, except you get proper food in decent portions with all the best flavors preserved.
2. They are expensive.
Don't be fooled by the $0.99 or $1.99 you see on the label. The box might look huge but the meal inside is tiny by comparison. I'm not advocating big portions here, but I'm certainly saying that by cooking stuff at home you can get your money's worth out of most dishes. Instead of microwave meals, why not try these cheap meals and easy dinner ideas? You can make some delicious family dishes for under $10.
It may feel like you're spending more to begin with because you have to buy all the raw ingredients. But once you've made a dish and have divided it into portions, you'll find that generally, your dish will turn out to be much more economical. Most times, my own efforts work out a lot cheaper depending on the dish and how I cook it.
3. You can never be quite sure of what's in them.
Isn't that the worst part about eating any kind of food? I know you can look at the meal's container to determine what exactly is in it, but most of the time I don't understand half the things that are written there. They just sound like chemicals and nasty things that really shouldn't have any place in food at all. Your health is in your hands; it all depends on what you put in your shopping cart when you go grocery shopping.
As far as I'm concerned, I would always want to know what is in my dinner (and what's in my family's meals). And if I cook it with proper, natural ingredients, then I'm confident about what it is we're ingesting. It also means that I can only get more skilled at home cooking, which is always a good thing!
You can definitely find more reasons for steering clear of ready made meals. If I can plan well in advance, I can fill my freezer with meals that I only have to defrost and reheat. And none of them fall into the category of prepared meals (the kind that you'd encounter in stores).
I'm sure many of us would much rather enjoy our own home cooked meals everyday, and these ready made meals are simply consumed for the sake of convenience. But I'm actually curious about just how much we've decided to accept these prepared meals (made en masse in a factory somewhere) as part of our lifestyle.
Copyright © 2010 The Digerati Life. All Rights Reserved.