There is nothing wrong with a good sandwich. But if you are like me, you probably get a little bored with them from time to time. Opening your lunchbox to find the same old flat looking sandwiches sitting in there every day can get a bit tiresome after a while.
So let's fire things up a bit and think of some different cheap meal ideas. I have used every one of these and in doing so, I'm able to find a variety of fillings or accompaniments to use every time I make them.
What Are Some Cheap Lunch Box Ideas?
Pasta dishes –- one of my favorites is tuna, cucumber and pasta mixed in with a dollop of mayo. It's pretty delicious (IMO) and you can make it in a big enough batch to last more than one day as well.
Wraps –- this is a bit different from a sandwich while still giving me that satisfying feeling that I love getting from eating bread (wooo carbs!). Chicken, bacon and mayo are a firm favorite with me (yes I love a bit of mayo), or strips of ham or beef plus some salad. Once you start using wraps, you will find that you get a lot more ideas for fillings to try out. Keep some meat from your Sunday joint to use as well –- I do this quite a lot.
Rice dishes -– I love cold rice. Provided it is cooked properly so it is still quite soft when you eat it cold, you can't beat it. I usually buy the sachets of flavored rice and use half a pack mixed in with other things as well. For example, I might add prawns or chicken to it, along with some salad vegetables like spring onions and sliced cucumber. Here are a few different ways to cook rice that you might enjoy.
Salad –- this really doesn't have to be boring. I make home made coleslaw to put in with it, along with some home made potato salad as well. This bulks out a salad and when you add some kind of meat or fish to it too, you can end up with a nice dish that is really tasty.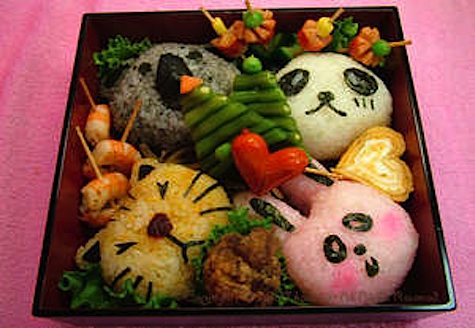 Yay for Bento Food Art!
I have found that there is another big advantage to going beyond the sandwich. Now tell me if this is something you do (just out of habit, perhaps?), but whenever I have a sandwich, I invariably end up having a bag of chips (or crisps for you Britons….) with it as well. Sure it's a common combination for a modest meal (chips and a burger, for example), but well, you're probably better off with healthier food choices.
Ultimately, I find that I don't need to have chips if I have one of the above non-sandwich based suggestions. Wraps can go well with chips but I usually end up having cucumber or carrot sticks with it instead, or a side of home made coleslaw. So it makes the rest of your lunch rather healthier as well, even though you may not set out with that in mind.
I often have pasta or rice because they are cheap to use as well. If I'm able to buy some salad vegetables at the beginning of the week, they can last all week and provide cheap lunches for that entire period. With some left over meat or fish thrown in the mix, it's pretty easy to use up leftovers to make sure you have a tasty lunch to enjoy.
Try some of these ideas yourself. I'll bet you'll end up having sandwiches far less often!
Copyright © 2011 The Digerati Life. All Rights Reserved.