Everyone wants to eat healthy these days. Your health is priceless! Many claim, however, that it's impossible to eat healthy on a limited food budget. But I would beg to differ; cheap meal ideas abound, and there are lots of ways to prepare your food inexpensively. You also don't always need a stack of grocery coupons or a list of online coupons to save money on food (although they help). Here are five great strategies that can help you to get the healthy foods you need without breaking the bank.
Keep Your Food Costs Low While Eating Healthy & Inexpensively
1. Check your local supermarket's bin for imperfect or overripe fruit and veggies. Most supermarkets have an area where they will sell these items at deep discounts. You can easily pick these items up and freeze them for use later in recipes. I usually purchase bananas and fruit at my local grocery store this way. I freeze the fruits and use them in my protein shakes every morning. You can also use the items in muffins. Of course, veggies can be chopped and frozen as well to be used later in soups, chili, and other recipes. If you do not see an area like this at your local market, ask the produce manager what is normally done with the overripe items. You may be able to strike up a deal with the manager.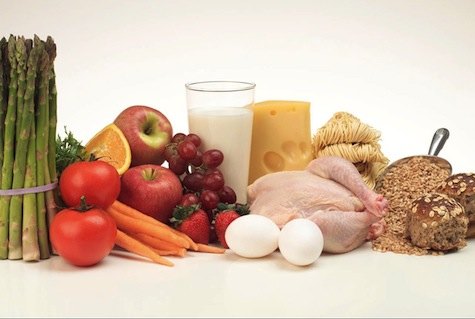 2. Shop late at night. Ok, so being a disorganized shopper has paid off for me, in a way. One night, I decided to drop by the grocery store at 8 PM. I had a hankering for some pineapple. To my delight, the freshly cut chunks of pineapple for that day had been marked down to $1.25. Awesome! This is 50% off what I normally paid. In addition, if you go to the supermarket after the bakery has closed, you will often find that day's bread discounted to half off. Want to get great whole grain bread and have your veggies and fruit already cut and prepared? Then shop late at night!
3. Eat the beans and rice. Dave Ramsey is right. Beans and rice are quite possibly the cheapest meal you can find and is a healthy dish to boot. Whether you buy the beans canned, frozen, or dried, they are a steal compared to buying meat for every meal. I like to spice mine up with a little salsa and cheese. Mix up some black beans, rice, and salsa, cover with a light dusting of cheddar cheese and bake in the oven for 30 minutes. This presents a healthy meal that's filling and budget friendly.
4. Eat soup. You know why I love soup? Having soup helps me meet my daily veggie requirements, plus this meal can be easily made in advance and frozen for later. Instead of grabbing a "heart attack" burger at the local fast food place, I can pop my soup in the microwave for 5 minutes and have a delicious healthy meal without messing up a bunch of dishes. This meal is not only healthy and quick to make, but also fills you up quickly as well. This way, you're also able to control your appetite better: you'll be less likely to overeat if you pair soup with other food items. And you can use all those discounted vegetables you bought at the supermarket in this meal!
5. Make your own desserts. Yes, I said desserts. Everyone needs a few treats in their healthy diets. If you purchase desserts that are already made, not only are they totally fattening, but they also tend to be quite expensive. Try making your own brownies or cookie dough, and freeze them. Pop one in the microwave for a quick treat. I'd also like to recommend a great cookbook called Deceptively Delicious. This cookbook offers ways to hide your vegetables in delicious chocolate cakes and desserts. No one said you had to eat steamed broccoli. You'll just need to be a little creative!
Created June 13, 2010. Updated November 19, 2012. Copyright © 2012 The Digerati Life. All Rights Reserved.