The following guest post is by Lazy Man and Money who not only writes about personal finance but also blogs about MonaVie.
A few weeks ago, I invited SVB and a few other bloggers (Budgets Are Sexy and A Gai Shan Life) to my home for a friendly game of Settlers of Catan. Upon meeting me for the first time, Revanche of A Gai Shan Life said, "Oh so you are the MonaVie blogger." I've become accustomed to this reaction. In fact, SVB often begins a conversation with "How is MonaVie treating you?"
Sometimes you don't choose your path, your path chooses you. Before I go any further I should step back and explain what MonaVie is. To be as unbiased as possible, I'll use the Wikipedia definition of MonaVie:
"MonaVie is a beverage company distributing products made from blended fruit juice concentrates with freeze-dried açaí powder and purée through a multi-level marketing (MLM) business model."
My History with MonaVie
Almost exactly two years ago, my wife came home from a meeting from a charity group she's involved in. She mentioned that one of the members there was pitching this juice and she asked if we should buy some. After she told me it was $45 a bottle, the answer was a very quick, "No." The person gave her two bottles for free and asked her to try the juice. This set off a number of questions in my mind such as, "What makes this juice worth $45?" and "Why is this person so quick to give us $90 of value?"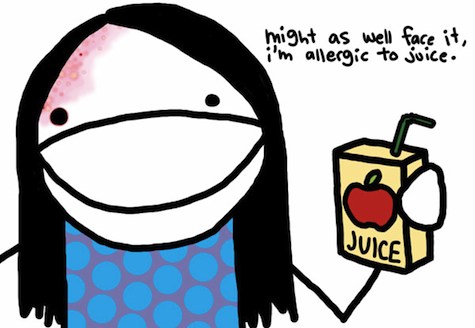 Image from the great NatalieDee.com
It was a perfect article for Lazy Man and Money. After a couple of hours of research I asked my readers "Is MonaVie a Scam?" It turns out that MonaVie is a very controversial subject. People who were very positive about MonaVie and people who were very much against MonaVie started commenting back and forth. The back and forth continues today, two years later with over 4,000 comments on the article.

Somewhere early in this discussion, I found myself agreeing with the people who were against MonaVie. Those people backed up their arguments logically and they were unbiased — they had nothing to gain by being anti-MonaVie. However, it was the pro-MonaVie people who really swayed me. They made bad claims that they couldn't back up. Worse, they made illegal health claims like MonaVie could help with a number of diseases.
I started to feel bad that all this great information was being buried in the comments, so I started JuiceScam.com, a site devoted to spreading all that great information. In rare circumstances, I actually do the smart thing, and fortunately this was one such time… I bought JuiceScam.com. MonaVie is a registered trademark of MonaVie's (of course), and I didn't want to get caught in their legal crosshairs.
But what I want and what happens are usually quite different things. This was no exception, as I found out when MonaVie first threatened to sue me. Their claim was that I couldn't use their trademark in any part of my URL. I'm no lawyer, but even I knew that their case against me didn't have a leg to stand on. They'd have to sue Wikipedia and a thousand other companies that employ the same methods. In some of the comments I've received, a MonaVie employee even resorted to calling me a pretty bad name.
The Consumerist picked up the story and contacted MonaVie's lawyers to find out what they were thinking. There they found that MonaVie planned another legal threat. It wasn't long before MonaVie sent me a second cease & desist request. This time they claimed that I couldn't use their trademarked name, "MonaVie" in my webpages. I didn't need to find a lawyer to know that I wasn't going to be in any legal trouble. In fact, I was able to point out numerous ways that MonaVie's lawyers were in error.
In that second letter, MonaVie specifically complained, "When an individual does a Google search for MonaVie, the first thing that appears is your article." This was the first clear sign that MonaVie was upset that I was being critical of their business. Rather than try to engage in discussion to address the criticisms and use it as an opportunity to make their product better, they went to lawyers.
Where I Stand with MonaVie Today
I don't have the space here to go into a hundred more things on this topic, such as MonaVie lying about the ORAC score of their juice in their promotional materials or illegally promoting their juice as a cure for pain. It's not just the ethics of the company that gets to me — it's also the financials.
If you are reading The Digerati Life, you already know that it's not a smart idea to spend $5,000 a year on fruit juice — especially when independent tests prove that MonaVie lacks nutrition. That $5,000 is what it costs for a family of four to drink the recommended amount of MonaVie. It's something that I wouldn't want to see included in a minimum budget for a family of four.
If you want to learn more, please visit my MonaVie site and join the debate!
Copyright © 2010 The Digerati Life. All Rights Reserved.