National health care is a highly charged but popular topic of discussion but a lot of people were worried about health insurance long before the hype. Even Obama's Health Plan (ObamaCare) continues to have everyone talking. In 2007, a significant 17.1 percent of Americans were uninsured. That's almost 50 million Americans who lack any type of health insurance coverage. Sadly, almost 20% of those people are children.
Who Is Uninsured?
Lack of health insurance is a problem for people from all walks of life. Most states have programs for children and elderly to receive some type of coverage. As a result, a large number of those who are uninsured are also of working age, with many working hard with no health insurance to help them when they are ill or in pain. As you can expect, those who earn less are more likely to be uninsured. Note that more than a third of families with an income below $10,000 annually are uninsured, as compared to 7 percent of families with an income over $75,000 who are annually uninsured.
In other words, having a job does not mean you'll necessarily receive health insurance. About a quarter of uninsured workers are employed by firms with more than 500 employees! Employers are not required to provide health insurance for their employees despite the fact that health care costs and spending in the United States have soared at an average rate of 10 percent a year since the 1960s. It is estimated that 18,000 to 22,000 Americans die annually due to lack of health coverage. Costs continue to rise as people remain uninsured, creating the crisis we have in the country today. [Source: CoverTheUninsured.com]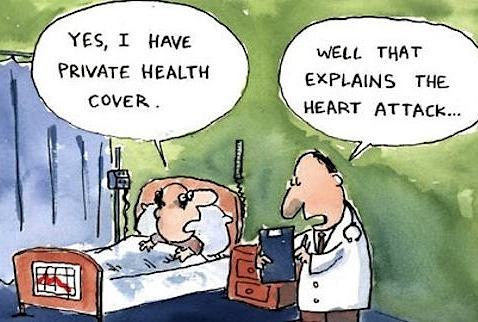 Illustration by Jon Kudelka
What Is The ObamaCare Plan?
Obama states about the proposed plan:
"It will provide more security and stability to those who have health insurance. It will provided insurance to those who don't. And it will lower the cost of health care for our families, our businesses and our government."
For those with health insurance, the plan proposes to end discrimination against those with pre-existing conditions, limit premium discrimination based on age and gender, prevent people from being dropped when they need insurance most, cap expenses, eliminate extra charges for routine tests and shots, eliminate gaps in coverage for prescription drugs and protect Medicare for seniors.
If you have no insurance, the plan intends to create a new insurance marketplace called the National Health Insurance Exchange, where people can compare plans and buy insurance. Tax credits will help people and small businesses buy insurance. There will be a public health insurance option for those who cannot find affordable insurance and a "high risk" pool will be created to provide low cost coverage for people with preexisting conditions. Large employers will be required to cover individuals and families who can afford to purchase insurance.
No Health Insurance? Options for the Uninsured
While government power players negotiate our health care future, people need solutions now. So what options are available for those who are uninsured today?
COBRA
For those who were involuntarily terminated from their employment between September 1, 2008, and December 31,2009, you may qualify for subsidies to cover 65 percent of the cost of health insurance premiums paid under COBRA. This state program allows you to continue coverage provided by an employer, by letting you pay the premiums for up to 18 months. The economic stimulus package pays subsidies for individuals with incomes up to $125,000 and families with incomes up to $250,000.
Tricare, CHAMPVA
Tricare was formerly known as CHAMPUS. This program is administered by the Department of Defense for military retirees, families of active duty, retired and deceased service members. Disabled dependents of veterans and certain survivors obtain coverage through CHAMPVA, the Civilian Health and Medical Program for the Department of Veterans Affairs. More service providers were recently added. CHAMPVA patients can elect to receive treatment at VA medical centers to avoid the 20 percent co-pay for private physicians.
Medicaid and Medicare
Medicaid is a health and medical services program that offers coverage for those with few resources and low incomes. While the federal government oversees the Medicaid program, the criteria is determined by each state. Another option includes low cost clinics, which exist in many counties across the nation. Medical care is rendered based on need and income, with patients paying as little as $15 per visit.
Medicare pays for hospital and medical care for elderly and disabled Americans. It's divided into parts as follows: hospital and medical insurance are Part A and Part B while flexibility and prescription drugs are addressed by Part C and Part D. With Part D, pricing pays for 75 to 95 percent of prescription drug costs. To be eligible for Medicare, you must fall under one of the following categories: (1) at least 65 years old, (2) under 65 and disabled, (3) or any age with permanent kidney failure requiring dialysis or transplant. You must be a U.S. Citizen or permanent legal resident for at least 5 continuous years.
Both Medicaid and Medicare are managed by the Centers for Medicare and Medicaid services, which is a division of the United States Department of Health and Human Services.
Medical Discount Plans
There are hundreds of discount medical plans available offering you anywhere from 20 percent to 70 percent of the cost of routine visits and treatments. These plans are not considered health insurance and often leave gaps which people cannot afford to cover. Meanwhile, you are still paying premiums for this minimal coverage. It is advisable to participate in health insurance rather than these fly-by-night medical discount plans.
To find out more about health insurance coverage available in your state, visit CoverTheUninsured.org to get the latest facts. With millions of people uninsured today, we can't wait for tomorrow to get coverage!
Copyright © 2010 The Digerati Life. All Rights Reserved.