There are a few annoyances that you have to put up with if you live in a pet loving suburb or community. It just goes with the territory. For instance, I was taken aback by one blogger's lamentation over the fact that her neighbors' dogs have taken a liking to her lawn, and not in a nice way.
I know how she feels as I've got several neighbors whose dogs just love to do a number on our lovely flower bushes. It is more than a nuisance for me since this leads to extra expenses, with us having to pay to replace damaged plants at some point.

It's also one reason I don't have a dog, even though I love dogs — the smaller, the better. They're certainly harder to care for than a cat or goldfish (for example), and depending on their disposition, can cause an untold amount of damage on slippers, furniture or plant beds.
Now if you're a pet owner, you'll need to contend with more than just the possible cost of replacing plant beds when you own a beloved animal. We've discussed pet care costs in the past, and how they can rack up during the lifetime of a pet. Of course, while there are those pet owners like myself who remain pretty conservative about how much to spend on their pets, there are those who will go all out to provide their creature(s) only the very best — even to the extent of bequeathing them their estate or making sure they're covered for any medical procedure they need.
For those pet owners who want to take care of all eventualities, there's this thing called pet insurance. It's not in my list of essential insurance policies to get, but let's take a look at what they're all about.
What Do You Get From Pet Insurance?
A roaming cat that picks you for an owner may come to you free of cost. Or if you've visited the SPCA to adopt that cute little part-Siamese, you may not realize that your cat can cost you over $5,000 in vet bills throughout the years. In addition to routine vaccinations, you can end up shelling out quite a bit to treat your cat for illnesses and emergencies. What do you do to curtail these expenses? Is pet insurance a good idea? Let's start with looking at a few policies and discussing the costs. Then we'll talk about the overall value of such plans.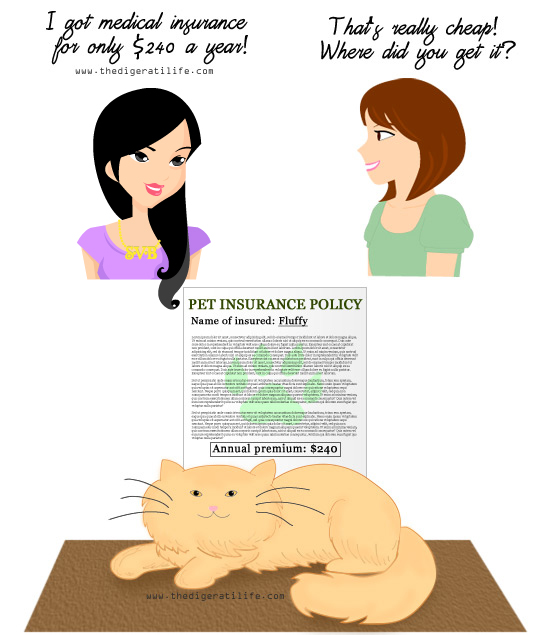 This type of medical insurance is not as cheap as you may think!
Coverage From Pet Insurance Providers
To start off, let's look at Trupanion. You might have noticed them advertised at PETCO, the pet supply store. Trupanion offers coverage of dogs and cats. You can enroll pets ranging in age from 8 weeks to 14 years old. Once they're enrolled, your pets are covered for life.
This policy helps you with important vet expenses like medications and treatments. Your cat or dog will also have coverage for diagnostic tests and even hospital stays and surgeries. You'll be reimbursed from the items on the bill, so you don't have to figure out what's going on with a benefit schedule.
Your pet's policy covers 90% of the accident or illness claims you make, aside from the exam fee and your deductible, if you have one. Another benefit of this policy is that it doesn't impose an annual limit. You won't be bothered with lifetime limits or per incident limits, either.
It's likely you're already familiar with the American Society for the Prevention of Cruelty to Animals (ASPCA). In addition to their animal welfare work, ASPCA offers pet insurance for cats and dogs. With this policy, you have a $100 deductible per pet. You can visit any licensed veterinarian in the U.S. or Canada. Also, there's a 10% discount if you have multiple pets. For reimbursement, you can expect 80% on charges that are deemed customary and usual. There's a 30-day money back guarantee that you can use if you aren't happy with the service, too.
There are four levels of service. The basic level seems more geared to covering pets who have been involved in accidents. Additional levels include services like non-accident related hospitalizations, x-rays and surgeries. The highest level of service adds spaying/neutering as well as standard and advanced vaccines. Regarding the maximum yearly benefit, Level 1 is capped at $8,000 and Level 4 has a limit of $13,000. But remember that rates may change over time.
What if your pet isn't a cat or dog? VPI Pet Insurance offers a Bird and Exotic Pet Plan. Such a plan can cover pets like ferrets, rabbits or potbellied pigs. Those expensive reptiles can be covered as well. For bird owners, a supplemental rider is available for $99 a year. It can assist you with managing costs for services like routine exams or wing and nail trims.
Sample Pricing Options
For any brand of pet insurance, your premium may vary depending on the type of pet you have and the vets who serve your region, among other factors. Get quotes from several pet insurance providers before you sign up for a policy. Ask about different deductibles, which may lower your premiums. Here are some sample pricing options for pet insurance from a few providers:
For 90% Coverage, $100 Deductible
Pet Insurance

Average Small Dog Monthly Premium

Average Cat Monthly Premium

Plan Description

Trupanion
$31.59
$20.52
No Payout limits, Includes Chronic Condition Coverage, RX Options
ASPCA
$88.55
$78.20
80% Coverage only, Limit of $2,500 Per Incident,
$13,000 Annual Limit, Coverage for Vaccines, Spaying/Neutering, Annual Physical Exam, Chronic Conditions
VPI
$28.67
$23.67
Coverage and condition limits depend on Benefits Schedules
Embrace
$85.25
$49.44
$15,000 Annual Limit, RX Options
You can also see what happens when you lower the deductible on your policy. The premium costs increase, as you'd expect:
For 90% Coverage, $50 Deductible
Pet Insurance

Average Small Dog Monthly Premium

Average Cat Monthly Premium

Plan Description

Trupanion
$33.44
$21.71
No Payout limits, Includes Chronic Condition Coverage, RX Options
Pet Plan
$60.67
$28.81
$20,000 Annual Limit
Pet First
$99.95
$83.95
Full Coverage for Chronic & Congenital Conditions,
$3,500 Per Incident Limit, $15,000 Annual Limit
These pricing plans may change, so please check with the specific provider for further details.
When Is Pet Insurance Worth Getting?
The rule here is somewhat similar to that with health insurance for humans. Insurance is a better value for bigger problems. For instance, a Consumer Reports article reports that for common pet health concerns such as infections, broken limbs, treatment for cuts, thyroid problems and such, seeing the vet without insurance may run you around $3,300. Sounds bad until you realize that various insurance plans will hit you with amounts ranging from $3,700 to $6,700 if you add up premiums, deductibles and copayments! In reality, paying out of pocket is a bargain!
But if you decide to throw in treatments for major ailments into the mix (e.g. hip replacement or major surgery), you'll get better value. For example, seeing a vet without insurance can run you around $10,400. But if you have insurance, you MAY save some money, but it would depend on the provider. Your outlay can range from $7,800 to $12,000! Ultimately though, you'll have MORE control and flexibility if you build and use an emergency savings account to cover incidents like this, rather than picking up insurance.
Pet insurance may be "best" for those people who own a breed of pet that's prone to chronic conditions or may face certain illnesses in the future. Or perhaps (and this is just an assumption), those who are in the pet breeding or dog/cat/horse showing and entertainment industries may want the coverage as part of the cost of doing business (or could they be eligible for volume discounts? Or do they use a different form of insurance for animals?).
However, for the average pet owner, it's hard to justify this cost unless you are finding it hard to save on your own; still, even if you're lacking the discipline, why not put the premium payments you would otherwise make into a savings plan for yourself that you can assign for pet health purposes? It's a much better way to cover your pet's needs because it saves you the money!
Nevertheless getting pet insurance coverage is a personal decision that takes into account how you view your pet, how healthy it is today or how you think it will be in the future, and how well you can estimate costs incurred by your pet and how willing and confident you are about paying for these costs through savings. It may be odd to think of pets as an expensive investment, but some folks may prefer the protection and peace of mind that a pet insurance policy can provide.
Tip: Pet insurance might not be appropriate for every situation. In fact, Consumer Reports points out that most healthy pets don't incur $1,000 to $2,000 in vet fees. As an alternative, budget a portion of your contingency fund for any pet emergencies.
Before you sign up for a policy, look over it carefully. Know what's covered and what you'll have to pay out of pocket so you don't get committed to a costly treatment.
My Stance On Pet Insurance
As mentioned, I look upon myself as an average pet owner who won't go overboard with treating my feline companion as royalty. I'm fortunate though, that I have a healthy pet so I have been spared the worry of wondering whether I should get any kind of specialty insurance. Since my cat has always been in good shape and I'm the type who prefers to save separately for costs that I may incur in the future, I've opted not to carry pet insurance. It should come as no surprise, given that I'm also the type who will opt for term life insurance as I like to keep my "premium footprint" small and optimized.
But while I keep an eye on costs and will skip on unnecessary insurance, I make sure to give my cat as much TLC as I can muster. I'm happy that I've got an easy-going outdoor kitty, one that is very amiable and low-maintenance. A wonderful pet that doesn't do unmentionable things on other people's yards, that's never any trouble, keeps to itself and likes the simple pleasure of napping under our bushes most of the time. I wasn't a cat lover until I ended up with this fellow.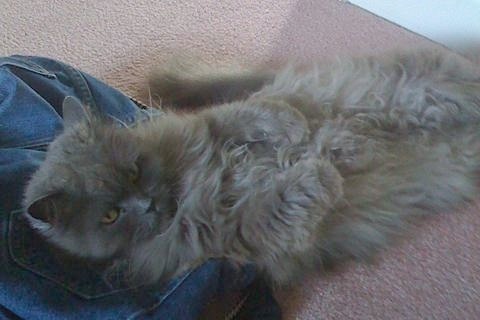 So what's your perfect pet? How are you saving for its vet bills?
Created August 10, 2008. Updated August 22, 2011. Copyright © 2011 The Digerati Life. All Rights Reserved.