You don't have a will nor an estate plan? Well now there's NO excuse — not after you read this tidbit on what some people are doing for their ever beloved companions.
And those companions are not bipeds either. They're of the four-legged kind that would prefer their meals on the floor despite what their caregivers will tell you.
The story: there are people who are making preparations for their pets as part of their estate planning.
Hotel heiress Leona Helmsley, "the queen of mean," left a $12 million trust fund for her dog, Trouble, when she died in August. She wanted to make sure that the white Maltese would be properly cared for after her death. (She omitted two of her four grandchildren from her will.)

Most pet owners don't have the means to match Helmsley's largesse, but they do worry about what will happen to their pets after their death. That's why they include their pets in their estate plans.
So for those of us who've been dragging our feet on this matter, can we now give this a closer look? If some people can prepare their pets for the inevitable, we all can at least be just as prepared for our own families. But I shall confess that there are still several members of my family who, though within an age range that I'd certainly call "ripe", are still hesitant about putting together a plan beyond a simple will.
Why is this the case, I've pondered. Why aren't people more adequately prepared? I've eventually figured out that it was to do with people not wanting to face that unpleasant reality called mortality. But just as it's human nature not to want to dwell on tough subjects like our limited time in this world, the alternative is even more unpleasant: no one likes to think about what would happen to their children if both parents or caretakers should pass away before the children are adults.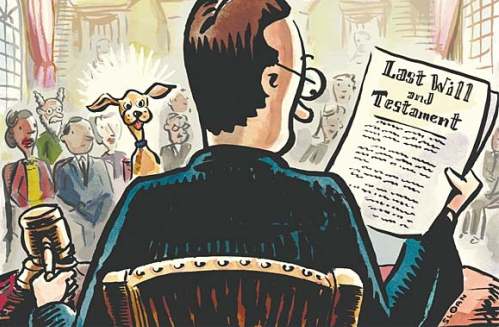 From this article by a lawyer who specializes in estate planning and elder law, we are told that 55% of adult Americans do NOT have a will…
"Over half (55 percent) of all adult Americans do not have a will, a new survey shows, a percent that has remained virtually unchanged over the past three years."
with the reasons given as follows:
"Ignorance is bliss: One in ten (10 percent) American adults who do not have any elements of an estate plan say it's because they don't want to think about dying or becoming incapacitated.

"Where to begin?: Similarly, nearly one in ten (9 percent) adults say they don't have an estate plan in place because they don't know who to talk to about creating such documents. This percentage nearly doubled from 2004 (5 percent).

"But I don't need a will: Nearly one in four (24 percent) of adults say their biggest reason for not having an estate plan is a lack of sufficient assets. This was also the top reason cited in the 2004 survey (21 percent)."

Source: 2007 Estate Planning Survey.
Perhaps it's time we set aside our reasons for being unable to get around to doing our estate plan — whether it's because we're procrastinating, or because we're too busy with "life" that we don't want to think about "death", or because it's just a lower priority for us at this time.
As parents and caretakers, we're responsible for preparing for our family's future, whatever it entails. If pet owners can do it for their tail-wagging dependents, I don't see why the rest of us can't follow suit.
Getting Educated About Estate Plans, Wills and Trusts
Now that we've established that we all need an estate plan, you may wonder how to go about it. On the outset, it's a subject that may appear to be confusing, therefore sending many of us to solicit the help of experts in this field. I've gotten quotes for such services before and they're not at all cheap by any means. The cost can be in the thousands, depending on what type of paperwork you are looking to draft.
As an alternative, you can do some online research or check out Nolo.com for some decent coverage on the subject. Or you can also pick up a book that explains estate planning in a straightforward fashion. It's much more affordable this way.
Don Silver has written a book that makes it all easy to understand, even for the majority of us who do not have a degree in law! A Parent's Guide to Wills & Trusts, is written in a question and answer format, with commonly worded questions like:
"My husband and I are both working parents. We have two small children and our lives are very busy. We don't have a will or a living trust. My neighbor says we should at least have a will. Why should we take time out of our busy, busy schedules to have wills or a living trust prepared for us?"
"We don't have much in the way of assets. I know my sister and my husband's brother would both fight to take our kids if something happened to us, but neither of them is the right choice. My brother would be the best choice for guardianship of my children. What should we do?"
"How can I be sure the guardian I've selected is really going to take care of my kids?"
"What exactly is a living trust?"
"How Does a Death-Tax Saving Trust Work?"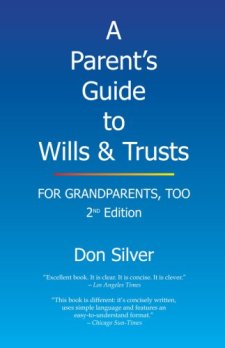 The answers to these questions, (and many more) are all explained by Silver in an easy-to-read book. It's written without technical or industry jargon, and provides the details needed to make sense of Wills and Trusts.
While the entire book is created using the question and answer format, the questions are also divided by category so that you can simply flip to the chapter that covers the topic you want to learn more about. Each section covers a different area, including:
Myths about Wills and Trusts
Protecting Children and Grandchildren
Beneficiary Designations
Avoiding Probate
Special Situations
Health
Taxes
This book will help you make sense out of what you may feel is a complicated subject. The six page glossary in the back of the book is probably worth the cover price of the book alone, with some of the more complicated terms described in easy-to-understand language. Though there are a number of books on the market to help you prepare your will or create a living trust, I've found that many aren't written in such a clear and simple manner.
I actually have one copy of this book to give away, so if you're interested, do leave me a comment below. I'll be giving away the book to one of you who decides to drop me a line and who expresses interest in the book. Many thanks to Debbie Dragon for providing us with the book copy and review. 🙂

Guest contributor: Debbie D.
Copyright © 2008 The Digerati Life. All Rights Reserved.