There have been some high profile cases featured in the news about people passing away and leaving behind more than sweet memories and a beautiful legacy for their loved ones. It's sad enough when someone goes, but when the deceased's family and friends end up with difficult issues to work through, then it's even sadder.
It's my opinion that fighting over inheritance matters and getting caught without disability or life insurance when you need it most are up there as scary scenarios that can easily spell the most disaster for anyone, especially while the family is at its most vulnerable. Get hit by any other disaster and you can bounce back much more quickly, when your family is whole. But losing a breadwinner unexpectedly is like running a race on one leg. It'll take a while to get over and will require a lot of training, therapy and painful recovery before you can return to normal living.

If that talk isn't morbid enough for you, then you aren't like many people who've decided to avoid estate planning altogether because it's just too unpleasant to face. On a personal note, I'd like to proclaim that one of the goals I have as a parent is to make sure I have an up-to-date estate plan in place. In fact, no matter what life stage you're in, nobody can argue that a solid plan is something you need. It doesn't have to be too complicated, and a fairly simple will should ensure that your heirs don't have to grapple with the State after you pass away.
Entering The Mess Of An Ugly Family Feud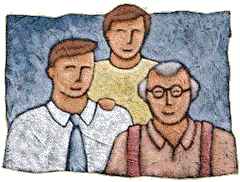 Chances are, you've heard quite a few high profile cases in the public eye that involve family drama surrounding estate transfers. Unfortunately, there are a good number of celebrity cases out there where estates have been tangled and assets snared in probate or in other complex legal situations. A brief look at some stories should provide us some lessons:
Feud #1
It was sad to hear about the untimely passing of Whitney Houston. And it's precisely these unexpected situations that complicate those unresolved family financial matters that are tied up in the courts. Prior to her death, Whitney was working to straighten out her own late father's estate which found her to be in conflict with her stepmother. On top of this, there are rumors that her estate ($100 million fortune) is no longer intact. That's just a rumor at this time though.
Feud #2
Anna Nicole Smith was a controversial celebrity who left behind a sole heir — a baby daughter who found herself alone in the world. At one point, her daughter stood to inherit Anna's late husband's multi-millions, but the latest ruling hasn't favored Anna's beneficiaries. There was also a time when the baby was in the midst of a paternity suit, which suggested that the ultimate guardian of the child could have potentially been in line for the massive windfall. This case has found some resolution though, and it looks like Anna's estate won't be receiving the huge wealth infusion that was in contention. We no longer have to wonder about whether a billionaire's assets could fall into the clutches of some random man that had nothing to do with the billionaire in the first place.
Feud #3
Another story involves James Brown's family and estate, where Brown left behind an old will that he didn't update despite the fact that he took up with a lover whom he married and had a child with. This wife sued to attempt to get what is due her.
Feud #4
Quite possibly the most well-known and infamous family fight in history involves the billionaire oilman J. Paul Getty, whose heirs sought to break up the $4 billion trust that was the source of their fortune. It took 18 months of acrimonious court battles to appease 26 potential heirs.
So you can see that many families of famous and wealthy people have historically faced challenges in this realm. You'd think that with all the money some of these big names have, that they'd know and make it a priority to spare a few thousand to take care of these serious matters. Now of course, I'm sure it's not as simple as forking out $1,000, $5,000 or even $10,000 for a bunch of official papers. I'm also sure you've already noticed that the greater the asset base that is at stake, the more attractive it gets to potential inheritors. We've seen how no amount of preparation (as in the case of Getty) will stop the vultures from diving in and getting a piece of the spoils. Maybe even an iron-clad plan won't withstand the demands nor appease the emotions of hungry heirs. Let's hope this stays the exception rather than the rule.
Unfortunately, not all family battles stem from questionable estate plans, but rather from the dysfunction that already permeates an existing family, whose members (in some cases) refuse to acknowledge a perfectly legitimate will. In this case, the mess will be deeper and maybe even impossible to fix — a screwed up will or trust simply adds fuel to the fire.
I'd like to investigate why people don't bother drafting their very important documents.
Reasons Why People Avoid Estate Planning (Or Why They Don't Have Wills)
Ignorance: people don't realize how important estate planning is. Many don't understand nor realize the true pain of probate.
Fear and Denial: people postpone getting their estate plan done. It's a grim subject and some folks just don't want to hear it. And I don't blame them — it can be a tough subject to face. Even some members of my family have a tendency to turn a deaf ear to this kind of talk.
Indifference: people don't care enough. They think: there's just too many other things to worry about. Or they don't really care much about their legacy.
Hassle: people think it's too much work. Let's repeat the previous point: some people think that there's just too many other things to worry about.
Expense: people think it'll cost a lot of money to do this. The answer? Not really. At the very least, you can do your estate plan yourself with enough research. And at most, you'll spend an inconsequential amount relative to the outlay your heirs will face if your estate goes to probate. Ultimately, the costs are all relative.
Procrastination: maybe you're too busy to think about such a chore right now. Do you tell yourself that there's always tomorrow? Maybe you've convinced yourself that your odds of expiring in the near future are so incredibly minuscule that….to wait another day won't hurt.
Now if you're ready to get moving on your estate plan, you can review some simple questions and a few tips to get the ball rolling.
Basic Estate and Inheritance Planning Tips
Ask yourself these questions:

Do you have assets?
Do you care who gets them?
Does it matter to you who becomes guardian to your children? If you care, then you'll need at least a basic will.

Keep the communication lines open among members of your family, especially when your heirs are old enough to understand what a will or trust is. If your family doesn't take to communication well, try sharing your basic philosophy on finance and succession with them (anyway). While it's tempting to leave it to your lawyers and executors to do the sharing when the time comes, it's still better to avoid big surprises down the road.
Seek an annual accountability and a proper accounting of assets that are involved in an estate.
Set up checks and balances among trustees and administrators who are involved in your estate.
Give your beneficiaries leeway to command authority over the assets they are entitled to. Allow your beneficiaries the ability to make changes under certain conditions, say if there are issues about a particular fiduciary or trustee.
Review and update your estate plan on a regular basis (say every few years or when there are changes in your life situation).
Keep everything up to date! For those who are doing their own estate plan, visit Nolo.com to get more information.
Whether or not you get a professional to draft your estate plan, trust, will and other documents, it's a good idea to read up on estate planning and to become familiar with the concepts.
Your goal should be to get your wishes documented and in order. Don't wait to get these things squared away. It's best to tackle these things when you're still up and about, cognizant of what's going on around you and are in a happier, and perhaps easier place in your life. Do it now while you're still in a good mood. My hope is that I've scared you enough to take action; this, I've certainly managed to do to myself.
Created February 12, 2007. Updated February 13, 2012. Copyright © 2012 The Digerati Life. All Rights Reserved.