Kosmo is the founder of The Soap Boxers and is the author of Mountains, Meadows, and Chasms, a collection of 74 short stories.
A while back, Silicon Valley Blogger recommended The Girl With The Dragon Tattoo to me. While I have a backlog of around one hundred books in my personal library, I share quite a few interests with SVB and thus put a lot of stock in the recommendation.
I am about a hundred pages into the book, and I enjoy it. I'll undoubtedly purchase the other books in the series, including The Girl Who Played With Fire and The Girl Who Kicked The Hornet's Nest.

Prior to SVB mentioning the book, I had a tiny bit of awareness of Larsson. I knew that the books had been delivered to the publisher prior to his death and were published posthumously. That's one of the reasons I was willing to add Larsson to my list of "must read" authors (currently there are about twenty authors on the list) – it not as it he's going to be writing anything new.
I wanted to know a bit more about Larsson, so I swung over to Wikipedia to take a look at his background. One of the first things that jumped out at me is that the original title of The Girl With the Dragon Tattoo, when translated from Swedish to English, is Men Who Hate Women. I'm happy that someone was smart enough to throw that title away in favor of the current one.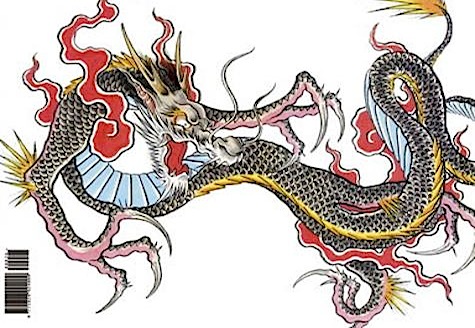 The Best Dragon Tattoos Illustrations by Guido Baldini
Do You Have A Proper Will? Lessons From Stieg Larsson's Estate Battle
When I came to the circumstances surrounding Larsson's death, I found some lessons in personal finance.
After Larsson's unexpected death from a heart attack at the age of 50 in 2004, his longtime partner found a will from 1977 that left Larsson's estate to a local chapter of the Communist Worker's League. Whether Larsson intended for this will to be in force at the time of his death is not known. He was quite young (22 or 23) when he wrote the will, and very well may have changed his mind during the 27 years that followed. In any case, the will was not witnessed, making it invalid under Swedish law.
There are a few lessons here (the gist though is that if you have no estate plan, you're taking a risk):
#1 Considering how important a will is, make sure you execute it properly. My wife and I had our wills drawn up several years ago, when we were expecting the birth of our first child. We weren't overly concerned about where our financial estate would go, but certainly wanted to make sure that our children would have the legal guardians of our choosing.
#2 The second lesson is to destroy an old will when it is superseded by a new one. The newer will is the legally valid one anyway, but the only thing the old will could do is create animosity among heirs (specially, angering those who received less in the later will). If you want to avoid a bitter family feud, then you'll need to do proper estate planning.
Since Larsson died without a valid will, his estate was distributed according to the laws of intestate succession in Sweden. His father and brother inherited the entire estate –- including future royalties –- while his longtime partner received nothing. With around 25 million of his books in print, this amounts to a lot of money.
#3 Protect the interests of your heirs. Why did Larsson's partner, Eva Gabriellson, inherit nothing? Larsson's work reporting on extremist groups meant that there were a few people who wanted him dead. When couples marry in Sweden, they must make their addresses public. This would have been a great security risk, so for this reason (and perhaps others) Larsson and Gabriellson never married. You'd think Larsson's father and brother would have realized that he'd want his estate to go to the woman that he shared his life with … but they aren't sharing. Yet another lesson –- if you and your partner don't have a legally recognized relationship, make sure their interests in your estate are protected.
Eva may, however, have an ace in the hole. Her laptop contains a partially finished fourth book in the series, and synopses for several more books –- extending the series to perhaps ten books. We may have a bit of a wait before those books ever see the light of day. While she has possession of those writings, Larsson's father and brother still have the right to royalties earned from any of his works. I doubt that she'll simply hand them over without a fight. I'm certainly no expert on Swedish law, so I'm not sure whether or not a court will compel her to hand over the works or not. I'm thinking she has a bit of leverage, since it's pretty easy to "accidentally" reformat a hard drive. If the father and brother cut her in for half the royalties of the future books, they'll still come out ahead -– because 50% of those royalties is much more than 100% of $0.
I also learned a bonus fact: a Swedish Krona is worth about 15 cents.
Kosmo's Mountains, Meadows, and Chasms is now available for the Kindle and in PDF format.
Copyright © 2011 The Digerati Life. All Rights Reserved.