How safe is your 401k account with your employer?
This instrument was created for working people like you and me, thinking that the market would present a better gain after 30 or 40 years than ordinary "safe" investments, such as bonds and CDs. It's still the best strategy, even better than the old pension plans which, at times, were swallowed up by bankrupt companies. You must remember that 401k's are safe even if the company that handles them goes broke, as in the case of Enron.
There is a federal law called the Employee Retirement Income Security Act (ERISA) that protects our 401k savings and other self-directed pension plans from financial loss and damages due to problems attributed to the trustee of the retirement plan. The law establishes the rules which retirement plan trustees need to abide by. So if a person or fiduciary commits fraud or goes bankrupt, your funds will be recoverable.
How safe is your 401k account's underlying securities?
Recently, we've seen a spate of financial companies going under or struggling in this tumultuous financial period. But you shouldn't worry: your 401k's are safe at their current value if the finance company goes down. If your retirement plan is invested with a financial organization that goes kaput, then the Securities Investor Protection Corporation or SIPC will step in to ensure that you recover your funds at their current value. Your money is not mixed with the troubled company's stock or funds and is held separately. Gerri Willis in her column Top Tips says "Your money is held in trust for you on your behalf. No one can access it. Not even bankruptcy courts."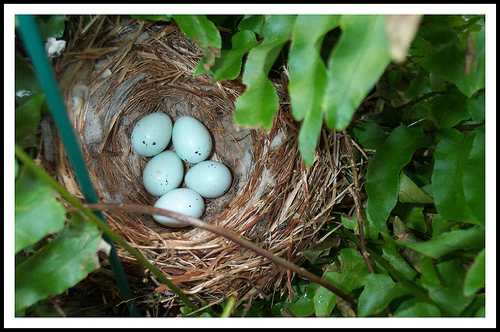 Photo by Cariboub
How safe is your 401k account in your own hands?
But of course, safety only goes so far — although your retirement funds are safe from the troublesome things your company, employer, plan manager, brokerage or fund company may possibly do, they are not safe from your own actions. If you decide to invest aggressively and your 401k tanks, then you're on your own.
Keep in mind, though, that your 401k's poor showing is most likely a temporary thing, unless you're overexposed to high-risk asset classes. This article suggests some great ideas to keep your money safe from yourself 😉 :
Read the fine print of your company's 401k plan.
Know what you're investing in.
Diversify. A good rule of thumb is to invest no more than 10% of your overall retirement funds in your company stock. Note that your employer may want their matching contributions to be in their own company's stock, so take this into consideration in your investment plan. Here's proof that stock market diversification works.
Evaluate your investment portfolio regularly.
Reallocate or rebalance your investment portfolio over time.
You as an employee select how you want that money distributed. If you have more bonds than stocks, you may be better off in these trying times. But remember that your 401k and other retirement accounts are supposed to cover your golden years and need to build over the long term, so your portfolio will need equities in order to grow.
The only people who are hurt right now are those who were thinking of retiring. Whatever your situation may be, do not touch these 401k accounts — unless you're a retiree, in which case you may not have a choice. If you've got a long time horizon, you can only hurt yourself by selling low, unless of course you have absolutely no choice (say, if you have an emergency). Before that last resort, consider instead, the option of taking a loan against your account very carefully. There are drawbacks to this — such as missing out on tax-free compounding — but borrowing from your 401k may be a better option than pulling your money out completely; it will be much cheaper since no penalty will be exercised, just as long as you pay the money back with interest within five years.
The trouble with 401ks.
All this information is dry and unappetizing, yet millions of Americans depend on their 401k for their survival once they retire (who knows what will happen to Social Security 10 to 20 years from now). Since the Dow Jones has lost 36% of its value this year, thousands if not millions of potential retirees are wondering how to survive till they hit 65.
Most of them apparently weighted their plan with stocks, rather than with safe investments like bonds. So no surprise that there is a movement afoot to change the philosophy of 401k's, once seen as the golden parachute for retirees. After all, how great is a 401k that isn't available to you when you retire because it's collapsed in value just when you need it most? Or because you raided it during your last emergency?
The question here, says the Washington Post Nancy Trejos, is whether we should continue to recommend 401ks as replacements for pensions. And to think that some crazy Congress heads want to hitch Social Security to the stock market.
How much protection should we get?
For many who are not able to manage their investments well, it really has amounted to a lottery. If the market does fine when we retire, we won't have worries — a rising tide lifts all boats, remember? But if conditions are catastrophic as they are now, older people are taking a direct hit. So maybe we should stop thinking that the capitalistic strategy is good for most people, since the truth is, we can't all protect everyone from themselves. In this case, could a dose of socialism (uughh) be in order?

This post is brought to you jointly by SVB and Jacques Sprenger.
Copyright © 2008 The Digerati Life. All Rights Reserved.