Was this the inevitable? WaMu gets its emergency bailout with a buyout from J.P. Morgan.
What do you know? The virtual ink has barely dried off my post about the WaMu free checking account rate increase when the other shoe finally dropped. In fact, as soon as WaMu increased their rates…it seems that their ratings were downgraded, and finally, a buyout(!) — all in a span of a few days. Things are really becoming volatile in the financial front with WaMu getting absorbed by J. P. Morgan. If you're curious about "what happens now", then I've offered some thoughts on this subject when I wrote about the case of having savings accounts in problem banks.
This may be the best case scenario for WaMu, but its employees and stockholders are experiencing the brunt of its downfall. Here's what's in store for you if you've got WaMu connections. I found this information from the Seattle Times:
What happens if I'm a WaMu …

Depositor: Your new bank is JPMorgan Chase, and your money is safe. Savings account rates and account numbers might change, but these adjustments could take months. Banks typically give plenty of notice about such changes.

Borrower: Your new lender is JPMorgan Chase. Continue to make payments as usual.

Stockholder: JPMorgan Chase bought WaMu from the FDIC, not from its shareholders. When a bank fails, shareholders are the last to be paid; they will receive nothing.

Employee: Branch employees could be the safest, because there is so little overlap between the banks' branches. Headquarters employees are not as secure, because JPMorgan already has many of those functions. It's too soon to know how many of those jobs will be lost.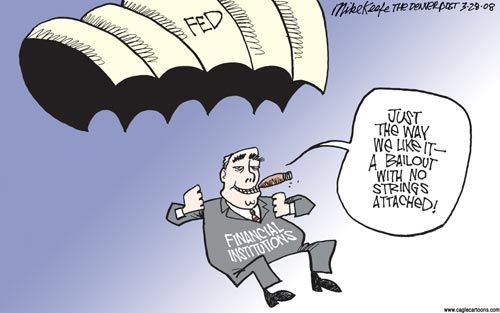 Image by Mike Keefe, the Denver Post
How this event bodes for the rest of the financial industry and the economy, remains to be seen.
Copyright © 2008 The Digerati Life. All Rights Reserved.