With the economy making headline news, what do you think of the way the media is handling the financial crisis? Is it just me or does it smack of drama and hyperbole?
Financial panic. Distressing scenarios. The market is not functioning properly. Widespread loss of confidence. We cannot risk an economic catastrophe. Long and painful recession. Our entire economy is in danger.
Disturbing words from Dubya and it all sounds critical and precarious.
Tell us again how we're this close to financial collapse unless we succumb to a bailout. How we're on the verge of ruin.
Times like these, I want to put my head in the sand, or fingers in my ears while I sing "Lalala, I can't hear you". No, I'm not going nuts here just yet, but I'm beginning to approach "financial crisis overload" from the stuff I've been reading and hearing about lately. As I digest each day's financial events, I'm not sure what to make of all the media madness trumpeting how everything is falling apart in our economy.
How much of this should I believe in? How much should I take with a grain of salt? Is it all overplayed or overhyped? I know it's "bad" but I wonder just how bad. Should I be so afraid that I become motivated to take out all my money and hide it in my kid's toy chest in the closet? (Of course that's just a hyperbole 😉 ).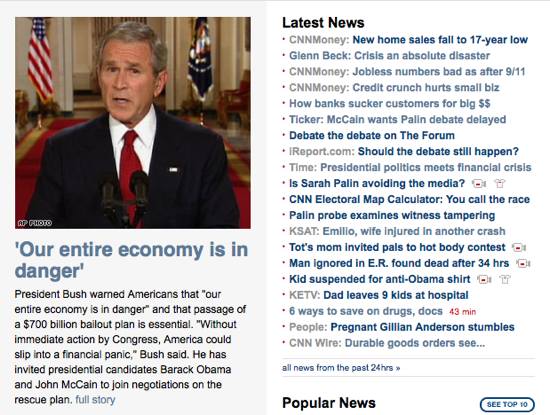 So I frequent the CNN Business section and all I'm seeing there right now are gratuitous expressions of gloom and doom, news to frighten us out of our britches and stoke us into panic. Yet so far, my empirical observations aren't in line with what I'm reading as I haven't personally felt the consequences of this economic malaise, except perhaps when I look upon my somewhat ravaged long-term stock portfolio. It makes me uncomfortable some, but occasional slumps in my portfolio are nothing new to me, and for the most part, I've (wisely?) shrugged off these occurrences each time.
The Financial Crisis: Do You Feel It?
So is this financial slide any different? How the media has jumped on the story of our economy, making it constant front page news complete with "financial crisis timeline", makes it sure seem like it is. But depending on where you're perched, you may not see evidence of the real estate market contraction; for instance, with prime real estate in the Bay Area still selling for ridiculous amounts (something I've reported earlier) and business as usual everywhere else, my only window into this crisis is through what's offered by media outlets and my favorite news channels.
I wonder now whether I'm miscalculating the severity of our financial situation, as implied by these bailout talks and Fed's threats of recession. In the midst of all the ruckus and rumblings of economic carnage, here I am still conducting myself in the same way I've always been, except now, I'm wondering how much more worried I should be.
Certainly, the foreclosures are vividly real and painful for those in the thick of these predicaments. Bankruptcies have spiked, job losses abound, and more riches-to-rags stories are unfolding everyday. The pain of losing your money in a failed bank when your savings are over FDIC limits is also very real. But what I'm seeing is a financial tempest that's behaving like some kind of nasty twister (to use a weather term) or a bad flu epidemic (to use a medical analogy) wherein some people get hit, while most others are spared.
To some degree, I don't really like how this economic crisis is playing out — not only because it's temporarily wrecking my net worth (which is to be expected) — but also for the offbeat reason that I believe it makes us personal finance bloggers look bad. How? Well, the news changes week to week, and developments happen day to day such that whatever we write one day may no longer be so up to date or even completely accurate the next. I don't like how this crisis is compelling me to keep bringing it up — who wants to keep bringing up negativity anyway? But I've noticed that this seems to be what readers are hungry to digest, since I'm noticing a surge of visits from those readers interested in knowing more about the economy and the crappy markets.
I continue to mandate that we shouldn't panic and that we should avoid emotional decisions involving our money. After all, when blood is in the streets, that's when we should pump up our courage and think about buying low. But this media, the talking heads and our political leaders haven't been too encouraging.
Any thoughts on the financial crisis talk? How much is spin and how much is the real deal? I don't want to understate the gravity of the situation if we're really on the brink of something big.
Copyright © 2008 The Digerati Life. All Rights Reserved.