I'm bringing this article to the forefront because of the latest events that are unfolding in Europe. Greece has proceeded with their elections as a first step in determining how to begin managing their economic woes. The political party that supports a bailout narrowly won the vote. Greece has also been in the news a lot lately with its citizens expressing their unhappiness with austerity measures and their concerns over the continued threat of economic collapse. Given these developments, are you making any investment moves at this time?
The news headlines have been full of one bad Greek pun after another: Greece is the word. It's all Greek to me. My personal favourite so far is: My Big Fat Greek Bailout. So what's the big deal? Why are politicians, bankers and economists suddenly stricken with an uncontrollable eye twitch whenever anyone mentions the prospect that Greece may have to default on its enormous pile of debt?

In a word, it's contagion. People are worried that if the Greek government defaults on its debt obligations, it could have ripple effects throughout the global economy in much the same way that the defaults of numerous American homeowners triggered the subprime mortgage crisis. Global markets and financial institutions are so interconnected today that it's difficult to sort out who owes what to whom. Just take a look at how all this global debt is so tightly woven:
Europe's Web of Debt
For a closer look, please visit this link or click on the image below, then zoom in.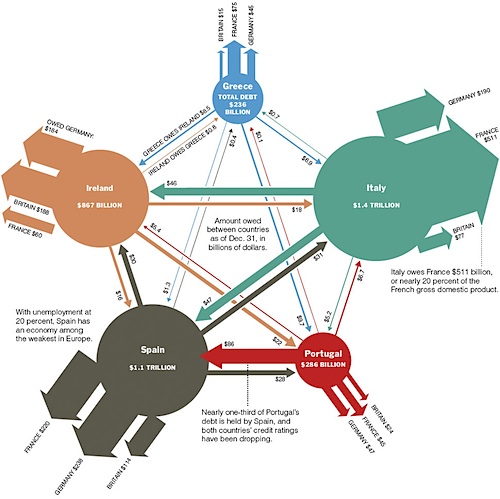 Image from New York Times.
Of Bonds & Bunds
Most countries issue debt in the form of bonds. A bond is basically an I.O.U. whereby the borrower (in this case, a country) agrees to pay the lender (a bond investor) a coupon or specified amount of interest over a certain period of time. Once that period of time is up, the borrower has to pay back the principal. With the massive amounts of debt out there right now, you can imagine how giant this market is.
If the market suspects that a borrower will not be able to honor their obligations, bond traders will begin to sell those bonds. That drives the price of the bonds down and the yield (interest rate) up. That's why you've heard feverish business journalists reporting on "spreads widening" on Greek bonds. That just means that the spread, or difference, between the yields on Greek bonds and those of comparable instruments (usually German bunds or U.S. Treasuries) of the same term are getting bigger. For example, at one point the Greek 2 year bond carried a yield of 16% compared to about 1% for a 2 year German bund. (That's not a typo. It's just what German bonds are called.)
Oh, What a Tangled Web We Weave . . . Spotlight: Derivatives
In addition to regular exposure to Greek default risk through bonds, a lot of market players may be exposed through credit default swaps (CDS). This is a derivative that allows the purchaser to buy insurance in case of default. If the borrower were to default, the issuer of the CDS would have to pay up. So investment banks that wrote CDS on Greek sovereign debt would face potential losses. However — and this is where it gets really confusing — those banks may have somehow hedged their exposure so as to limit their losses.
Sorry for the melodramatic subtitle, but hopefully you can see and appreciate why so many people are worried about derivatives. In the marketplace right now, we have derivatives of derivatives of derivatives. It's like a giant knot in my son's yo-yo string and it's really hard to untangle because no one knows for sure who's exposed, how they're exposed, or to what degree they're at risk. That's why there's been such a huge cry to put these things on an exchange where they can be traded transparently.
The European Sovereign Debt Crisis and Your Investments
After all this talk of bonds, bunds, and derivatives, we come back to our original question: Why should the average investor in America care what's going on in a tiny country like Greece? Banks in Germany, France, and elsewhere in Europe hold a fair amount of Greek debt and stand to lose a lot if Greece defaults. And it's not just Greece. Spain, Portugal, Italy and Ireland also have looming debt problems, to which banks worldwide (including American banks) have exposure. By the way, the U.S. and U.K. balance sheets are pretty ugly too.
The real risk for investors (and for everyone, really) is that global banks can run into a situation like the one that occurred around the time Lehman collapsed where none of them trusted each other. Interbank lending would again grind to a halt and paralyze the financial system. Global markets would be beset with panic selling, causing all asset prices to fall as they did during the recent financial crisis.
Will this scenario play out again? No one knows for sure if or when it might happen. But the risk is there. If you have a shorter investing time horizon (less than 10 years until retirement), you may want to pare back your exposure by shifting some money into cash. If you have a longer horizon and you're comfortable riding out another storm, stick with your current plan. It just pays to be aware that it's not exactly business as usual in the current economic climate.
Our guest blogger for today is 2 Cents, who writes about personal finance, economics and life balance at Balance Junkie.
Created May 3, 2010. Updated June 18, 2012. Copyright © 2012 The Digerati Life. All Rights Reserved.