With debt elimination tips and cost cutting measures, we've been able to manage our credit card debt very well.
Credit Card Debt Is Down By Almost 10%
There's a nice silver lining to this recession and credit crisis isn't there? From the Alpha Consumer blog (US News), I read about how credit card debt has fallen close to 10% (that's 9.7%), which is the greatest drop since 1978. Reasons for the drop in card spending? Simple, cardholders are spending less. Also, many accounts are going into default while credit card companies are putting the clamp down on credit.
The word from the credit card industry is that business is quite a bit tougher these days with many customers defaulting on their payments, so the card companies are responding by taking steps to minimize their risk: they're increasing interest rates, closing problematic accounts and cutting credit limits. Well isn't risk reduction a good thing? Having less credit can have its positive and negative consequences, depending on whom you ask:
The Pros of Less Credit: Credit card spending is down, people are saving more! It's always great news when people are able to get a handle on their spending habits by simply learning to conserve more. Thanks to the recession, we're forced to dial down our purchases and make do with less.
The Cons of Less Credit: The credit crisis is hindering our economic recovery since economic growth hinges on consumer spending and borrowing. That and it's no fun when someone takes away our ability to spend and consume, but we need to swallow this bitter pill. I've read about consumers complaining about their closed accounts and higher fees, forcing them to limit their credit use and accumulation of debt.
I can see how it's tough to be a credit card issuer. On the one hand, they're the bad guys when they extend credit to consumers who end up borrowing themselves into heavy debt. But they're also the bad guys when they tighten credit and have to face the wrath of cardholders with limited credit or closed accounts. They can't win, can they?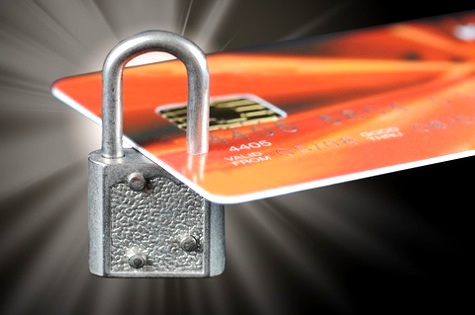 Our Credit Card Spending Is Down By 50%
On a personal front, here's our good news. Since last year, my family's credit card usage and card debt have also decreased significantly thanks to following and applying various debt elimination tips and numerous cost cutting measures. Here's how it breaks down:
My Credit Card Use: Down by 75% after I stopped seeing my doctor (the bulk of my card expenses were medical in nature). I used to have a ton of out of pocket medical bills that were tied to health issues which I would attribute to stress. But since quitting my job last year, I've lowered my health care costs (back to normal) after the stress factors miraculously vanished, not to mention the great decrease in commute/gas costs.
Spouse's Credit Card Use: Down by 50%, with his card used for our family's regular monthly expenses. We use this card to cover our groceries plus everything and anything that keeps our household operating. A 50% cut is tremendous, which means we've really done well to employ frugal steps to survive the recession.
How about you? How are your credit card spending and debt situation during this downturn?
Copyright © 2009 The Digerati Life. All Rights Reserved.