What do you think of the new credit card laws and the Credit Card Act (aka the Credit Card Accountability, Responsibility and Disclosure Act) ? With card issuers' profit margins under assault, what does this portend for card holders and consumers?
The financial world has been quite abuzz about the Credit Card Act that was put into effect as of today. The truth is, these changes have been anticipated for a while now, so this isn't news to most of us. But what it's actually done is strike fear in the hearts of credit card companies and financial institutions that are in the business of handing out credit cards.
Update on The Credit Card Act
Yesterday, CNN Money was chock full of articles that lamented the plight of the poor credit companies that are worried about the laws' impact on their profit margins. According to this article, the country's biggest card issuer, JPMorgan Chase (the guys who effectively bailed out WaMu), is projecting that they will lose around $750 million this year because of the new rules. Citigroup claims that they will lose between $400 to $600 million (let's round that out to half a billion dollars). When you add all these projected losses up, the industry anticipates to be out $5.5 billion this year, while expecting to keep this negative pace into the future.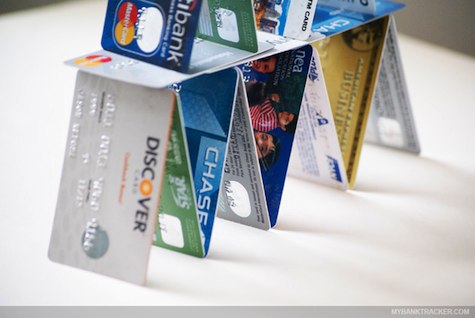 A delicate balancing act. Source

One of the rules that puts a tear to a banker's eye is this one: card companies, financial institutions and banks are now restricted by how they can raise your APR. But with the ink barely dry on the legislation, our beloved banks have lost no time looking for other sources of revenue to compensate for these losses. For instance, I'm sure you've heard those dreadful rumors about how banks and card issuers are now thinking of introducing new annual fees to their cards. The tactic here involves shifting the costs to all card holders (the whole universe of customers) when the burden of the cost used to sit on the shoulders of those who carried balances (a subset of the universe). I'm not going to be happy if this is how things will be evolving in the card industry.
With The New Credit Card Laws In Effect, What's Next?
Here are those things that may come down the pike, as card issuers scramble to deflect some of the pain resulting from the new rules:
1. Watch out for higher fees. We'll probably start seeing new fees and increases to existing fees, particularly for new customers. Balance transfer credit cards with transfer fees are a potential target for this type of change.
2. Credit card rewards may be limited. This is not good news to people like me who don't carry a balance and who carry cards mainly for the convenience AND the credit card rewards.
3. It will be harder to get a card. What good is a 0% APR credit card offer if you can't qualify for it? Them's the breaks.
4. Rates can still increase. Will low interest rate credit cards become extinct? Well I may be exaggerating a little — after all, these laws were enacted precisely to protect us from unjustifiable rate increases. But under certain circumstances, your card interest rates can still go up. There's no provision in the Credit Card Act that necessarily protects misbehaving customers (e.g. those who don't pay on time) from rate hikes.
It's stuff like this that annoys me — as consumers, we're supposed to be benefiting from legal changes that are designed to protect us. Instead, big business will find ways to circumvent any negative effects that are aimed squarely at them. Some of that will spill over and be passed onto us customers. So I'm not sure that we should all be necessarily jumping for joy until the dust settles on this matter and we see what actions (or self-preserving moves) are ultimately made by the industry.
Here's where we reflect on the subject further:
Copyright © 2010 The Digerati Life. All Rights Reserved.