What can we do to lower our health care costs? Our guest writer, Jacques Sprenger, tells us how he manages and pays off his medical bills.
I had the unfortunate experience of having my medical bills accumulate last year due to my spouse's accident (broken leg), which triggered costs for rehab. On top of this, I had special lab studies I needed to have done for myself and non-standard annual procedures that were required for those of us getting on in years. Even with insurance coverage, the total exceeded $5,000, a considerable sum for a humble teacher. I learned however how to navigate these dangerous financial debts without getting into FICO trouble.
From this CNN Money article, we can gather this: "Americans spend an estimated $294 billion on annual out-of-pocket medical costs annually, to cover everything from doctor's office co-payments to surgeries and prescription medications," which tells me that I am not alone in the struggle to cope with our extremely deficient and unfair health care system.

"About 25% of that — around $74 billion — is already being charged to regular standard credit cards," a very dangerous trend that tells me that many Americans simply don't have the cash to deal with such immense debt. Since we simply cannot ignore our health needs and problems, what can one do when faced with medical debts? Some tips I've applied myself:
How I Manage My Medical Bills and Avoid Medical Debts
1. Negotiate with your health care provider.
My spouse's hospital bill, after insurance, amounted to approximately $950. I therefore went to the hospital's billing department and negotiated a lower payment (20% less) in exchange for a cash payment. Even if you can't settle immediately, negotiate a time frame to give you some leeway to come up with the money. Give your creditor 10% and tell them that you will settle the rest in 30 days. This will give you the opportunity to find help from relatives or from your place of employment (for more options, see our article on how to get a personal loan). Make sure that your provider agrees to keep the discount open for the time frame; hospitals are in business to make money and since so many of their patients are unable to pay, they welcome those who are able to come up with cash in a short time.
2. Review your medical bills carefully; there could be errors!
Check the medical bills very carefully, item by item. Why? Because apparently, 80% of hospital bills are wrong! According to eHow (and yes, I agree with them that this is an unbelievable statistic), hospital bills are full of errors — from overcharges for items used or unused but billed for, to charges for services that never took place, mistakes do abound! Dispute any and every item you think is wrong. This could save you a lot of money.
3. Avoid taking on bad debt.
So what do I mean by bad debt? Do not under any circumstance obtain a loan from pay day or cash advance places. You will be skimmed alive with monstrous interest rates if you are just a few days late.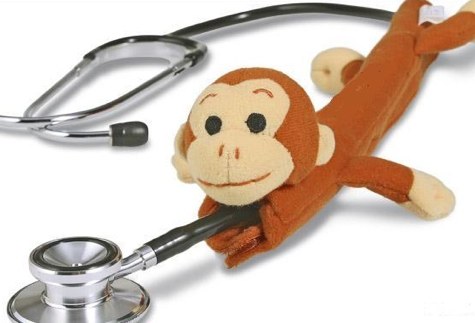 4. Be careful about using your credit card.
Use your credit card to pay your bills only if you have no other choice or if you can pay your card balance in full. For those who have trouble with credit card debt, this must be a last resort, not the first one.
5. Arrange a payment schedule if necessary.
For the once a year procedure, my spouse's bill amounted to $800. Since we were short of cash (after paying the hospital), I negotiated a $30 monthly payment without interest. We just finished paying last month. DO NOT be afraid to talk to your medical creditors. Most of them are willing to accommodate you and help you establish a payment schedule if they see a genuine intention to pay off the debt.
6. Understand your costs before receiving any service.
If you have a chance to talk about costs before any medical service — that includes visits to your regular doctor — ask what the co-pay will be if you have insurance, or if you don't have coverage, ask what the alternatives are. You may actually qualify for Medicaid; it's also possible that your doctor may be willing to lower his fees. If you don't ask, you don't know. DO NOT be ashamed to bargain; it can save you hundreds of dollars.
7. Beware of so-called Help for Medical Bills.
Many companies offer to lower your medical bills and payments. Yeah, right! Don't fall for this: their exorbitant fees are only going to add to your debt load. If you have a difficult financial situation due to medical bills or any other cause, there are other reliable financial consultants you can turn to. Check with the Better Business Bureau to find out who's reputable and to see who has complaints lodged against them; do ask around till you find the right one.
8. Get expensive medical procedures done elsewhere.
Finally, my usual recommendation: if you can, go to Mexico, India or another country for any elective surgical procedure. You may be surprised to learn that many countries can offer you top medical care and services at much, much lower prices, and medication is 10% of what it costs here (here's more on where to find cheap prescriptions). I know someone who was able to receive surgery at a quarter of the price by getting it abroad. The surgery cost $100,000 even after insurance was applied in the U.S., but only $25,000 in Asia.
Any other suggestions for coping with medical bills and health care costs?
Copyright © 2009 The Digerati Life. All Rights Reserved.