What are some cheap ways to exercise?
I'd like a way to keep fit and burn calories so I could drop a bit of weight and to stay healthy. So I thought about joining a gym. The only problem is that I typically become pretty self conscious when exercising in a public space. Plus, there are also the costs, which are ongoing. Not only is there an application fee to think about, you also have to pay a monthly fee to keep going. Joining a gym is often a top resolution for many when they think of ringing in the new year, but the reality is that over time, the commitment fades. Is it a surprise that when you ask people about their extraneous costs (e.g. the fat in their budgets), they often cite magazine subscriptions and unused gym memberships?
How Nintendo Wii Sports & Wii Fit Cut Down on Gym Membership Costs!
So I did the next best thing –- I invested in a Nintendo Wii instead. My spouse and I got the basic console with one remote and a Nunchuk, along with the Wii Sports disc that came with it. So it was the most basic and the cheapest thing we could buy –- and I believe it was around half the price of a gym membership over the course of a year. We also had the added free bonus of a Wii Sports Resort disc rolled in there as well.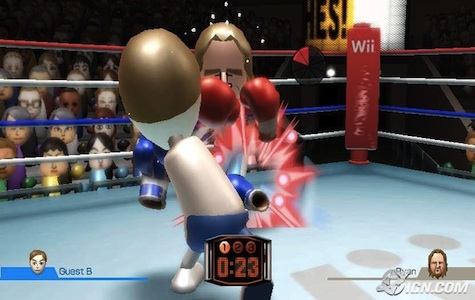 Image from FallingSky.

I'll admit that since then, we've also "invested" in the Wii Fit; but I managed to work a few fair muscles simply by trying out the Wii Sports and Wii Sports Resort, even without the Wii Fit thrown into the mix. In my humble opinion the Wii is much much better than a gym membership for lots of reasons:
1. With the Wii, your budget is flexible. After the initial purchase, you can invest in other games and discs as and when you can afford it. So although our initial purchase added up to the equivalent of a few months of a gym membership, it will pay dividends and work out cheaper in the end.
2. You can get started right away. You can get a good workout just from the Wii Sports module that comes with the console. I love the fact that you get a basic disc with boxing, tennis, baseball and a couple of other easier sports thrown in for free. I'm addicted to the tennis and I get a good workout from attempting the boxing game as well.
3. You can work out in private! I don't feel self conscious about exercising because I'm at home. It doesn't matter what I look like and I don't have to feel like I'm competing with everyone at the gym. What could be better than that?
4. There's a lot to try out. I can do all kinds of exercises I wouldn't normally do –- and they're fun! I've been cycling; I've had a go at swordplay and all manner of other sports on the Wii Sports Resort. A couple of hours on that and the calories are burning without me even realizing it. I've toned up a bit already!
5. It is great family entertainment as well as good exercise. Whenever we get family or friends to drop by, we all get on the Wii to have a good laugh. What other game allows you to do that and also lets you get fitter at the same time?
6. Exercising at home is convenient. I spend way more time on the Wii than I would at the gym — and I only need to go downstairs and turn it on to get started. In fact, I often find it a challenge to postpone my time on the Wii until I finish work for the day. As someone who works at home, I can always stop and get an hour's worth of exercise during the afternoon and then carry on working afterwards.
See, playing video games can have its benefits! So what do you think? If you want a great all body workout without the downsides of the gym, you could always pick up a Wii.
 
Contributing Writer: Allison W.
Copyright © 2010 The Digerati Life. All Rights Reserved.