I've noticed a lot of hype about the new Apple tablet and have seen many articles on the matter. I guess we're all swept in the buzz.
Will You Buy An iPad?
So who among you have gone out to buy an iPad yet? I'm not an early adopter but I am surrounded by MANY who are. My spouse, brother-in-law (BIL), dad and a bunch of family friends are gung ho about anything that comes out of the Mac factories. Costs be damned. Well, it probably also helps that my BIL works as a contractual designer for Apple, so he's got his fingers on their pulse a lot. And you know how it goes — when you get these gadget freaks together in one room and they get hyped, pumped and excited about picking up the next new toy, then the situation becomes non-negotiable. When I insist on how you can save money on cool electronics by waiting for prices to slump, my voice simply falls upon deaf ears. That's just how my spouse operates (when it comes to the high tech stuff), and I'd rather pick my battles.
I've heard a few people tell me that they plan to wait a few years before getting the Apple iPad just to see how well it does in the market and to see it stabilize at a price level they're comfortable with. In the meantime, some of these very smart people are just now buying their first iPhones (at relatively excellent prices). But could they wait a long time? After all, there are some interesting arguments against the expectation of an iPad price drop.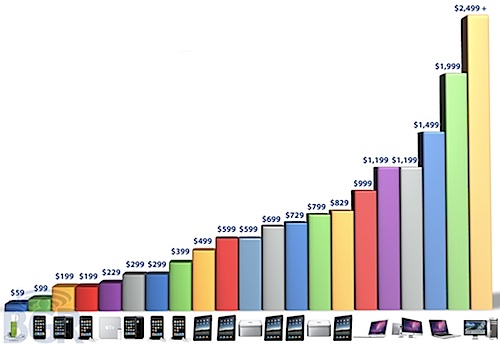 Apple has got all the price points covered! Image from Boy Genius.
Click on the image for a closer look.
Digerati Spouse's Reasons For Buying The iPad
So while my dad and mom have got their hands on their shared Apple iPad for now, it's also whetted the taste buds of my spouse who tells me that he's got good reasons (translation: jusifications!) for getting one:
For better "round the house" web browsing / media consumption (ie, YouTube) experience. It's lighter than a laptop, with a much larger screen than an iPhone.
For access to the App store for utility apps, etc.
For potential to be a popular new platform for consumer / entertainment experiences, so he wants to know more about that for future business opportunities.
Anticipating some interesting games.
It can stream Netflix videos (yay Netflix!)
As for me, I haven't been much of a cell phone or fancy gadget user. It's taken me ages to even warm up to the humble laptop. But I can understand why a whole bunch of those in my family (and friends group) are pretty excited about each new gadget that pops up — there are quite a number of people with gaming backgrounds in this group: from gaming producers, video game developers and entrepreneurs. Even my 8 year old is already the Plants vs Zombies champ at home — I hate to say that they're already grooming the next generation at this age (believe me, I shake my head about this often); I'm the odd person out given that I'm the only one who hasn't caught on — the only games I play are board games.
The good thing about this is that there is always the "business opportunity" angle because each new thing (social networking, mobile instruments, etc) spawns a market with great demand for new applications. So when you've got gaming engineers in your tight circle, then how can you argue with their enthusiasm?
Digerati Kids' Reasons For Liking The iPad
And here's why the Apple iPad is such a hit with my kids (particularly the 5 year old):

Eh… watching this thing gave me motion sickness!
 
You've probably read all about the pros and cons of this product elsewhere, so I won't bore you with those points any longer. Besides, in our household, it seems that the decision has already been made about this!
Copyright © 2010 The Digerati Life. All Rights Reserved.