If you've been looking for a way to tweak your debt situation, you might be more than remotely interested in this story. It discusses a company in the loans and debt services industry and covers their advertising campaign. Note that this does not constitute a recommendation.
So I gave it a chance — I tried for a long while to ignore them. Now I can't. They're out in full force more than ever and more frequently I may add. I'm not talking about my battle with ants in my kitchen, I'm talking about those dancing cowboy ads that have plagued my every internet move. They've already been heavily discussed around here and I thought with time, this ad campaign would die down…. Well it hasn't so I can't just shut up anymore.
If you were ever in the market for a mortgage, would you ever get it from those gyrating silhouettes that have been stalking you online?
It's akin to finding the same billboard on every corner you turn while driving along the interstate. An unsettling thought. Well let's see how bad it is: I tracked these ads all over the internet; or rather, they've followed me around. And here's my proof: what I have here is my informal diary of ad encounters.
The Financial Services Company Behind The Ads
Well meet the company behind the cheesiness. It's a financial services company called LowerMyBills.com, who wants to save you some money on your mortgages, various loans and insurance bills. They want to help you refinance your loans, consolidate your debt, and even to find the right credit cards or phone plans for you. Heck they'll also get you internet access if you need it!
They generate leads by trying to persuade you to click on their ads, which sends you to their site where you can leave your information with them. They then turn around and pass on your data to actual financial institutions or service providers who pay them for their referrals.
Which begs the question: what do their ads have to do with home equity loans or debt consolidation? Well, nothing much, really. But I was curious and wanted to know more about their program so I found more than a few samples and read how they came about. I thought that since we (as in my spouse and I) were getting into the world of internet business, it may be useful to study a few working and seemingly successful advertising models.
Exhibit 1
The ads containing the map of the United States or this somewhat altered one incorporating babies came from the company's notion that people identified with their home states quite strongly. So it's supposed to appeal to your sense of state pride and really, how can you resist several dozen babies in a row?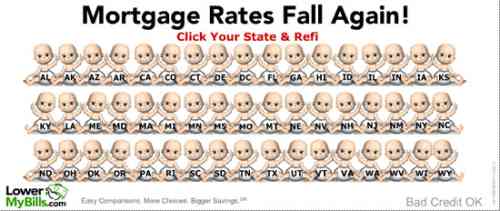 Exhibit 2
The truth is, the lead graphic artist behind the ad campaigns is actually a dancer.
Exhibit 3
And she's a fan of America's Funniest Home Videos who truly enjoys the animal clips. That explains it all.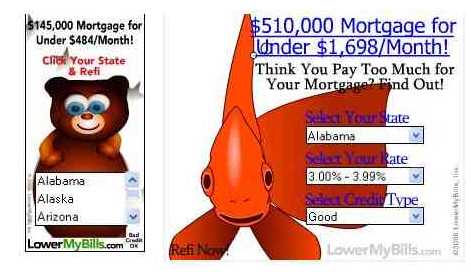 They've even explained the dancing cowboys in this way: "Our view is that people are crazy about saving money, and when they do save money they are very happy." M'kay.
Let's be very afraid as their spokesperson has announced: "One thing we will probably expand to the nth degree are the dancing silhouette ads," he said. "It's a great opportunity to double down on a proven winner." But if you're really desperate, perhaps you can try this.
What I Think Of This Ad Campaign
Ads can be effective even while irritating or intrusive. These companies don't care whether their ads make sense to you or me, they only care that you react to them or influence your behavior. That's what their management is counting on; it's obvious they're not targeting any particular audience here but rather anyone who breathes and who needs to buy a house; they're going for the traditional way of advertising more along the lines of "building a brand" by standing out. And they're effective because they are memorable — like the earworm I had last week playing repeatedly in my inner ear.
Indeed they are memorable and by extension, so is their company. In my case, they're easy enough to remember as the annoying ones to ignore and avoid giving your business to. I see that though many people probably have agreed with me, our vote really doesn't matter. After all, LowerMyBills.com was bought by no other than the credit card reporting agency Experian, in 2005. For a hefty $400 million.
Here's what they did right:
They did these ads in-house for more creative control maybe? They spent some crazy amount on them last year: almost $75 million and it was apparently worth it!
They track their ads carefully so that they know which ones work and which ones don't.
They replace the poorly performing ads with new ones; if you see the same one over and over, that's because it works!
They have a wide appeal: as in the case of those ads showcasing the U.S. map and those with rows of incredibly happy babies.
They managed to stick out enough in people's minds as a point of discussion. They represent anti-mediocrity, as this post explains it.
Funny me. I suppose I've been naive enough to expect ads to actually have something to do with the product they're promoting. So is this what makes a successful ad? I always thought a well run campaign would result in something simple and pleasant, with mass appeal, class and good quality. I'm not sure these notions fit the wildly dancing shadows though, so color me wrong about my predisposed sentiments about advertising. But eye-catching and recognizable, I'll at least give them that, and I guess that's been good enough for them.
So maybe I should take a lesson or two from them if I ever end up trying to promote, advertise or sell something. Except maybe I'd tone down the annoyance and cheesiness factors. Or maybe not. Those cowboys are starting to grow on me.

Just for fun, here's where you can see and read more of those funky ads:
Copyright © 2007 The Digerati Life. All Rights Reserved.