Do you like jigsaw puzzles? What can you learn about working on a challenging puzzle…or a puzzling challenge?
When I was around 7 years old, I wanted to grow up and own a puzzle store. I imagined that I would put together jigsaw puzzles for a living, then glue, frame and sell them as artwork. I even had a gimmick thought up where I would discount your purchase if you put together part of the puzzle I was currently working on in the store. Sadly, as I grew older, I realized that a puzzle store wasn't the greatest idea from a business standpoint but from a personal standpoint, they can still hold good value.

A good friend of mine and I had a conversation the other day where he turned me on to Ravensburger puzzles. Anyone familiar with the brand knows of how beautiful and difficult these puzzles can be. Some puzzles are 18,000 pieces, which in puzzle terms is flat out insane. Not having completed anything so large in my life, I decided to order a 5,000 and 3,000 piece puzzle and give it a try. While they have yet to arrive, I wanted to show you how I am going to tackle these monsters and how it helps me keep my mind sharp.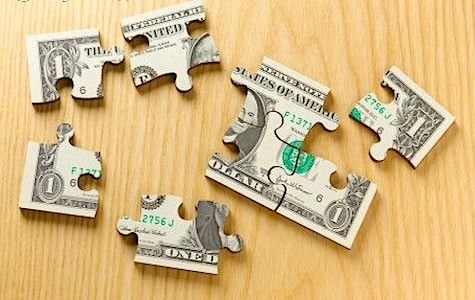 Image from GettyImages
Things I've Learned From Tackling A Complicated Jigsaw Puzzle
If we try to be perceptive enough, we can learn a few lessons from almost anything we do or encounter. Even the process of putting together a jigsaw puzzle can teach us a thing or two! So how do I tackle such a project?
1. Find the room.
The very first thing that I need to realize is that to finish a 5,000-piece puzzle, I have to have the room in my house to complete it. When completed, the puzzle measures 40" by 60" and to put it together correctly, I'm going to need an open and flat space of at least twice that to spread the pieces out. If I don't have the resources to spread the pieces out, then my task of completing the puzzle becomes exponentially more difficult.
2. Develop a strategy!
Once I have done my best to turn the pieces on their right side, and spread the puzzle out, it's time to develop a strategy. You might think that putting a puzzle together is easy, and I agree with you if it's only 100 pieces. Like many things in life, developing a strategy before you follow through on something allows you to prepare for unexpected detours and changes to your plan. In this instance, the best course of action for me would be to complete the border of the puzzle first. Flat edged pieces are always easier to put together and this will allow me to work from the outside in. Once the border is complete, I go after the easy sections of the puzzle, usually the multi colored and text written areas. After those are completed and I'm still left with 4,000+ pieces, then the real fun starts.
3. Make a commitment to complete the project.
Like with any well laid out plan, it's important to stick to it even when the chips are down. Determination is your best friend when trying to complete the difficult areas of a puzzle, as sometimes it's nothing more than trial and error with 4,000 pieces. When I decided to buy large-sized puzzles, I knew what I was getting myself into and I can't let that change just because I'm going to spend the next 10 years putting a big puzzle together.
4. Enjoy the fruits of your labor.
Finally, if I have the mental fortitude not to be bored out of my mind, I know that it's only a matter of time before this puzzle is completed. There are few satisfactions in life better than putting that last puzzle piece in its place (I'm not crazy, I swear), especially when it's one of this magnitude. I'll glue it, frame it, and hang it up on the wall as a trophy to remind me that I was able to do something that many could not.
I know it might sound a little strange but in the end, the above scenario is relatively similar to the business world. To be successful, you need to plan ahead and gather the resources necessary to make the plan work. "Sticktoitiveness" — sometimes no matter the circumstances — is crucial to making sure that the initial strategy works, and hopefully you will find that more often than not, things work out in your favor. If you need inspiration, check out the video below. I'm about to do this very thing, only with 2,000 more pieces!
This guest post comes from Michael, a contributing editor of the Dough Roller, a personal finance and investing blog. He explains how his perfect hobby can be an analogy to the world of business.
Created December 20, 2009. Updated May 22, 2012. Copyright © 2012 The Digerati Life. All Rights Reserved.