This is the type of stuff that wakes up the collector in me.
Want to teach your kids the value of a buck? Well there are a lot of ways to do it and we present you some of the more creative approaches. What do you think of a bank that explodes if you don't save often enough? These new-fangled banks are much more interactive nowadays and use all kinds of incentives to get you to save, including the fear factor!
This gave me the idea of featuring some of the most interesting saving advices here for your amusement. Since I'm on the lookout for something fun and entertaining enough to help me broach the subject of basic finance to my young school-age child, I'll most likely pick out one of these banks as a Christmas gift. Heck, I may get a few more as gifts to all the other young kids I know (I have a huge extended family)! 🙂
So here it is in all its glory…. the Illustrated Guide To Fun Novelty Piggy Banks for the Young and Old!
Banks with Counters
Most innovative piggy banks seem to come manufactured from Japan, the home of some of the coolest gizmos, gadgets and really interesting novelty items out there, and a country whose citizens pride themselves on having a historically impressive savings rate.
This bank counts your yen (yes, unfortunately it only takes Japanese currency) giving you some idea of how much you've already saved. You can screw this "Life Bank One" counter on a bottle top and drop your coins to activate the counter.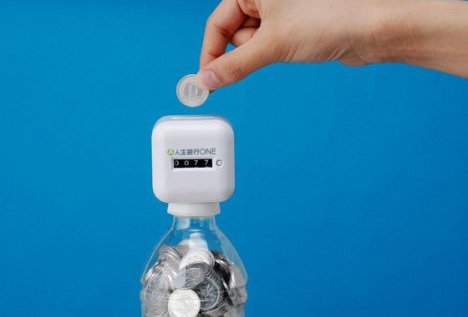 The Life Bank One Yen Counter
For U.S. coinage, you'll have to turn to this Pig E Bank, which only recognizes and counts pennies, nickels, dimes and quarters.

Here's another coin counter which, as far as I know, does not discriminate and accepts any currency: the DigiBANK comes styled as an attractive pig or panda (again made in Japan). It shows a running total of what you've saved so far, on its LCD screen.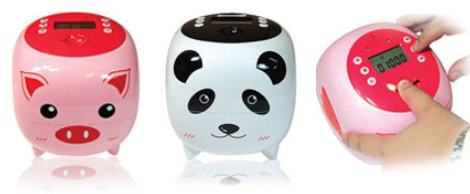 Digibank Pig and Panda
Coin Eating Banks
This is the type of bank that will pique my kids' attention. Banks that eat your coins may not possess the highest educational value (say, compared to the Money Savvy Cow or Pig), but it's pure entertainment and will no doubt keep my child shoving coins in them any chance he gets.
These colorful Gobble Monster Banks are true to their name. Visit this video for a demo of how these banks work.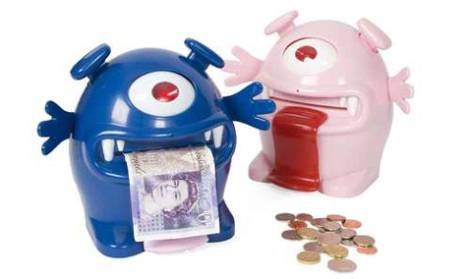 Gobble Monster Banks
If you're looking for something different, oddly humorous and provides a bit of action, this creepy bank with a face may be for you. This one is highly interactive and I'm on the hunt for this item as a gift for my older child this Christmas. But after seeing these various videos where I caught sight of its beady eyes, I'm having second thoughts… What do you think? It's been called "peculiar", "bizarre", even "disturbing" — it sort of is, when it's doing its thing.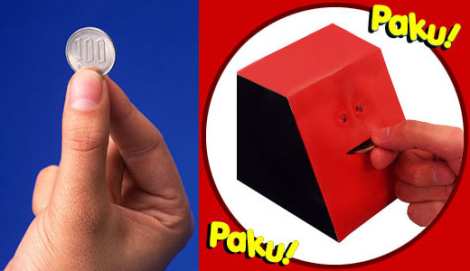 Banpresto's Face Bank
Banks That Hold You Hostage
These banks try to coax you into saving money by "threatening" you to comply to its wishes or else it does something "naughty". Would you be "scared" or irritated enough to feed your bank a coin or two to stop it from acting up?
The Banclock claims to be a devious combination of Bank and Alarm Clock. It performs a dual function by acting as a clock and sounding its alarm whenever you set it to go (should be a good thing to get you out of bed). You can only shut it up by feeding it a coin.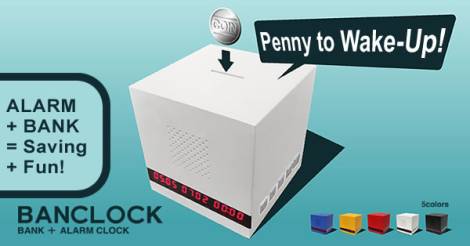 Personal Bank + Alarm Clock = Banclock
Tomy's Exploding Bank is one of the most innovative banks that have hit Japan recently, requiring you to add coins to it regularly (e.g. every day) or it decides to blow itself up. If you fail to save any money through this bank for a period of time, it explodes — leaving you with scattered coins. As the company claims: "Users must pick up and collect the scattered coins and reflect on their laziness." Fun concept, which you can see in action here.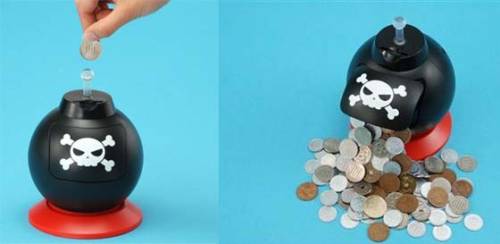 Tomy's Savings Bomb, The Exploding Bank
Here's another bomb-shaped bank called the 'Superbitus' Bomb Bank a creation from Art Lebedev Studios. It is described by its designer as "a one-piece bomb-shaped plaster-made money-saving box." Anyway, you can buy these bomb-shaped banks, write your goals on them then when you're ready to get the money from within, you break the banks by "dropping the bomb". I'm not sure if they're art pieces or real banks — maybe both, but I fail to see how useful they can be if they can only be used once: it's somewhat annoying since you can only get your money out of it by breaking it open. Another downside: expense — especially if you decide to use one bank per goal or get a new one after you drop it on its nose.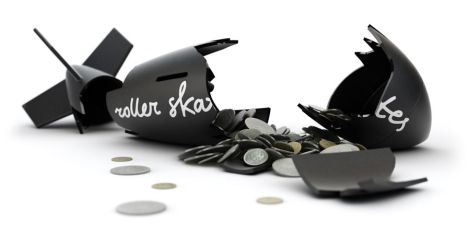 Superbitus Bomb Bank
Banks That Simulate Life
I suppose this was an attempt to appeal to little boys or sci-fi fans out there. Why not take a sinister looking robot and turn it into a talking bank?
Robby The Robot is the thing on the left — "it talks fast, tells the time and takes your spare change." It mutters classic movie lines it quotes from its participation in the 50's show "The Forbidden Planet" — a fun blast from the past. The gizmo on the right is from Sharper Image and is another talking robot bank that — surprise, surprise(!) — ALSO talks, counts and tells time but has more juvenile, mundane language. There seems to be no shortage of these things around.
| | | |
| --- | --- | --- |
| Robby The Robot Talking Bank | | Sharper Image Talking Robot Bank |
Now that we tackled robot banks, why not check out the bank inspired by the popular Japanese virtual pet (remember the Tamagotchi)? The Jinsei Ginkou (or Bank of Life) from Takara Tomy is also called the "Tamagotchi Bank" since it has one of those console looking screens that reflects the virtual lifestyle of a virtual man. When the bank is empty, the man lives in a tiny, unkempt hovel and as you add more money to the bank, the virtual character on the screen starts upgrading his environment all the way to a fancy apartment. I used to own a Tamagotchi trinket not very long ago — it was one of those things I had to own out of curiosity :).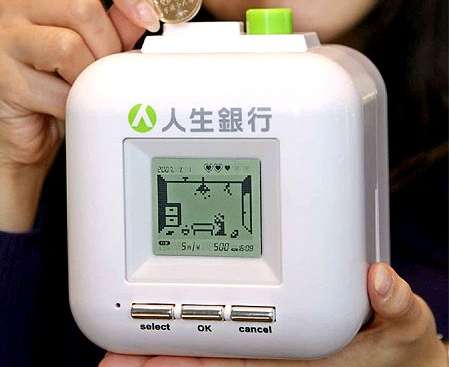 Tomy's Jinsei Ginkou or Life Bank
The PF Blogsphere's Favorite Bank
Some of the personal finance bloggers out there have endorsed this piggy bank known as the Money Savvy Pig. It's a compartmentalized device that can assist you with teaching your child all the concepts of responsible money management (saving, spending, donating and investing). You'll find some discussions and mentions of this bank at The Simple Dollar, Get Rich Slowly, and I Will Teach You To Be Rich. Can't get enough of this Money Savvy creature? Then check out the official web page of the Money Savvy Generation, the source of this clever bank, which also features a Platinum Pig, Moolah Cow, Money Savvy Football and the like.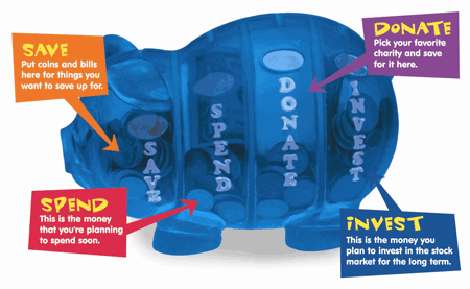 Money Savvy Pig
Banks With Secret Keys
You can't get your money from these banks unless you hold the key.
These are standard ATM banks that require you to have a PIN number to access. They're great because they can take all sorts of currency: coins, cash, bills, etc. Try Amazon for a whole slew of ATM style savings gadgets such as this one.
Or how about something more challenging, like a Wooden Bank Puzzle? I've seen a few complicated ones from some puzzle catalogs and I've been tempted to get one in the past. But I'm afraid I'll stick some money in and failing to solve the puzzle, be unable to get my money out afterward. Might be nice for puzzle lovers who like the Rubiks Cube! Along these lines is this piggy bank in reverse, because it's a Piggy Bank Puzzle that comes already broken into pieces and you're supposed to put it back together using glue. Probably great for those arts and crafts types out there but I'm not sure if it's still available.

Piggy Bank Puzzle
-ooOoo-
I think these would be great gift ideas for the kids in your life or those who are kids at heart. If there are other ingenious piggy banks out there you know about, I'd be delighted to hear about it.
Copyright © 2007 The Digerati Life. All Rights Reserved.