There's nothing more intimidating (and frustrating) for a woman than being treated as if we aren't smart enough. Unfortunately, some of this thinking prevails, particularly in male dominated settings.
How many of us feel truly confident with a visit to the mechanic? Do you really know what they're doing under the hood? Are there things you can do to keep yourself from being ripped of when you take your car in for service?
I pride myself on being a highly intelligent, rational-thinking human being who can tell the difference between a legitimate problem and a snow job in most cases. However, over the years I have become increasingly wary of unscrupulous mechanics and the likelihood that I will eventually fall prey (or have already) to schemes geared towards separating me from my hard-earned money as quickly as possible. Of course, this may come across to some of you as paranoid behavior, but I firmly believe that the best way to protect yourself from auto repair fraud and deception is to simply put yourself in "the know".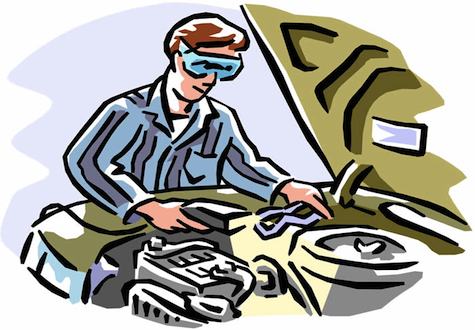 Tips for Avoiding Pricey Auto Repair Estimates and Costs
1. Get to know your car and its needs.
How many women out there know the process involved for changing the oil in a car? Almost all of us know that it has to be done every 3,000 to 5,000 miles — whether or not the little sticker is up in the right-hand corner of your windshield.
But, did you know that there are different types of oil out there? There's conventional oil, which has to be changed every few thousand miles, and then there are synthetic blends and full synthetic oils, which are WAY more expensive, and in most cases, unnecessary for your everyday driver to use.
Did you know that there really isn't much difference between using a store brand oil filter and a name brand one (other than price)? And how about add-on auto repair services like fluid checks, air filter replacements, etc.? Unfortunately, not all car owners have this type of information down pat (well, including me). Most of us don't pay that much attention to this kind of stuff, but when you stop to think that there could be as much as a $20 to $30 difference in the price of your auto service, it might actually be beneficial to start learning the ropes. Knowing how much it costs to own your car would be a start.
Some useful online resources for those interested in auto care or maintenance:
2. Have the right attitude.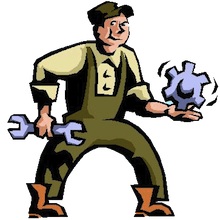 As with most things in life, a good attitude at the car shop will take you far, while a bad attitude could land you a huge auto repair bill. If you're shy and offer little resistance to suggestions and "recommendations" being made by your auto mechanic, you can almost bank on paying more for your auto repair costs than you bargained for. On the flip side, being too aggressive or arrogant will also cost you. The ideal demeanor is cool, calm, friendly, and confident. This will send a message to your auto mechanic that you trust him to do what needs to be done, but you will catch him the instant he tries to pull the wool over your eyes.
3. Review a mechanic's work order carefully.
One of the most important things that you can do to dodge an outrageous auto repair bill is to avoid signing a blank work order. One favorite money-making technique used by several garages I've visited entails giving the customer a verbal estimate for auto repairs and having them sign a blank work order. This gives the mechanic the ability to add anything they want to the repair bill, which by the way, has to be paid in full before the garage will release your car. Legally, the mechanic has the right to place a lien on your car in order to secure the money for the auto repairs. If you fail to meet your obligation, he gets to keep and/or sell your car to recoup his money. I actually had this happen to me after taking my husband's boat in for repair. The original "verbal" quote was for $1,800. I ended up paying $3,950 to get the boat back. I didn't authorize any of the extra charges; however, they all showed up on the blank work order I had signed earlier in the week. Don't you think that a blank work order is pretty much like handing a blank check over to the service provider?
4. Use your credit card as a buffer for your payments.
Finally, if learning a little bit about car maintenance and service is a little intimidating to you, then take someone along with you to the garage who knows a thing or two about cars and who can sniff out an auto repair scam as it's being hatched. And use a gas credit card or cash back credit card whenever possible to pay for auto repairs. This ensures that you'll get your car back, gives you an out (through the chargeback process) in the event that things aren't on the up and up, and earns you money on purchases that you can use towards pricey auto repairs. And if your car is on its last…ahem…tires, the Internet has some incredible car buying websites where you can research your new (or used) car online!
Copyright © 2010 The Digerati Life. All Rights Reserved.