As we approach the end of the year and probably have emptied our wallets quite a bit, I think it is time to take stock of things that we should be doing to lower our cost of living in the next year. The tips I offer will seem quite generic, but I believe that these tasks should be taken as an annual exercise. So here are 10 things that I think we should do after Christmas.
Personal Financial Planning For The Next Year: 10 Best Money Moves
1. Revisit your cable TV cost — Yes, please revisit it. Cable companies are always offering promotions as often as quarterly. But here is the catch — if you do not ask, they will not tell. If you do not have your cable, TV and internet services bundled up, then consider getting a package deal. This will often save you quite a bit of money. If you have your cable TV and internet services separate, perhaps you should explore services like Blockbuster or Netflix as an option.
2. Revisit paid memberships — Are you a gym member? How many times have you been to your gym this year? Is it really worth paying the annual fee? Can you do 50 sit ups at a go or how about 30 proper push ups? How long can you skip on a jump rope? How fast do you run 2 miles? If you cannot accomplish any of these very basic exercises, why join the gym? Might as well do this yourself and once you work up to the required fitness level and you feel you need better equipment, then rejoin your gym.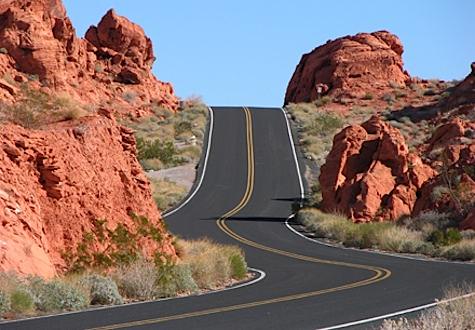 Image by Road Trip America.

3. Check magazine subscriptions — How many magazines do you subscribe to and how many of them do you actually read? I bet you have a lot of these magazines lying around unread! You probably say you'll read them one day, but the truth is, it just never happens. Though magazines do not cost a lot, they do add up. And they do add to the clutter.
4. Enroll in a credit monitoring service — Yep, I suggest that you spend some money on credit report monitoring. Yes, you can get your free annual reports every year. But, (and this is a big but), credit card issuers are monitoring your credit report more closely these days. Many folks who have had great credit have unfortunately gotten their credit lines cut or their rates jacked up. Very often, the problem is due to some errors (negative errors) in their credit report. So in this present credit environment, I think it pays to enroll in a monitoring service (look into something like myFICO Score Watch), especially if you intend to take out a mortgage in a couple of years.
5. Check if you have the right credit card — Is your present credit card still addressing your requirements? Maybe, or maybe not. If you carry a balance, you could perhaps get a card with a lower interest rate than your existing one. Perhaps a card with a balance transfer offer makes sense. Regardless, having the right credit card can be a money saver. If you pay in full, make sure you have a credit card that will earn you the most rewards.
6. Revisit your auto and home insurance — When I say revisit your auto and home insurance, I do not simply mean that you should check if you can get both with the same provider and save money. I'm also suggesting that you check the terms of your insurance. What does your policy cover? Very often, with things like auto insurance, the cheaper insurance comes at a cost. If you talk with a number of mechanics, they will tell you that the lowest cost providers often do not want to pay for the proper cost of repairs; you may become shortchanged, and often, you may receive inferior or second-hand parts for replacements. The terms and conditions for your home insurance can get complicated too. It is worth sitting down and getting a second opinion just to make sure you know what is covered.
7. Check for mortgage refinance opportunities — Mortgage rates hit their lows a couple of times this year. If it makes sense for you to refinance, then do it. But you probably have to sit down and work out the calculations. The point is to do it. Mortgage refinancing can save you lots of money if done at the right rate.
8. Do your taxes — Yeah, I know it's early. But it is better to be early than late. Start doing your taxes now. Do not wait. If you are organized, it should be a breeze. But if you haven't got a system in place, I would suggest picking up tax software (if you are a DIY person). And learn them now rather than in March next year!
9. Review your investments and asset allocation — Everyone should do this but I hardly know anyone who does it. Can you answer the question "what was your investment returns net of fees last year?". Well, that is the whole purpose of this exercise. As a reminder, you should plan your asset allocation for the next year. If you work with a financial advisor, then make sure you have a year end meeting. If you manage your finances and investments yourself, then spend some time doing some research and readjusting or rebalancing your asset allocation.
10. Have some idea about next year's vacation — Do you plan to take a trip next year for your family vacation? Traveling costs are some of our biggest annual expenses. It pays to have an idea where you want to go and it's a good idea to plan early. If you are the type who likes to earn frequent flier miles, then know that the best time to book is 11 months ahead. Knowing where you want to go also gives you time to search for great travel deals.
Hopefully, this article will give you some food for thought!
Copyright © 2009 The Digerati Life. All Rights Reserved.