At some point, you may want to pick up a new line of credit or a loan for a home, vehicle, or for personal use. It's a good idea to find out your credit score before you apply, so you can tackle any issues that arise. One source for a free credit score is Credit Karma, which is a company we've referred to time and again.
Your credit score matters because a lower score can mark you as a higher credit risk to a creditor. These lower scores might mean that you're offered higher interest rates and far less attractive terms for your loans or credit cards, and thus, you'll pay more than the average person. The fact is, credit scores can affect your loan rates in ways you don't expect.
It's Free to Join Credit Karma
There are a few financial services sites that offer you a free credit score, but still require you to hand over a credit card number in case you want a subscription service like credit monitoring. Thankfully, you aren't required to have a credit card number handy to sign up for Credit Karma. It's free to sign up on this site and you shouldn't run into surprise fees. Instead of your credit card number, however, you will be required to fork over your SSN. But that's to be expected, since any credit related service will need detailed personal information to identify you.
To sign up, you'll need to provide some personal information such as your address, date of birth, and Social Security number. That's so your credit report can be pulled correctly. Also, to get your credit score, you might be asked to verify details on your credit history. So be ready with your past addresses, lines of credit, and loan details if you have any.
The credit score you receive is the TransRisk Score. This is provided by TransUnion, one of the credit bureaus. Your score can range from 350 on the low end, and go all the way up to 850. Note that TransUnion generates different types of scores, and the TransRisk Score is just one of them. TransUnion, in collaboration with other credit bureaus, also has another credit scoring system called the VantageScore, which is an alternative to the FICO score typically used by banks and other lenders. You can check your VantageScore and compare it to your TransRisk score, to get a better picture of your credit.
You can check your credit score at anytime through Credit Karma. Just be aware that your credit history usually only updates once a month. That means that your credit score isn't likely to change the next day after you look at it. It's beneficial to confirm your credit score from time to time in case credit reporting errors creep into your file or in case you become a target of identity theft.
A Tour Of Credit Karma's Features
Another service Credit Karma provides is an analysis of your financial picture so you can access special savings and deals. These offers can help you save on your credit cards, mortgage, auto loans, and more. Here's a quick tour of the services they have available:
1. One section allows you to see your Auto Insurance Score. There's an Auto Insurance Savings Center in case you want to find ways to lower your rates.
2. Check out their tools and simulators, which is available for those who like to forecast different scenarios for their finances. Such tools can help you predict what sort of impact that additional debt payments can have or what another line of credit can do for you.
3. Check your credit report card. You'll be able to see comparisons to other reports and scores. You'll get visibility on how your finances compare to those of others.
4. The Credit Advice section lets you get involved with the Credit Karma community. Answer questions or feel free to ask your own there.
5. The Reviews section lets you get the scoop on what financial products are popular. You're also encouraged to invite friends to join and to spread the word about Credit Karma on Facebook.
Try Out Free Credit Monitoring: Limited Accounts Available
Recently, Credit Karma unveiled a new feature called "Credit Alerts". The great news is that they are currently offering The Digerati Life readers special access to this new option, on a limited basis. I've got 100 free memberships available that will allow you to monitor your TransUnion credit report for free via Credit Karma. Here's how it works:
Credit Karma will monitor your credit report daily, at no cost.
If your credit file registers a change such as a fraud alert, a credit inquiry or a change in your personal information, then it is captured.
Credit Karma then sends you Credit Alerts based on the changes it notes. The Credit Alert is sent to you via email. You're able to keep track of your credit health in a historical fashion.
If you're an existing Credit Karma member, then the Credit Alert Feature will be an option that you can select or deselect on your account. Again, this may not be available to all members yet, but signing up with us will give you a chance to try this feature out.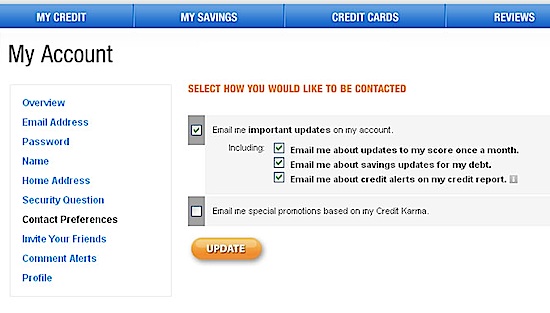 Credit Karma Credit Alerts
A Few Issues To Consider
A free credit score sounds terrific, but there are some issues to think about with your Credit Karma credit score. For instance, if you compare it to your FICO score, you might find that it's different. This difference might be as low as ten points for some people, but others may find a more substantial gap.
Also, if you have concerns about handing data about yourself to a third party, you might prefer to go straight to TransUnion or another one of the credit bureaus and pay for a credit score.
Your credit score can be a snapshot of the state of your creditworthiness. If the score looks lower than it should, you can take action to improve it before applying for new loans or lines of credit. A resource like Credit Karma can provide one such credit score for free so see if it's something that can work for you.
Created July 20, 2008. Updated July 12, 2011. Copyright © 2011 The Digerati Life. All Rights Reserved.