Regularly checking the health of our credit is a good thing, of course. However, it becomes necessary if you're in the market for a loan — especially if you're planning to borrow funds for a big ticket item. If you plan on applying for a new credit line in the near future, you might want to know your credit scores ahead of time, so you know where you stand, and perhaps, have some idea about how much this loan may ultimately cost you. To fly blind without any idea about your loan costs can cause you to shell out more than you should. The better your credit, the better your chances of getting an attractive loan.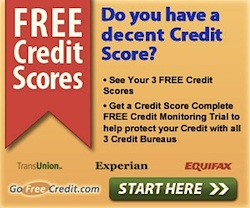 So how often should you be checking your credit, and how much monitoring do you really need? Typically, you can get by with seeing your credit report once every few months for free, by checking out AnnualCreditReport.com. For those who need to keep a closer look at their credit for a variety of reasons (say, they need a loan in the near term and need to monitor how their credit is doing for a while, or if they are concerned about fraud or ID theft due to a recent or perceived threat of fraud), a service such as GoFreeCredit.com may be more applicable.
GoFreeCredit.com Free Credit History Check: Try A 7-Day Trial First
If you believe you need more than just a cursory look at your credit, then GoFreeCredit.com offers the Credit Score Complete membership that includes three scores from the credit bureaus. You'll be able to look up your information online at your convenience. The service won't mail your scores to you; you'll be given online access to your information. There's a free 7-day trial for the membership, but you'll be charged a $1 refundable processing fee. After the trial period's over, you'll be charged $19.95 each month for the Credit Score Complete Membership.
Credit monitoring is one other aspect of the Credit Score Complete service. The three credit bureaus are monitored on your behalf for changes to your information. You'll be sent emails if changes are found, and fraud alerts are available if something goes amiss. This focuses on alerting consumers as to when there's activity on their reports so that they can be aware of any changes that they did not initiate (unauthorized opening of new credit lines, etc). This product is intended to allow consumers to monitor their activity in real-time, and also to warn them about possible incidents of ID theft.
If you don't want the credit monitoring, you should be able to cancel whenever you want by calling the number provided.
It is worthwhile to note that many similar services charge a higher price while only providing one credit score or a credit report monitoring service from only one bureau. This may leave a customer vulnerable to the possibility of identity theft or credit fraud. With GoFreeCredit, you could get the full picture of your credit from the three main bureaus.
How To Get Credit Scores from the Credit Bureaus
It's also fair to compare the services and fees of Go Free Credit with a few other offers out there. If you're solely interested in your credit score, you might prefer to see what the credit bureaus themselves have on hand. The following three credit bureaus have credit monitoring as an option or feature. Let's take a quick look:
1. Equifax
The first credit bureau is Equifax, and it offers an Equifax consumer credit report and score for $15.95, as well as various other services. But this is just one service they have available. For a full list of their products, you can check this page.
Equifax's credit services come with an Interactive Score Estimator that can help you analyze how your credit would be affected by different situations. You might find the estimator useful if you're on the verge of applying for a car loan, mortgage, or other line of credit.
2. TransUnion
Another credit bureau that offers your credit score is TransUnion. It has a credit monitoring service called TrueCredit that includes all 3 of your credit reports and scores as well. Like GoFreeCredit.com, this TrueCredit program has a 7-day free trial. It's $14.95 a month after the trial ends, which is a bit cheaper than some competitors.
3. Experian
And finally, you can head to Experian for your credit report and score for $14.95. Although it isn't a free score, you aren't being tied to a credit monitoring service that you may not need.
When you sign up for GoFreeCredit.com or another credit score service, you'll need to provide your name, address, and some other information. This may include your Social Security number, employer, or other sensitive details, so get acquainted with the site's privacy policy before sharing your information.
In Conclusion
Potential lenders tend to offer rates based on your credit scores, which are given out by the big three credit bureaus Experian, TransUnion, and Equifax. Some people find that their credit scores are actually lower than they think, due to mistakes that have crept in over time. Or they might have become victims of identity theft without realizing it.
A lower credit score can mean that you'll pay higher interest rates and higher payments, or you may be denied credit altogether. So it's important to check your credit scores once a year, at the very least. This way, you have time to take action to fix mistakes, combat fraud, or improve your track record if necessary.
Knowing your credit scores before you apply for new credit gives you a chance to improve them. A site like GoFreeCredit.com (or the credit bureaus themselves) can assist you if you don't mind the fees involved.
Disclosure: We have affiliate relationships with some companies whose products we review. We also ensure that the products we cover are suitable options for our community.
Copyright © 2011 The Digerati Life. All Rights Reserved.