Thank you to PTMoney for this timely guest post!
Happy Cinco de Mayo! The history behind this primarily American Holiday is interesting. May 5th, 1862 marks the day that greatly outnumbered Mexican forces were able to defeat the French at the City of Puebla.
The reason the French were there in the first place? Mexico had stopped making the interest payments on their debt. I'm sure there's much more to the story. But you get the point. The conflict involved some disagreement about debt.
In our personal finances, debt can create battles as well. One of the worst risks with taking on debt is the chance you'll miss a payment, incur a fee, and get a ding on your credit report. It's happened to most of us before. You realize you missed a payment and you get that sick feeling in your stomach. Makes you never want to owe anything to anyone again.
So in honor of today's Holiday, and to help you avoid your own mini debt battles, here are a few strategies you can use to avoid late fees on your debts.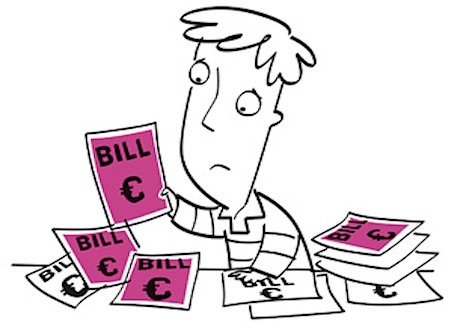 Image from Bankrate.com. How does your credit score stack up?
Pay Bills On Time! Tips to Avoid Late Payment Fees
1. Pay Your Bills First – In general, I recommend that you pay yourself first. However, if late payment fees are racking up on you month after month, you may need to make yourself less of a priority and make your bill payments first. By first, I mean as soon as you get paid, turn around and write checks to all your creditors.
2. Set Up Reminders – Many online banking systems will allow you to create reminders when bills are due. Use these to your advantage. You could also create a Google calendar and set up recurring reminders about your bill due dates. Make sure you give yourself enough time to make the payment. You can even sign up for an online service like SavvyMoney Pro, which is discussed further in this article on DIY debt reduction programs.
3. Create Automatic Payments – If your debt payment is the same dollar amount each month, consider setting up an automated recurring payment from your online bank account bill payment system. If you have variable payments, consider using an auto-debit feature provided by the creditor. You will need to provide your account and routing numbers.
4. Schedule a "Pay Day" Every Month – Okay, I couldn't resist that pun. Seriously though, start a family tradition and make the first Sunday night of the month your bill payment night. It would be a good excuse to discuss your overall financial progress with your spouse, and would also serve as a time you could talk to your kids about money.
5. Ask for Forgiveness – Lastly, if you do make a payment late, consider calling up your creditor and asking for a one-time forgiveness. If you can catch it early enough, have a good track record, and can talk to the right person, you could have the late fee waived.
Have anymore ideas for avoiding late payments?
Copyright © 2010 The Digerati Life. All Rights Reserved.