Talk to your kids about credit cards, otherwise, they'll be fodder to credit card companies. That's the sign of the times, when you see credit card company booths set up at campuses to snag students with offers of fun souvenirs like t-shirts and frisbees. What a lousy deal but it happens all the time! How successful are these promotions?
Seniors graduating from college acquire an average of $3,000 in credit card debt spread across at least four cards by the time they're out of school.
Financial institutions get more and more creative with time as they build loyalty in their products. They start early by coming up with ideas that will lure preteens and young teenagers into their fold so that the "brand" familiarity takes over when the young individuals apply for successive loans. These loans accompany and grow with them through each step of their lives and progress from credit card loan to student loan, car loan and onto bigger debt such as a mortgage or home equity line of credit.
How do credit card companies market to kids? Some schemes that they've pulled on the vulnerable:
The Credit Card Marketing Machine
#1 Give away free stuff if someone signs up.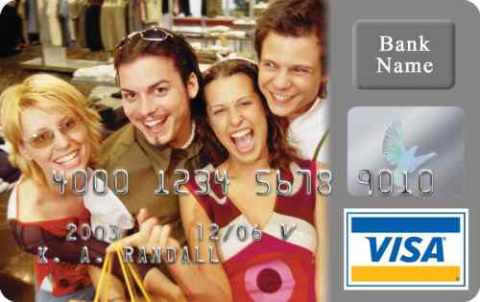 This seems like a pretty common marketing scheme. Companies make everyone happy by setting up shop somewhere, and offering goodies and freebies. It's just that they do this in exchange for your financial future. A really bad trade.
#2 Offer fashionable credit cards.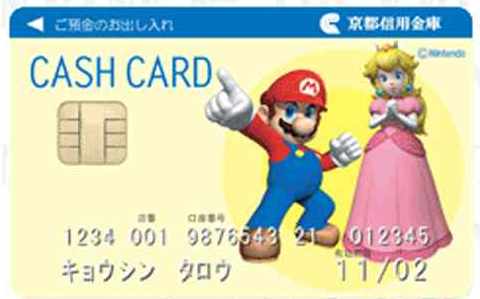 I was shocked to hear about how credit cards are seen by some as a fashion statement. This must go down as the strangest reason why to get or even "collect" credit cards. Some people are enticed into collecting them because they are "cute" and are cool. SavingAdvice.com suggests why not just apply some "credit card skins"(!) to your card if you're after the cosmetic factor. You can "pimp your card" by doing a few steps?
#3 Offer even more cool, configurable or designer cards.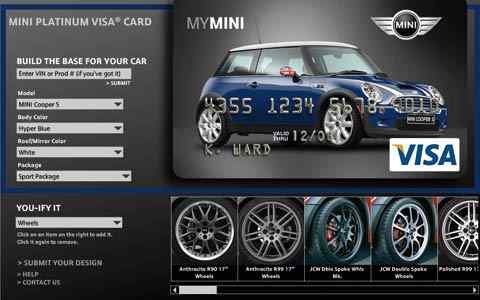 Here's an extension of the "cool credit card" idea. Why not have the ability to toy around with your credit card design with this configurator? Using a cool car as the concept for the credit card design is also very tantalizing. What kid wouldn't wish for a card like this?
#4 Bridge spending and earning between online gaming worlds and the real world.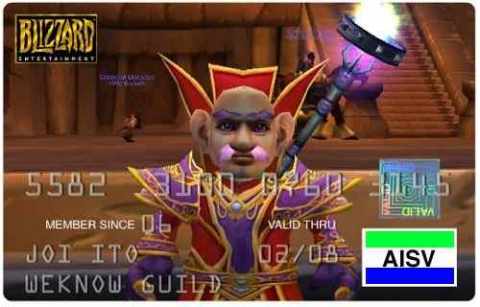 A clever way for credit card companies to get the younger demographic is to come up with products and offerings that marry the real world with the virtual one, where entertainment involves creating an alternate world of avatars, adventure and even online commerce. Though this strategy hasn't been heavily exploited as of yet, it's probably the wave of the future:
Very soon, credit card companies and game makers will reward their customers who spend money in the real world using private label "rewards" credit cards. They will use gifts of virtual currency such as Blizzard's World of Warcraft gold and Second Life's Linden dollars.

It's not a matter of if, just when – credit card companies, Pay Pal, Amazon, eBay and the individual "gaming" companies eventually bridge the real and virtual currencies with loyalty programs and private label credit cards – there's too much money out there to -not- to do this.
#5 Introduce the concept of using cards for spending with debit cards geared for the teen and under set. Start them early, thinks the big corporation. Pre-teens are now being cultivated as plastic card spenders starting with debit cards like Visa Buxx and the PAYjr. Mastercard. These are products that allow parents to prepay and track their children's spending. Oh yeah, it's also customizable. It sure sounds like companies have come up with these products under the guise of "educating" a child how to use plastic, when in fact it serves the purpose of encouraging changes in spending habits. Detractors have described the as "credit cards with training wheels" while card companies call them "life lessons". What could be juicier than the prospect of a kid who knows how to use a card for spending? This just reminds me of the ruse of getting parents to apply for life insurance on a child with the justification that it's so much easier or cheaper for a child to qualify for it when started early.
So what can parents do about such a marketing onslaught?
How To Fight Back Against Kiddie Credit
I would say NO.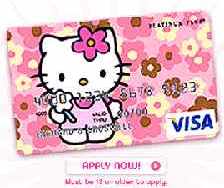 My first thought is that we shouldn't allow kids to have cards, period. Until they're adults, earning their own keep and responsible for their own finances, expenses and such. In fact, I'd go further and say that credit cards shouldn't be used at all until there's something substantial in one's bank account. That may not be a practical set up, but would hopefully avoid the trouble that uncontrollable debt heaps up on someone vulnerable.
Teach your kids how finance, saving and credit work before handing them a debit or credit card. I recall how I applied for my first card in my early twenties after I got my first job. Since then, I've never used my card(s) unless I knew I could pay the balance in full. I didn't want to pay the card company more for items I just bought. I was too stingy to let that happen.
If you insist on giving your child an education in building and establishing credit, then make sure some questions are answered before they get a hold of a card, such as:
Does the child have a job?
How will he pay it off?
Will he be paying the balance every month?
Does he understand about the interest he'll be charged if he doesn't pay it off every month?
Adhere to strict limits on the use of the card or perhaps consider starting off with a debit card, where the worst case scenario causes the corresponding bank account to get wiped out. At least, you child can't do damage beyond that.
Copyright © 2007 The Digerati Life. All Rights Reserved.