Let's take a look at FNBO Direct's online bill pay account option.

Many of us are familiar with FNBO Direct because of their Online Savings Account, but they also have a few other products that could be of interest. Granted, savings account rates are less of a draw for savers who are looking for a new account these days. The yield on a savings or checking account is becoming less of a selling point or determining factor for customers who are in search of a place to park their funds. These days, online banking features such as convenience, ease of access, low balance requirements and low maintenance costs can begin to make more of a difference to people. At least, this would be the approach I'd take to deciding where my money should go.
That said, I've covered FNBO Direct here before, where I mentioned how they've been honored with a "Best Online Savings Account" designation in the past. So right off the bat, they've got a good reputation. While they don't have a standard high yield checking account available, they DO have a product that can be a viable alternative to a checking account (except without the checks).
Then again, many folks think that this is just FNBO Direct's way of marketing yet another checking account under the name "online bill pay". That said, the FNBO Direct Online BillPay Account is available to help you manage your bills while you build up your savings, and also has the same yield as its Online Savings counterpart (0.70% APY).
A Look at the FNBO Direct Online Bill Pay Account
The Online BillPay Account has these details, many of which you'll find on a lot of online accounts with free bill pay features:
Earn 0.70% APY. It's a reasonable rate for an electronic checking account.
Pay bills without dealing with paper checks. The obvious benefit here is the savings you get for not having to use stamps or checks.
You won't be receiving paper checks through this account.
Track your payments via payment history and payment summary reports.
Set up recurring payments. You won't have to worry about late payments anymore.
You'll receive an FNBO Direct Visa Check Card which doubles as an ATM card and debit card for both your FNBO Direct Online BillPay Account and Online Savings Account.
Conveniently deliver your payments through mobile or email messages using POPmoney. You can send email and mobile payments from your FNBO Direct accounts.
The FNBO Direct POPmoney Payment Process
Here's how FNBO Direct's POPmoney payment process works: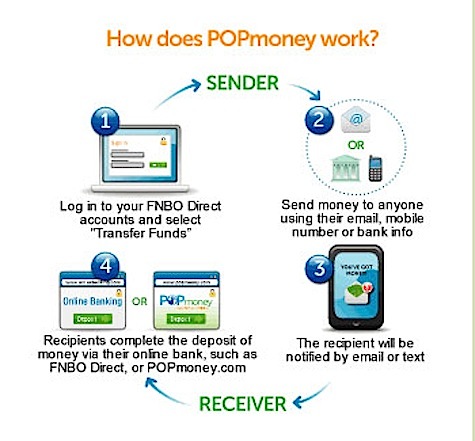 To pay someone, just enter their information and your payment details under "Add a Merchant" in your account dashboard.
You can get more information about the FNBO Direct Online Bill Pay Account and other FNBO Direct products by visiting this link.
FNBO Direct Savings Account vs Online BillPay Account
To further clarify how the BillPay Account works, let's discuss how to use this in conjunction with the FNBO Savings Account.
A convenient way to get started as an FNBO Direct customer is by opening an FNBO Direct Online Savings Account. You can link this account electronically to your other external accounts and fund it with as little as $1. You'll then receive an ATM card to help you access your savings (this card can only be used at ATMs).
Now if you would like to use your FNBO funds to pay for your expenses or bills, then you'd benefit from also opening an FNBO Direct Online BillPay Account, which will garner you a debit card that also acts as an ATM card. All payments you make can be made via your BillPay Account or through your debit card. Note that you can only fund your FNBO Direct BillPay Account with funds transferred from your Online Savings Account. At any rate, these are accounts that have no minimum balance requirements and no monthly fees, thus making them popular choices for online banking customers.
Copyright © 2010 The Digerati Life. All Rights Reserved.