What's the best online savings account according to Kiplinger's? We talk about one of the most reliable online banks and its flagship product.
With online savings account rates at their lowest levels for some time now (along with all other rates) — in response to Fed rate cuts and the government's strong resolve to turn the economy around and to keep it healthy — it's getting harder to find sweet returns for your short term funds. Out of all the online bank accounts we've been tracking, a few seem to be standing out for specific reasons. One of those online banks which offers great savings products is FNBO Direct. So let's take a closer look at this particular bank, shall we?

FNBO Direct was honored a few years ago by being chosen as the best online savings account in 2008, by Kiplinger's. Why so? They've got a few things going for them: for instance, it's easy to establish an account with them — you'll only need $1 to open an account, they've got no minimum balance requirements, no extra fees that give some banks a lousy name, account linking features (for good accessibility), and bill pay. So they rank well for convenience, access and cost.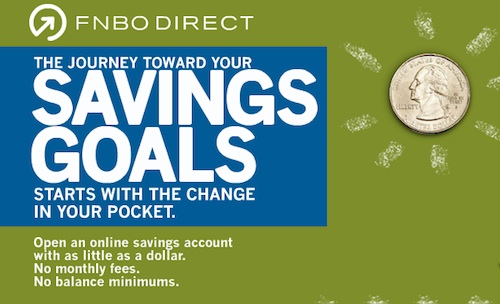 I'm also inclined to believe that one reason why they've received such honors is because they're known to traditionally offer a higher yield (which currently stands at 0.70% APY), relative to other online savings accounts; although of course, during this day and age, differences in yield are now minuscule. Still, history shows they've got a good track record on this front, as compared to the national average. For example, compared to Chicago-area banks' savings account APYs, you can expect to earn more money with FNBO Direct.
FNBO Direct: Best Online Savings Account for 2008
Still, this bank must be doing something right, since they're often cited in financial publications and online articles. Their roster of honors include:
Kiplinger's Personal Finance 2008 Best List (Dec. 2008), for Best Online Savings Account
Bankrate's Safe and Sound Ratings gave them 4 stars out of 5, an above average "Sound" rating. This rating allows you to compare the relative financial strength of financial institutions. So if you're curious about your bank's stability, this is one measure that can give you some transparency. Suffice it to say, the FNBO Direct Online Savings Account bests a lot of other popular savings accounts (even those with higher yields) in this capacity.
Interestingly, FNBO (First National Bank of Omaha) also scored pretty highly as a great place of work, having been mentioned in a couple of publications that came out with company surveys (Computerworld Annual Survey 2007 and Working Mother's 100 Best Companies for 2008).
As far as getting started, you can open the account by filling out the online application. You'll need to provide information about an external account you already have in order to fund the Online Savings account. Once you're approved, you can activate your account, transfer funds into it, and start saving. You can link several external accounts so you can make convenient transfers. The FNBO Direct site also provides useful videos to help you through the account opening process, if you need extra assistance. You can also read about other FNBO Direct products and features here.
While the current financial environment is tough for us savers, it's still worth our while to work with banks that treat their customers well. Right now, these are what serve as high yield savings accounts at the moment, but there could just as easily be a rate trend reversal in the near future! If so, then online banks will tend to be ahead of the curve, given their relatively lower overhead and operational costs.
Created January 23, 2009. Updated July 5, 2011. Copyright © 2011 The Digerati Life. All Rights Reserved.