Where are interest rates headed? Here's the latest on the top high yield savings accounts in the world of online banking.
The Fed has been cutting the key interest rate in order to get the economy moving in the right direction. Well, that means our safe money, parked in cash accounts, can expect some rate changes; so I'd like to explore and review some updates on our high yield savings accounts at our favorite online banks and financial institutions:
High Yield Savings Account Review and Online Savings Account Options
As it goes, the online banks are acting swiftly. They've been cutting their interest rates for their popular high interest savings accounts in line with the Fed's rate cuts. For instance, ING Direct has cut its rate for its Orange Savings account to .90%, and other banks are now following suit as well (though their rates are better). Here is a list of our favorite online savings accounts, including yield:
EverBank: The EverBank Yield Pledge Money Market Account is now yielding .91% APY for the first 3 months after account open, and .91% after 3 months. It has no monthly fees but requires a low $1,500 initial deposit.
Ally Bank: The Ally Bank Online Savings Account is now yielding .89% APY (Updated 1/09/12), has no monthly fees and no minimum balance required.
FNBO Direct: The FNBO Direct Online Savings Account still sports a reasonable interest rate with a 0.70% APY. That's still several times higher than the national interest rate average.
ING Direct: The Electric Orange Account gives us a rate of .20% to 1.10%. Still some decent rates, especially for a combination checking/savings account.
Aurora Bank: This bank has a range of products available such as the Aurora Bank Savings and Money Market Accounts, Aurora Bank Checking Account as well as a series of Certificates of Deposit with maturity dates ranging from 6 months to 60 months.
Zions Bank: This bank has several offerings you can check out. Their savings accounts are Zions Savings Account and Zions Money Market Account, and they also have a checking account with a good rate: Zions Checking Account.
WT Direct: The WTDirect Savings Account now yields a 1.11% APY under certain conditions: for the first 60 days, you'll earn 1.11% on your money. But after 60 days, if your account is under $10,000, your APY will be changed to 0.50%. It's one of the few accounts that require a minimum balance: you'll keep earning 1.11% if you maintain your balance at $10,000 or more.
E*Trade Financial: The E*Trade Bank Complete Savings Account returns 0.40% APY, which is several times the national average for rates. Rates were recently lowered, in response to Fed rate cuts.
HSBC Advance: HSBC's Online Savings Account now offers a 1.10% APY.
Dollar Savings Direct: The Dollar Savings Account is now yielding 1.00% APY, and has no fees. The minimum needed to open an account is $1,000.
Bank of Internet: The Bank of Internet High Yield Savings Account currently returns - APY, which is one of the higher rates around. This savings account has no fees and no minimum balance requirements.
We've often echoed the reminder that if you put your money into any of these accounts, then your money will be guaranteed even if your bank fails, as long as it stays within FDIC limits.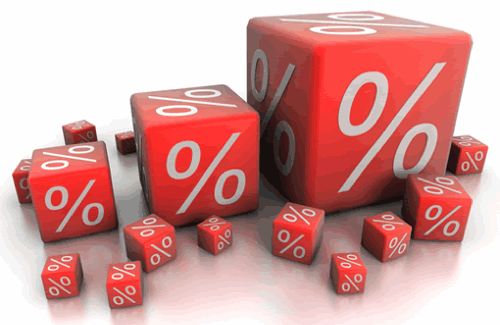 Other Options For Your Cash
There are also other safe options for your cash, such as tax exempt money market funds, certificates of deposit and money market savings accounts. These would be great places to park your short term funds or emergency funds if you're looking for liquidity at the moment. The online bank accounts we list here are known to be fairly stable and secure, in light of what's been going on in the banking industry of late.
Tax Exempt Money Market Funds
At any rate, if you do have cash sitting around which you'd like to channel towards something fairly safe that also earns attractive returns, you can also consider additional options such as money market funds from some solid financial institutions such as Fidelity or Vanguard.
Though regular and tax exempt money market funds are offering relatively great returns, your money here isn't guaranteed by the FDIC; thus, you've got to live with a minuscule amount of risk when you're in such a fund — a risk that for many, may appear psychologically greater than usual. For the record, I'm willing to take that risk when you're talking about a financial stalwart like Vanguard, which carries the lowest cost funds in the investing universe. But mind you, these yields are subject to change and may soon shift as well, in response to any Fed interest rate cuts.
No Certificates of Deposit For Me
I have considered CD's too, but they're too illiquid for me right now, especially since I want access to my bucks while I proceed with dollar cost averaging into this sinking equity market. It's becoming harder to resist the extra cheap stock shares and mutual funds.
Copyright © 2008 The Digerati Life. All Rights Reserved.