If you own a checking and savings account with a big bank, it may surprise you just how low the savings account rates have fallen. For example, the best rate you'll ever get with a Wells Fargo checking account is an annual 0.15% yield. And that's if you have at least $25,000 to put into your fund.
But there are better options for savers, albeit the differences aren't exactly dramatic. But every little bit may help and you may also want to set yourself up at a good bank to prepare for higher rates down the road. Typically, online high yield savings accounts are a great alternative if you're fine about not having the convenience of a local branch nearby. These high interest savings accounts are able to offer you liquidity and access — simply hook up your accounts to other banking channels you have. You can also get an ATM card in order to access your money.
Zions Bank Online Review
That said, if you're investigating online banks or banks with internet accounts for above average rates, then you might want to put Zions Bank on your list. This bank offers an internet savings account, a checking account, and a money market account, and you can apply for them online.
Those who live in Utah and Idaho may already be familiar with Zions Bank, which has more than 100 branches in those states. The bank has more than 100 years of experience in the industry and it's publicly traded on NASDAQ. As you can expect with major banks, your deposits are backed by the FDIC. Now while Zions Bank has branches, they also have online products available.
Zions Bank Internet Savings Account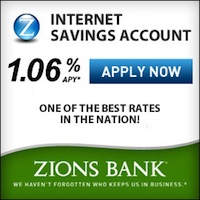 The Internet Savings account from Zions Bank currently has a 1.06% APY, which you'll earn with a balance of at least $1,000. The interest rate may compare with some of the top rates among other popular online savings accounts like FNBO Direct, EverBank and Ally Bank. The minimum needed to open the account is $100.
To add money to your new savings account, you have three choices. You can call the bank to arrange for a wire transfer or you can mail in a check to the bank's location in Salt Lake City. However, you might find the third option of linking a bank account you already have to your new Zions account more convenient. When you link your bank account, you'll need to share your bank routing number and account number. Zions Bank will then send you some small deposits so you can verify them, a process that can take a few days. This is pretty standard procedure for linking online accounts.
Zions Bank Checking Account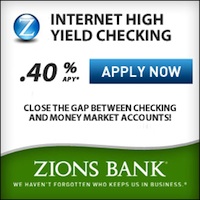 The Internet High-Yield Checking Account offers a tiered rate set up. To achieve a rate of 0.40% APY, you'll need to up your balance to $100,000 or more. Note that Zions' minimum deposit to earn interest with their checking account is $2,500; balances from $2,500 to $19,999.99 earn 0.10% APY. Balance from $20,000 to $99,999.99 can earn 0.20% APY.
Now if you compare this to Wells Fargo's checking and savings account offerings, you may find that the lower tier seems to match up with WF's more "elite" accounts. You'll also discover that Zions Bank's checking account rates at the higher tiers are along the lines of Wells Fargo's High Yield Savings Account tiers, which will give you a "bonus" APY along those ranges. With these more liquid options, I wouldn't even bother looking at short term CDs, whose rates have been languishing. It's really not worth locking up your money for virtually nothing, if you can get higher savings returns through liquid accounts.
If you've decided to sign up with Zions, you'll be sent your starter checks and ATM card by mail within a week to 10 days. The minimum deposit for opening a High-Yield Checking account is $100.
Zions Bank Money Market Account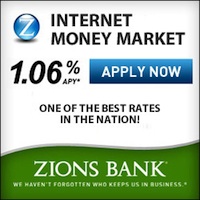 One other Zions Bank product is the Internet Money Market account, which offers a 1.06% APY. To get this rate, you need to maintain your balance at $2,500 or above. The minimum amount to open a money market account is $1,000. The interest rate for this account falls in lock step with the savings account.
You're allowed to make as many as six transfers in each 30 day period. These types of transfers can be made by check or phone, pre-authorized transfer, automatic transfer, or via the Internet. It looks to be a good choice, given today's modest interest rate environment.
Other Zions Bank Account Features
If you want to make withdrawals, you can have an unlimited number of them in person, by mail or messenger, or through ATMs. If you're local to a Zions branch, just remember that it's $3 for each withdrawal at a teller.
After you've funded your new Zions account, you'll want to know the different ways to make withdrawals. If you have an ATM card, you can use it at MoneyPass network ATMs. You can write checks (if applicable) or ask for wire transfers. You also have the option to transfer money back to your funding account.
For its current customers who are enrolled in online banking, Zions offers Mobile Banking. With this feature, you can follow your balances, make transfers, and search for transactions. You can use any one of a variety of smartphones to perform Mobile Banking. Plus there's an iPhone app that's offered as well!
To get started with a Zions Bank online account, you'll need to share some of your personal information. This includes your address and date of birth so your identity can be verified. It should only take you about 10 minutes to go through the application, according to Zions.
To recap the rates:
| | |
| --- | --- |
| Savings | 1.06% APY (on balances of $1,000+) |
| High-Yield Checking | .10% to 0.40% APY |
| Money Market Account | 1.06% APY (on balances of $2,500+) |
When you compare the offerings from our Best Savings Rates page, it's clear that Zions Bank has competitive rates. Compare the savings account at 1.06% APY to what's offered by a local bricks and mortar bank in your area. You're likely to find quite a difference. The high-yield checking and money market accounts might seem attractive to you as well.
Here's a noteworthy fact about most Internet accounts from any online bank: they usually charge you lower to no monthly fees, but watch out for other miscellaneous charges that you should confirm. Many accounts typically require zero to low minimum balances with no minimum balance fees. And since they're online accounts, you can access your information on your schedule instead of having to trudge out to a branch during business hours.
Disclosure: We have advertising relationships with some of the companies whose products we feature on our site.
Copyright © 2011 The Digerati Life. All Rights Reserved.