A look at the Ally Bank Interest Checking account and the Raise Your Rate CDs.
There are a lot of banking products to keep track of lately. Some of those we monitor are from Ally Bank, which is actually known for online consumer bank products that are made easily accessible by their minimal fees and minimum balance requirements. Many of their products can be found in our list of high yield savings accounts and other savings options that we've previously covered here. Today though, we'll focus on their interest bearing checking account and special raise your rate certificates of deposit. Following are the details:
Ally Bank Interest Checking Account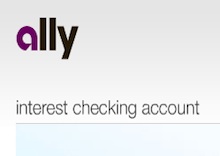 Ally Bank boasts a free high yield checking account that has the potential to earn you the equivalent of interest you'd get from a high interest savings account. It's called the Ally Bank Interest Checking Account with several features that you may like. Just like Ally Bank's other savings products, this checking account is easy enough to start and maintain, given that it does not require a minimum deposit nor a minimum balance to keep around. Here's a closer look at its features:
No minimum balance required. $0 to open an account. Can't get easier than that!
No monthly fees
Maintain a balance of up to $15,000 and receive a 0.50% APY
Maintain a balance above $15,000 and receive a .80% APY
Free online bill pay and online banking
Free debit card
Unlimited check writing
Get cash back by using your debit card (at select retailers)
No ATM fees anywhere
Free alerts on your balance
But bear in mind that the bank will charge you for non-sufficient funds, stop payment and return deposits, although these are pretty standard fees I've seen levied by most banks. The one thing I'd like to point out is this: seriously, at the rate some of these banks (online or otherwise) are ratcheting down their rates, there doesn't seem to be much of a competitive advantage between checking vs savings accounts anymore. Take for instance WTDirect, which is certainly considered a top high interest savings account. If you look at their account's features, there is no longer much to be desired here, with the long term interest rate lingering at 0.15% for balances under $10,000 and 1.11% for balances reaching $10,000 and higher. So if you're going to make a comparison here, even the Ally Bank Interest Checking Account looks like a better choice over the WTDirect Savings Account, since you get all the benefits of a checking account when you opt for the former.
Ally Bank 2 Year CD & 4 Year CD With Rate Increase Option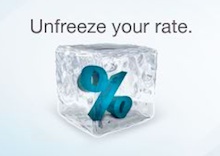 In addition to the checking account, Ally Bank is replacing their 2 Year High Yield CD with one that has a "rate increase" option. It's called the Ally 2 Year Raise Your Rate CD and it's intended to give savers a bit of a break. Typically, when you open a CD account, you're locked into the current rate for the full term of the CD. But with the Raise Your Rate CD, you have the opportunity to opt for one rate increase anytime during the term of the CD. So if rates go up anytime between now and the next two years, you have one chance to raise and lock in your rate at that level.
Given that we're in a rate climate that hasn't exactly been favorable for savers (it's been a low interest environment for a while now, with no signs of a change in the trends), the "raise your rate" feature may offer a bit of insurance. Here's how it works:
Open an Ally Bank 2 Year CD and lock in your rate. The rate is currently at 1.18%.
Monitor the CD rate on this product.
If the rate goes up within the next 2 years (during the term of your CD), you have the option to lock in that new rate.
Call Ally Bank at anytime to request the new rate.
Receive the one time rate increase for the rest of your term.
But the 2 Year CD is not the only "Raise Your Rate CD" from Ally. They also offer a 4 Year CD which has a higher yield and which provides the option of a TWO time rate increase during the term of the CD. So make sure you compare these two products when you visit their site.
Created March 16, 2010. Updated August 19, 2011. Copyright © 2011 The Digerati Life. All Rights Reserved.