I'd like to introduce a form of checking account (with debit card) that is non-interest bearing, but promises to be high on rewards. So how about receiving perks by using a debit card?
Let's take a look at the checking account offered by PerkStreet Financial. It offers a number of perks in lieu of paying out an interest rate. If you're someone who likes to bank online, who wishes to minimize the fees on your accounts, who uses your debit card often and who appreciates rewards and benefits as a banking customer, then maybe this checking account will fit your needs.
PerkStreet Financial Checking Account Features
Here's what you'll get when you open a PerkStreet checking account:
You'll receive a PerkStreet Financial MasterCard Debit Card that will give you 2% cash back for the first 3 months. After 3 months, you'll also receive 2% cash back for purchases made on days when you maintain a balance of at least $5,000 in your checking account. If the balance is lower than $5,000, you'll receive 1% instead.
You can choose to get free music or coffee, among some of the perks available. There are no limits on the rewards you receive, which you can easily redeem online.
You'll get free checks, 24/7 live customer service, free online banking and bill pay.
The PerkStreet Financial checking account is a FREE online account: there are no account fees, no ATM fees, no minimum balance required.
There may be promotions for new customers, such as a cash bonus or account credit. However, these are occasional short term offers. Check the PerkStreet site or our promotions page for the existence of such offers.
You can set up direct deposit and make easy online transfers between your PerkStreet checking account and external accounts.
Your account has FDIC insurance and fraud protection, as is standard for bank accounts. PerkStreet Financial has actually partnered with the Bancorp Bank to provide FDIC insurance, as well as other banking services.
Checking Account Fees & Rewards
There are some fees you'll need to be aware of here, such as a charge for overdraft protection ($30), a bounced check fee, a stop payment fee and a monthly inactivity fee of $4.50 per month. These are standard fees you'll find assessed for most financial accounts, so watch out for these. On the flipside, there are the perks — if you're a coffee or music lover, then you can get the equivalent of a cup of coffee (at $2) when you spend $200 on your debit card, or an iTune download ($1) when you spend $100. If you prefer a "cash perk", you can choose certain gift cards from merchants such as Amazon, Target and Best Buy as well as through MasterCard.
So is this a good deal? It's fine if you're a debit card user. But you can certainly consider other alternatives to getting rewarded for your spending. For instance, I have the habit of accumulating credit card rewards and using cash back credit cards, which may offer better deals than PerkStreet's debit card rewards. If you've got your credit card use under control, then consider those credit cards that offer higher rewards (3% to 5% on certain spending categories and 20% savings through online shopping) for your spending. But if you don't trust credit cards, then you have the option of getting rewards through debit card spending via PerkStreet.
And as alternatives for your savings funds, you may also want to check into free high yield checking accounts and high interest savings accounts which are interest bearing accounts. You'd have to determine if these types of accounts are where you'd prefer to park your money.
Online Banking With PerkStreet Financial
For those curious as to how PerkStreet Financial Account Screens look like, here's a quick look at some of them.
#1 Check your balance.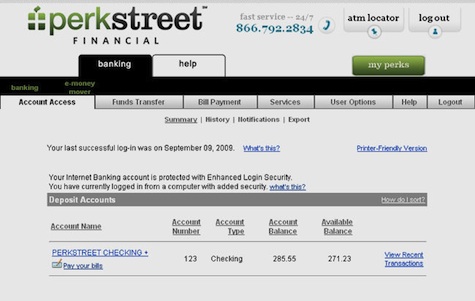 #2 Perform online bill pay.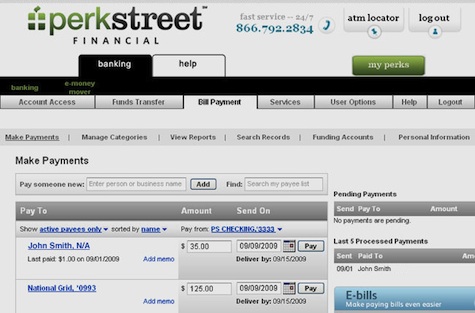 #3 Review your transactions.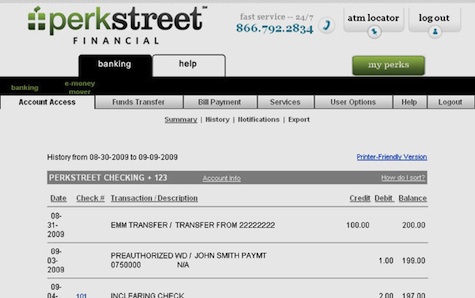 Copyright © 2009 The Digerati Life. All Rights Reserved.