A look at people living outside our financial system.
We already know that we have between 10 and 15 million people who work in the U.S. illegally. Do they have a bank account? Very few do. Most fear without reason that banks will report them to the authorities. Many don't speak English and don't understand the intricacies of the banking system. We also have another 10 to 15 million Americans who simply don't believe a bank account will help them. And here's a revelation: it's believed that the population without a bank account earns more than 500 billion dollars annually.
Check Cashing Businesses
People who do not have a bank account take their checks to a specialized institution. They use check cashing businesses and must pay a fee between 3% and 5% of the total amount. As they walk out the store, somebody may be waiting to rob them of the hard-earned cash. Still other fast growing businesses offer to loan them money — normally no more than $500 — in advance of payday. In this case, the fees are exorbitant; it can reach over 500% the annual rate. The Merriam-Webster dictionary gives this definition of usury: "an unconscionable or exorbitant rate or amount of interest." Unfortunately, no authority has offered to curb these abusive practices, which are just some of the many other traps that financially vulnerable people fall into (along with predatory loan schemes such as risky mortgage loans and subprime borrowing activities).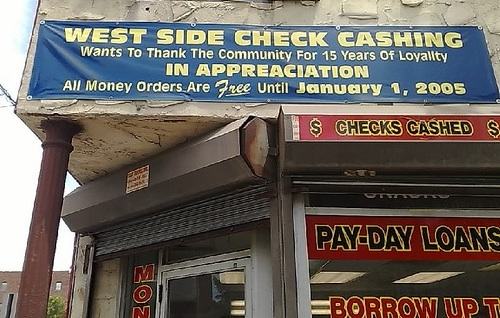 New Ideas To Capture the Illegal Immigrant Market
USA Today recently reported that Bank of America is planning to issue credit cards to illegal immigrants. According to Ruben Navarrete, editorial writer for the San Diego Union Tribune, the bank has already started a program called SafeSend to allow illegal immigrants to open checking accounts and send money safely to Mexico. All this created quite an uproar among those who believe that we should not encourage undocumented workers to stay in the United States. Of course, the motive for the program is not altruistic; it is simply an effort to cash in on this previously untapped resource. The credit card charges over 21% a year, a rate that is considered high by most standards.
Efforts To Bring People Into the Banking System
"We know that many of these individuals live from paycheck to paycheck and remain unbanked for reasons ranging from problem credit histories and debt burdens, to distrust of financial institutions, to the lack of financial education."

~Chairman Donald E. Powell Federal Deposit Insurance Corporation, March 2003.
Then FDIC chairman Donald Powell added that it would be quite profitable for banking institutions to penetrate that market with tools designed specifically for customers living in fringe financial services. Some employers have solved the problem of delivering checks by creating direct deposits in debit cards that the workers may use in restaurants, supermarkets and other places. Many of these employees don't have Social Security numbers.
A nonprofit organization in Southern California has created SiGo Money MasterCard, a reloadable prepaid card affiliated with MasterCard which allows people who don't have bank accounts to pay bills, to call and text message family, and to perform money remittances to other countries; it promises to be a step up from check cashing schemes. It's not a credit card, but one you load with cash (for the convenience). All well and good, but as The Consumerist points out, it's also loaded with fees and gives away your private information for marketing, research and so forth. Here's a taste of the fees you'll pay for the privilege to use SiGo: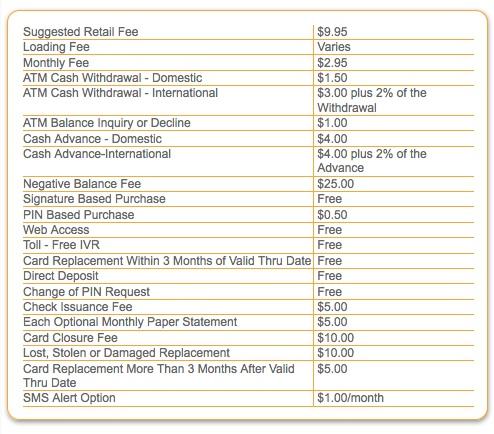 What a deal!
Finally, Wal-Mart announced recently that it will sell a card for $8.94, a prepaid Visa debit card, targeted specifically at those who don't have a bank account.
We may or may not agree with those who facilitate financial services for illegal aliens, But what's appalling here may be some of the types of financial products made available to them and others outside our financial system. We should also realize that those outside our financial system include millions of Americans who run considerable risks by stashing hoards of cash under the mattress or slipping banknotes between book pages. Their financial resources are not protected from criminal elements. Sure, the banking system and private enterprises are making huge efforts to bring them some degree of safety, but it's also done in the name of more profit. And as we've seen in some cases, that too, can be just as scary as the risks some people make with their hard-earned money, as they take matters in their own hands.

Jacques Sprenger is a contributing writer to The Digerati Life.
Copyright © 2008 The Digerati Life. All Rights Reserved.