Recently, SmartyPig has gained a lot of attention because of the way it helps savers stash their money for specific needs. The new SmartyPig Cash Rewards Card is a tool that can help you get cash back on your way to your savings goals. Given that rewards credit cards and even debit rewards cards like the PerkStreet Debit Card are now the rage, this prepaid reloadable card which offers rewards is pretty timely.
Now I wish I'd heard of this prepaid card earlier, especially after hauling what felt like a half ton of change to the bank today. You can get the card when you sign up for a SmartyPig account. If you're already a SmartyPig member, look for a signup section in your account. Here are some great things about SmartyPig:
It's an interest bearing savings account that allows you to set up savings goals.
You can then have your family and friends help you achieve your goals through account contributions.
You can set up an automatic savings program that supports your savings goals.
You can use the new reloadable SmartyPig Cash Rewards card to help you earn rewards you can apply towards your savings goals.
We've discussed the SmartyPig's basic account via our SmartyPig review before, but this time, we'll be focusing on their prepaid rewards card.
SmartyPig Cash Rewards Card: Cash Back For Savings Goals
You first need to open a SmartyPig account and opt-in to accept the prepaid card. Once you've received the card, just add money to it by transferring funds from your SmartyPig account or from the same funding source you use for the savings account. So if you have a bank checking account that you have linked to your SmartyPig account, you can load your Cash Rewards Card from it as well.
And since the SmartyPig Cash Rewards Card is a MasterCard debit card, you can use it to make your purchases wherever you use your other MasterCard debit cards. It would get a lot of mileage if you brought it along when you filled up your vehicle, treated yourself to a late afternoon snack, or headed out for trips to the mall; you might run into one of the 9,000 retailers that offers up to 10% cash back through this card. You'll find retailers in categories like Apparel, Electronics, and Home & Garden, among others. Many of them are local merchants; more national stores are coming soon.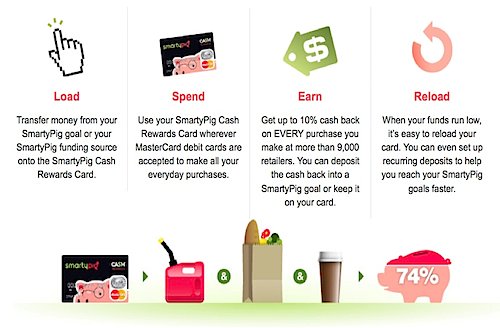 How the SmartyPig Cash Rewards Card works
The cash back you earn can go towards your SmartyPig savings goal if you want. This will help you reach your goal sooner. Or if you prefer, the cash back can just stay on your prepaid card. It's up to you. To make adding money to your card more convenient, you can designate a transfer from your funding source on a regular basis.
Note: the cash back is from shopping at SmartyPig's affiliated merchants.
Set Up a Savings Goal
Remember, to get the most benefit from this card, you need to set up a savings goal. That way, you can apply your cash back to increasing your savings. If you have more than one savings goal, that's fine, too. For instance, you can set up one goal for your next vacation and another goal for a new mountain bike.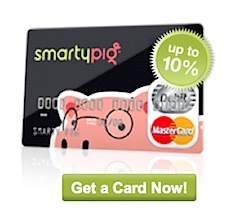 Once you have your goals defined, you can determine how much you want to save and when you'll need the money. Based on your input, SmartyPig will come up with a specific amount to transfer from your funding source each time. As an example, let's say I need to save $900 for my next computer in a year's time. SmartyPig can do the math and tell me that I should add $75 to my account each month. Or you can customize the goal to fit your circumstances. Or you could even have a part of your salary go to your SmartyPig goals during each pay period, for example.
It's a good example of a "set-it-and-forget-it" automatic savings plan. Feel free to add extra whenever you want. And as I mentioned earlier, you can also arrange for your family and friends to add to your goal. Because your SmartyPig account is a savings account, you can look forward to earning interest at a rate of 1.75%. That's a higher rate than you're likely to find at a local bank. Plus, your account's backed by the FDIC, so you don't have to unduly worry about your money's safety.
What About Fees?
The SmartyPig Cash Rewards Card has an initial card fee of $4.95. Some additional fees include $1.95 per ATM withdrawal, $4.95 per international ATM withdrawal, and the $.50 domestic ATM balance inquiry fee. There's no charge to load funds, and your PIN and POS transactions are free. Customer service and email alerts won't cost you extra.
Whether you're saving for a modest goal like a new TV or a long-term goal like a house, you could probably benefit from some easy ways to save. With this SmartyPig prepaid debit card, you have the chance to get cash back for the purchases you make, so that you can reach your goals faster.
Copyright © 2010 The Digerati Life. All Rights Reserved.