Kids grow up fast, too fast in most cases. At least faster than you can get their college tuition saved up. And doesn't it seem like every year, college tuition increases to the tune of 6% or more? We've taken a look at some of these concerns in a few recent articles on the subject of affording student loan payments and college costs.
In most cases, I'm doing well to make sure that every bill I have is paid for every month, while I sock some money away for retirement, and defer some funds for college tuition.

It always felt like there was a tomorrow and time left on my kids' college funds, at least until I took my rising freshman daughter to a high school orientation. Now, that tomorrow feels like yesterday and I'm under the gun to find a way to pay for her college education costs, I've been contemplating my options. If you're finding it hard to fund college, are loans the only way to go?
We've seen how a lot of people want to get a college education, even to the detriment of their future finances (no thanks to heavy student debt). We're all assured by the idea that on average, a college graduate is expected to make up to three times more than a high school graduate. But how tough is it to afford college? While it is important to plan for the future and set aside cash to pay for the multitude of expenses that go along with getting a higher education, there are also a plethora of avenues you can utilize to help defray the burden. Ideally, having a 529 savings account or other educational savings fund should take care of the expenses, but for many families, this isn't enough; many parents are driven to look for additional financial resources to cover the gaps. We've discussed some of these ideas in the past, but I'd like to address a few more ways I'm thinking of handling this particular financial goal.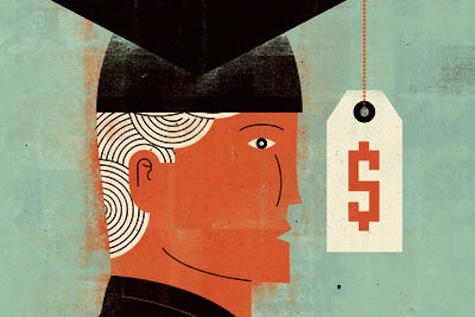 Image from Seattle Pacific University
Ways To Pay For College: Free Money Options
1. Fill out the FAFSA. We've mentioned this before: the Free Application for Federal Student Aid is the basis for any financial aid program. As a matter of fact, every federal and most state financial aid packages encourage you to complete this form. The form asks you a series of questions that evaluates your current financial condition and determines whether or not you are eligible for any need based programs. It's a good idea to complete the form, whether or not you think you qualify for need based aid.
2. Apply for scholarships or grants. There are quite a number of scholarships and grant programs out there that you can consider for your child, but do your due diligence with these. While the best part about winning a scholarship or grant is that the money is free and you never have to pay it back, the downside is that it can be time-consuming to pursue such programs (plus you have no guarantees of qualifying for the free money). And there are scholarship scams to watch out for.
3. Consider a Federal Work-Study Program. This one allows you to use some sweat equity towards fulfilling your financial obligation. Plus, it's a really good way to spend some quality time with your child, whom you can have toiling away beside you.
4. Find out about state scholarship programs. Most states have a lottery scholarship where any permanent resident of the state qualifies for an award, based on academic performance. You should also check out the school's financial aid office for school sponsored aid packages.
Low Interest Options
1. Apply for a PLUS loan. This is the loan product that is available to parents of college age children. Yes, you have to pay the money back and yes there are interest fees, origination fees, etc., but they are somewhat easier to obtain than traditional personal loans since they are backed by the federal government and the cost is much lower than other loan products. You will need decent credit, steady income and potentially a co-signer.
2. Have your child (of majority age) apply for student loans. This one gets a little tricky, but stick with me here. Consider having your child apply for a traditional Stafford Loan. This type of loan may be easier to pick up given that there are no credit or income requirements to qualify. They have one of the lowest interest rates available and payments do not have to commence until 6 months after graduation. The best way to use these is to take them out and begin making payments on them immediately to prevent interest from building.
Practical Tips & Ideas for Reducing Student Debt
1. Take community college and advanced honors high school courses. If your child can be proactive, it can save your family some money. How about having your child earn as many credits as possible through his or her high school curriculum (where the courses are free) and community colleges where tuition is generally cheaper than most universities? So if your child is a good student, it can pay off! Also, many community colleges have articulation agreements with major universities that allow students to complete the first two years of study in any major and then transfer the credits to the university. This may be a reasonable compromise for those who want to eventually graduate from a well-known university.
2. Buy used. This means textbooks, furniture, clothing and anything else you can get away with. Textbooks make up a huge portion of the bill when it comes to getting a college education. Buy used books and sell them back at the end of the term to lessen the impact: for instance, certain sites exist to help you avail of this type of service. Also consider e-books, which may be significantly cheaper than hard copies.
3. Buy a bus pass. While having a car on campus is a huge convenience, it's clearly not the most affordable way to get around. In most cases, students can purchase mass transit passes for around $20 a month.
4. Attend college in the state of your permanent residence. It's no secret. Not only is in-state tuition cheaper, but most state schools show preferential treatment to in-state applications when it comes to accepting new students.
Paying for college is tough, but with a little diligence and a lot of hard work, you can reduce the amount you will owe, making the transition for your child from high school to college much less challenging, at least financially.
Created June 22, 2010. Updated October 8, 2012. Copyright © 2012 The Digerati Life. All Rights Reserved.