Just as bad as our health care system woes are the financial issues faced by many college students who fall into serious debt due to student loans.
I'm fortunate that I went to college during a time when it was still fairly affordable. Plus I was doubly fortunate that my parents shouldered that expense completely so that I could completely focus on getting my degree. That said, I'm more worried about what the future holds for my children's generation. For instance, I believe I've done the right things here, by setting up 529 college savings plans for my kids at the start of this decade (and before they were born), yet, a part of me is just a tad bit insecure about whether there'll be that shortfall in savings when college comes around the corner.
With the way the stock market is behaving and the way college costs are growing each year, you can only hope that you won't be staring at a huge gap between your savings and the final tally, when the time comes. Just check out the following sobering statistics on education (source: Finance My Money, NY Times).
While the average undergraduate college loan debt stands at $23,000 (for 2007-2008), there are those cases that seem pretty extreme, like this guy who ended up with $275,000 in student loans plus interest:
He's 24 years old with an onerous debt burden today, which he'll only be able to retire completely by the age of 50 (unless he comes across a huge windfall). Wow. It's easy to feel sorry for someone in this situation but I also wonder about how you go about deciding just how much of your future you'd be comfortable putting on hold (or trading) for a college degree.
Student Loan Payments & College Tuition Trends
Here's how college tuition rates have soared from the early 1980's through 2007, as compared to increases in medical care, the Consumer Price Index and median family income.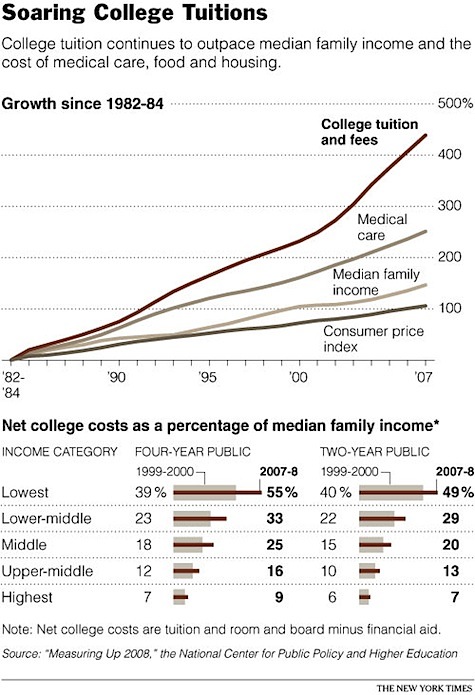 ~~ooOoo~~
Here's another look at the costs of education throughout the years (from 2002 through 2010):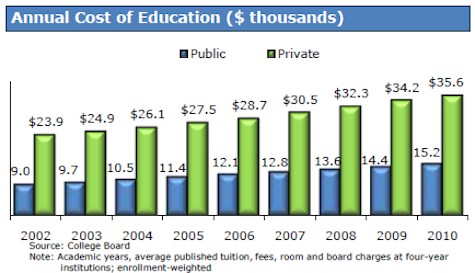 ~~ooOoo~~
And finally, something to lose a little sleep over no matter how prepared you are: here's a picture of the projected costs of a 4 year college education through 2027 (from 2009 to 2027):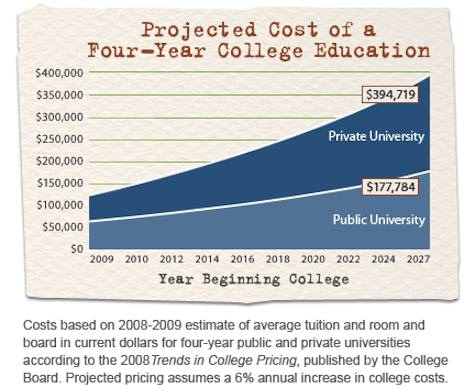 With health care costs and college to look forward to, I can only weep for my savings and stock brokerage accounts: they're going to have to work harder somehow!
Copyright © 2010 The Digerati Life. All Rights Reserved.