Peer to peer lending, person to person lending or social lending… everyone's suddenly talking about it. Get to know social lending sites where you can get direct loans by borrowing through a peer to peer lending network. Lenders can make money through direct lending investments as well! As an example, see our Lending Club review, which discusses a leading social lending network.
Everywhere I look around the blogosphere, there's someone talking about the peer-to-peer lending industry. It's an interesting space that has recently been picking up steam and getting noticed. With the credit markets under a lot of pressure these days, borrowing and lending Web 2.0 style may be worth looking into. Before you jump into it though, how about reviewing a few facts about it?
Social Lending: Direct Loans and The World of Peer To Peer Lending
Here are 5 things about the social lending industry that you may not know.
#1 Social lending is nothing new, in fact, it's an old concept.
Direct lending (or lending without traditional intermediaries such as banks) has existed in communities since time immemorial. This industry has been inspired by the concept of Asian micro-lending, borrowing and business, the original idea being that cooperatives of neighbors, friends and family pool money together to help out those who need loans. In the age of online transactions and match-making, p2p lending companies have taken the idea of money pools and direct lending and turned it into viable web models. Cool.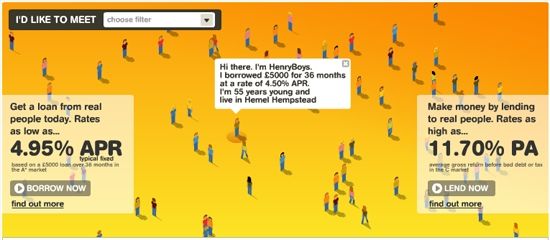 #2 Many companies are trying to secure a foothold in the social lending space.
This just shows that once a good idea has been formulated, everyone else decides they want to follow suit. So far, the idea is taking off and showing some measure of success so much so that several companies are now vying for a piece of the p2p lending pie. Who are these companies? Here's a quick list along with a description of how they manage the lending process. I find it interesting that each company has a different take on how they make things work:
The Lending Club tries to match lenders and borrowers more automatically using a variety of factors such as rates, risk profile and so forth. If you are a lender, you can either search for loans on your own or you can rely on the Lending Club's proprietary search algorithm called the LendingMatch algorithm to generate a recommended portfolio of loans to work with. This company has successfully been approved for full business operations by regulatory agencies and has emerged from their quiet period a while ago. For a more comprehensive discussion of this company and its services, check out our Lending Club review.

Tip:

Here's how to sign up with Lending Club:

Prosper.com, located in San Francisco, is a well known social lending network, and has emerged from their quiet period. They've passed all the necessary regulations and reviews that all businesses in this niche are subject to, in order to ensure their proper operations. Prosper.com uses an auction system in which the borrower indicates how much of an interest rate they're willing to pay and their loans are then subject to the bidding activity of lenders.

Tip:

Here's how to sign up with Prosper.com:

British-based Zopa.com introduces the concept of a "Zopa CD" that appears to be similar to a bank "certificate of deposit" or a credit union's "termshare certificate", plus you may be insured up to $100,000 if you're a member of one of Zopa's credit unions. But what's nice is that the CD you are funding directly benefits at least one Zopa borrower by helping reduce their monthly loan payments.
Kiva.org works to fund entrepreneurial efforts in impoverished areas around the world through microfinancing. The focus of Kiva is to help out business-minded people who live in poor areas in developing nations by offering them direct loans. If you decide to sponsor a business, you also receive email updates on the progress of the entrepreneur you are helping out. As a lender, you won't be making a profit from the lending that you as this is a non-profit organization.
#3 Borrowers and lenders need to do their research.
The companies in the p2p lending space provide the tools to get you transacting, but it doesn't have to stop there. Lenders, particularly, can do their due diligence by corresponding beyond the internet, for instance, by contacting borrowers via the phone or email. As a lender, you may want to do as much research as you need to feel comfortable about the process. I intend to participate at some point as a lender in these venues and I'll be conducting my own checks when I get into the swing of things. As a borrower, there are limits to how much you can borrow, and loan terms and rates vary according to various factors. For all companies involved, there's a $25,000 limit and loan repayment is typically capped at 3 to 5 years.
#4 Everyone can win.
Now why would anyone want to get involved with peer-to-peer lending? There seems to be a good amount of risk involved here. If you are interested in becoming a lender — the loans are unsecured, which means that anyone can default on their loan payments. But in effect, things turn out more successfully than you may expect since there are some "checks" in place that allow you to mitigate the risk of lending this way. Some safeguards include:
You are able to review information about the borrower such as their credit scores, background (or "story") and borrowing history. On top of that, if a loan repayment begins to be a problem then the loan can be forwarded to a professional collection agency. Unfortunately, you may only get part of the loan back and statistics show that only 6% to 10% of loans are fully recovered after they hit a collection agency. Nevertheless, mechanisms are in place to alleviate this risk.
You can mitigate the risk of lending by funding several loans with the amount of money you commit to a lending account. The key here is to build a diversified loan portfolio. As mentioned, even Zopa has come up with a "risk-less" plan by allowing its lenders to partner with credit unions and seek insurance for their investments via Zopa CDs.
The concept of borrowing groups is introduced, as in the case of Prosper.com, where the reputation of a borrower is tied to the reputation of the group he or she belongs in. When you've got other people you have to answer to, the "peer pressure" may just make you feel more responsible about managing your debts better. However, some accounts have also stated that this feature of Prosper has been a bit confusing so if you're going to get involved in such groups, make sure you employ due diligence.
Because of the risk of default, lenders may also want to charge higher for the loans in order to offset any losses they encounter. It has been suggested to lenders that they tag on 2% to 4% to loan interest rates to neutralize the effect of losses in their portfolio.
The hope is that despite all these issues and conditions, that borrowers still get better rates than they normally would in a traditional bank setting with lenders competing with each other to fund their loans, and that lenders find a better avenue for their investment dollars along with the feeling of gratification that they're directly helping those who need the financial help.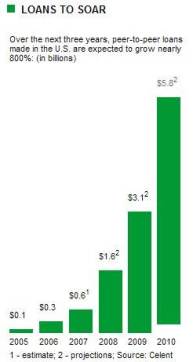 #5 The industry is growing fast.
This industry goes by a lot of names including social lending, peer to peer lending, person to person lending, social finance and so forth. However you'd like to call it, it's now starting to pick up momentum. According to Celent, a research firm, this type of lending is still in its early stages and the space is still small, but signs point to rapid growth for this industry. How much so? In 2006, the market was at approximately $30 million and in 2007, it was seen to be around $100 million. By 2010, projections for the industry have ranged from $1 billion to $5.8 billion in loans exchanging hands, an 800% jump from this year.
I may not be a borrowing woman but I can see myself as investigating a new way of putting my money to work — this time as a lender in this fashion. I'm eager to see how this form of investment can work out but before I do so, I'll be studying it a little further. If you are interested in the brave new world of social lending, here's where you can start!
Copyright © 2008 The Digerati Life. All Rights Reserved.