What can you expect when you borrow money at a p2p lender? A peer to peer lender is often a source of cheaper loans, and if you transfer your unsecured loans and credit card debt to one such lender, you can actually cut down on your interest rates, and ultimately your debt load. Also, they put you on a set, 3 year schedule, which helps with setting goals to rid yourself of your long-standing debt.
I've often joked about how I would respond to a friend or family member who's interested in borrowing money from me. With the advent of peer to peer lending, you'll no longer need to worry about how much money to entrust to a loved one, hoping you'll be paid back one day. Nowadays, you can simply refer them to the nearest online peer to peer lender.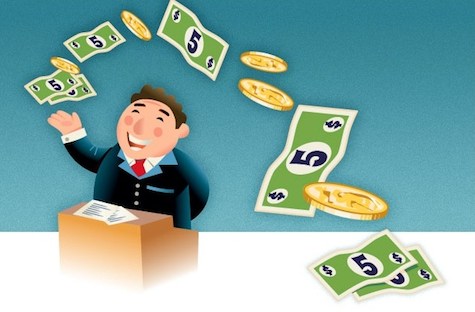 Image from news.com.au.
And in light of the "DebtBuster Campaign" that Lending Club (a well known p2p lender) is promoting this month, I wanted to remind folks why a loan from such a lending network may be a great alternative to unsecured loans that you'd normally obtain through credit card issuers and banks. Earlier, we introduced the DebtBuster Campaign in articles that discussed how to become debt free faster than you think, how to use a debt consolidation calculator to map out your payment plan, as well as other helpful debt solutions.
How To Apply For A Loan At A Peer To Peer Lender
Let's see just how straightforward it is to be part of a lending network. To start with, here's a quick definition: peer to peer lending is a way for investors and borrowers to get together and cut out the middleman, the bank. Typically, with loans from p2p lending web sites such as Lending Club and Prosper.com, the borrower gets a much lower interest rate than they would typically be offered at a traditional bank.
How It Works. Private investors provide money to borrowers and receive a much better return on their investment than they would be receiving with their money sitting in a high interest savings account. The borrower who may have not been able to access a loan at a traditional bank due to the economy or other issues, is able to receive a loan to consolidate debt, to fund a new business, to make a purchase, or to use for an emergency situation. Basically, it is a win-win situation for both parties. Here is a step-by-step process of the borrowing process:

1. Ensure you have a good enough credit score. Is your credit score at least 660? If so, then you could very well qualify for a personal, unsecured loan at a lending network (but you'll have to check each network to find out their specific minimum requirements for scores). If not, then take a look at your credit history, monitor it well (credit monitoring services such as myFICO Score Watch may be worth subscribing to, if your credit is bad) and do what you can to improve it first. Peer to peer lenders require their borrowers to have healthy credit scores. So if your credit is good, please read on!
2. Visit one of the p2p lending sites such as LendingClub.com, which is the largest provider. Another such provider is Prosper.com. One thing to keep in mind is that peer to peer lending is not offered in every state due to certain laws. However, you will be able to tell if your state is eligible when you review the application process.
Here's how to sign up with Lending Club:
3. Fill out the mini-form on the site's home page stating how much you want to borrow and the reason for your loan, then select the option that best describes how good your credit actually is. Then click the "Apply Now" button to submit your information.
4. Fill out the pertinent information in the fields required such as your name, address, social security number, mortgage/renter's information and employment information. It will also ask for information regarding your monthly or yearly income as well as permission to pull your credit report. In addition, you will need your banking information such as your checking account routing number and account number.
5. You will then receive a loan offer, if approved, with the details of the loan such as the interest rate. Loans are typically for a maximum of 36 months. If the loan offer is satisfactory for you, then you will need to enter your checking account information.
6. The loan is then deposited into your account on a specific date. You do have to wait until the loan is completely funded by the lenders on the site before receiving the deposit. Once the loan is completely funded, it will be deposited into your checking account automatically. An origination fee is charged upon depositing the loan into your account. The fee typically ranges from 1.25% to 3.75% of the loan amount.
7. The monthly payments are then deducted from your checking account for 36 months. Of course, there is also no penalty if you want to pay the loan off early. There are no hidden fees either.
Borrowers on sites such as Lending Club end up borrowing for a variety of reasons, such as purchasing a car, debt consolidation, home improvements, student assistance, and even medical reasons. This type of lending provides a valuable service to both investors and borrowers because both parties benefit from the transaction. The sites base the approval for loans on your FICO score. Your score also determines how much of a credit risk you are and therefore determines what type of interest rate you receive on the loan. The interest rate varies, but can start as low as 7.5% APR for credit worthy borrowers (these rates may also be slightly different depending on the p2p lender you use). If you have not tried peer to peer lending, you may want to give it a shot. You can make a substantial amount of money as an investor and save a great deal of money as a borrower. Either way, it is a great way to get the most out of your money!
Copyright © 2010 The Digerati Life. All Rights Reserved.