Do you need to finance a car purchase? If so, how do you plan to go about it? It's always better to pay in full when you're buying a car, if you can help it (it is a depreciating item after all). But for many people — especially during current economic times — this has been a tough thing to do. There are of course other things you can do to afford a new set of wheels: you can also consider leasing a vehicle. But if you're set on making a purchase, and you need a little help with it, then there are certain things you need to consider.
There are local commercials that make it seem like the only thing you need to do to finance a new car is to show up at the car dealership. However, most consumers will want to take a few steps in order to get the best rates. So how about we go over some ways to get car financing?
How To Get A Car Loan
Before you pick out your next car, you might want to go over your budget to see how much you can devote to a car payment. Can you keep up with the same amount as your last car payment? If you want a more expensive car, will your budget be able to withstand an increase? Stick with a maximum amount you can afford before you start searching for a new vehicle.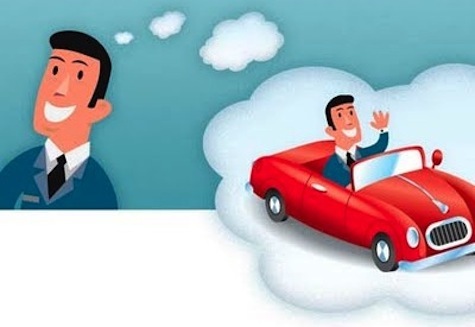 Image from youngeagerminds.com

In addition to having a budget for your next car, you should also take a look at your credit report. A credit report that's riddled with late payments or worse will unfortunately mean higher interest rates for you. If you have the time to clean up your credit report by consistently making payments by the due date, then you'll be in line for lower rates. Also, do what you can to repair or fix your credit if you've got issues there. Work to correct any mistakes you find on the credit report, as it can make quite a difference to your score. It may actually be a good idea to watch your credit with the help of a credit monitoring service if you're in the market for a loan in the future, just so you have a handle on your credit health before you apply for financing. Remember that you're eligible for a free credit report from AnnualCreditReport.com.
Another way to help your bottom line: save up as much as you can for a down payment. Although a lot of car commercials boast that you barely need a down payment (much like they used to say with mortgages!), you'll end up paying less interest later if you make that down payment as large as possible. You could set aside a portion of each paycheck in a separate savings account for several months so it doesn't seem like a hefty amount. I like to use online banks for this purpose as they have better rates for liquid accounts than do most other banks. I like FNBO Direct or Sallie Mae savings accounts and CDs as options.
Try Peer To Peer Lending To Finance Your Car Loan
One source of financing that's fairly new but gaining popularity is a relatively less expensive personal loan through a peer-to-peer lending network (P2P). Networks like these encourage potential borrowers to post their requests for loans. The potential lenders are members seeking out sound investments, and they're willing to finance loans in return for good interest rates. You may even find that the interest rates for borrowers are lower than traditional bank financing.
Typically, P2P loans will be for a period of less than five years and they'll be fixed rate loans. You'll make your payments to the site (or network), not to the individual lenders. As the facilitator of the lending process, the site then distributes these payments to your lenders as earnings. If you want to pay off your loan early, you aren't likely to run into any hindrances. Some popular P2P lending networks are LendingClub and Prosper. For more on the subject, here's how to apply for a loan at a peer to peer lender.
Dealer Financing
If you're buying a car from a car dealership, you'll be offered the option of financing your car through them. Before you sign up for dealer financing, you'll want to evaluate and weigh the terms and conditions of the offer against other options you may have. In particular, be sure to know the interest rate, how long the loan runs, the monthly payment, how much of a down payment is expected, and if any rebates will reduce the amount you owe. Also, it's important to know the total amount you're having financed because you don't want to borrow more than you strictly need.
A low monthly payment may sound terrific, but not if you're going to be paying it for longer than necessary. The longer you have a loan, the greater the interest amount you're going to pay. Watch out for clauses that penalize you for wanting to pay the loan off early.
Dealerships, of course, will earn more money with larger loans that they are able to push to consumers. Despite the appeal of extended warranties, rust protection, and other expensive options, you'll lose money if you opt for a bigger loan.
Bank Financing
For many of us, the most convenient place to find car financing will be through a bank, whether it's local or online or a credit union. If you already have a checking or savings account at a bank or credit union, stop by the loan department to ask about the rates for car financing. The interest rates at banks and credit unions might be lower than the dealership's best offer.
To see how a car loan can affect your finances, check out Edmund's Auto Loan Calculator.
If car financing is in your future, you should definitely take the time to sort through your options. Look for a favorable interest rate, a monthly payment that fits into your budget, and a lender that can answer your questions to your satisfaction.
Copyright © 2010 The Digerati Life. All Rights Reserved.