Savings account rates are down and so is the stock market. People are losing their jobs left and right. How do we cope with hard times? Even if you are in financial trouble, there's always hope. Maybe these money tips may help!
Almost 20 years ago, I lost my job and had no immediate prospect to find another one. This was in 1987, which was also another period of intense economic crisis. How was I going to pay the mortgage and the monthly family expenses? How was I going to continue paying for the expensive private education for my two daughters? I stayed in bed for about 2 days feeling sorry for myself, until my spouse and a close friend "ganged up" on me and showed me how ridiculous my attitude was.
8 Money Tips For Those In Financial Trouble
1. Be objective, gain perspective.
In 1929 and for the next 2 years, stories of bankers jumping from high buildings were common. What did they accomplish with their foolish gesture? Absolutely nothing. Financial despair is nothing new, but it is certainly much less traumatizing than learning that you have an inoperable brain cancer. And that is the first step you must take if your financial situation looks desperate. Think of the worst possible scenario, which is losing your life before your time has come, and compare it to losing money. An exercise such as this often gives me perspective.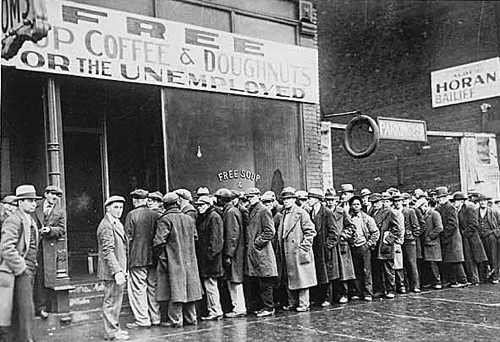 Hard Times
2. Talk to friends and family.
The second step, which was fortunately my situation, is to talk about it to your spouse and to very close confidantes. Talking relieves the anxiety and the pain, and quite often leads to the astounding discovery that there is a way out. There is always a way out!
3. Look into government and private assistance.
We are lucky to live in one of the greatest countries in the world (if I say so myself); one that is quite rich, prosperous, and brimming with countless opportunities. There are some government agencies to turn to, as cited in this article:
GovBenefits.gov should be your first stop. This federal government site has an interactive tool that can help you identify the aid programs you might be eligible for, along with links that can connect you to state resources. Also, try your state human-services agency's Web site.
You may be eligible for certain services such as unemployment compensation, food stamps, low-income energy assistance, Medicaid, disability or Social Security assistance. Check as well, with your local community organizations and churches, which often have wonderful support for those in need.
4. Raise cash from things you can sell.
Many folks have been able to cash in on clutter, and sometimes, that would be enough. But if you have gotten rid of the clutter and still need extra money to buy yourself some time, you may have to make a list of everything else you can safely sell… or pawn; maybe you have valuables, such as expensive jewelry that you've bought for your spouse or yourself. I had to sell a diamond ring that my wife had inherited from her grandmother. She cried because of the sentimental value, not because of the money it represented. But it gave us a little breathing room, enough for me to find a job that paid less; it was enough to help us survive until the economic situation changed.
5. Find out if you should consider declaring bankruptcy.
When you file for bankruptcy, it's clearly a huge step — the biggest consequence is that it goes on your credit record. So consult a certified financial planner before you make such a radical move. While bankruptcy is a last resort decision, sometimes it can be beneficial. With a Chapter 13 bankruptcy, individuals are able to reorganize all of their debts over a period of time.
6. Focus on your debt and take actionable steps to improve your situation.
For more on how to get yourself out of financial trouble, check out these concrete ideas:
Review your debts. Take note of what you owe and evaluate debt reduction strategies.
Eliminate credit card debt.
Contact your creditors to explain your position about making payments, especially if you're getting calls from debt collection agencies.
Cut down on your costs, slash your budget and develop a workable financial plan.
Use your assets to pay down debts, where it makes sense. Compare your loan interest rates vs your savings' rates and make the appropriate decision.
Get credit counseling.
Consider debt consolidation, but only if your situation calls for it (in some cases, it could be a waste of money and may actually make things worse).
Watch out for scams! Lots of unscrupulous people come out of the woodwork to take advantage of those who are in financial trouble. Don't be a victim of these losers.
Stop being poor with these steps to get off minimum wage.
7. Seek emotional help and try to stay positive.
Hard financial times can be some of the most stressful financial events anyone can face. If you find yourself in such a position, consult a mental health community center to discuss your emotional stress with a qualified counselor.
We must be strong enough to recognize that a lot of the money problems we encounter can actually be more mental than financial. If we keep in mind that every period of crisis can also bring with it potentially great opportunities, and if we're willing to admit and address our issues head on, we'd be halfway to recovery.
8. Always believe in yourself.
Many times I doubted my own abilities; "if I am in this situation, it's because I am not good enough," was my reasoning during my darkest hours. That is a recipe for a situational depression, a mental state from which it is extremely difficult to emerge. Facing the facts also includes assessing your own abilities and potential without bias of any kind. Again, talk to people who know you and ask them for an honest opinion; nine times out of ten they will cheer you up and give you the strength to start again.
Copyright © 2008 The Digerati Life. All Rights Reserved.